According to the latest retail sales index, sales in January 2015 were 2.6% higher than in January 2014, and After adjusting for the annual retail sales rate of inflation [measured at 0.6%] in January, the volume of retail sales increased by 1.9%.
The report said, "Building material stores recorded the largest growth in sales, increasing 10.5%. In contrast, retailers of service stations registered the largest decrease of 12.5%.
"Returning residents declared overseas purchases valued at $4.4 million, 4.8% more than the level recorded in January 2014. This contributed to a combined local and overseas spending total of $81.6 million.
Chart extracted from the report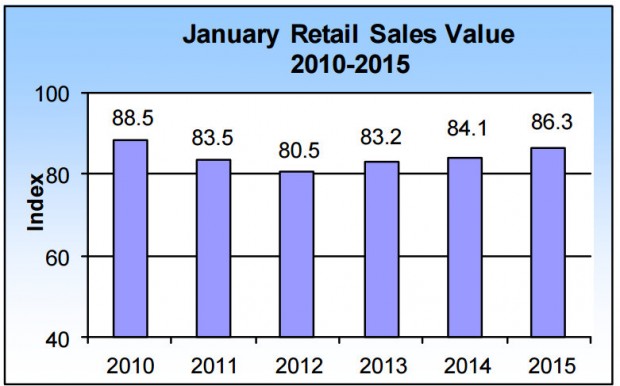 "Gross receipts of building material stores strengthened 10.5% compared to the same period last year. The increase in sales reflected a 9.3% rise in sales volume driven by consumer demand during discount sale events," the report continued.
"Food and Liquor Stores Receipts from food sales advanced 5.8% while sales revenue for liquor stores rose 3.9% during the month. Volume sales for food stores and liquor stores rose 2.0% and 3.0%, respectively. Both volume increases were attributed to an additional Saturday shopping day in January 2015.
"Sales revenue for apparel stores edged up 1.7%. The increase in sales was due partly to the promotional advertising during the month which boosted sales volume by 4.5%."
"Sales receipts for service stations weakened 12.5%, recording the third consecutive month of declines. The drop in receipts was due to a 14.8% decrease in the price of fuel that offset a 2.7% increase in sales volume."
The full January 2015 Retail Sales Publication follows below [PDF here]
Read More About