The Royal Naval Dockyard Family Festival is set to take place this weekend, with the two-day event to feature a host of vendors and local entertainment, along with a myriad of activities including the new zip line, archery, fun castles, slides, pony rides, balloon darts, tug of war, glass bottom boat tours, and much more.
Chewstick has joined the growing support base for the event by assisting with the booking and scheduling of local entertainment over the course of the two day event.
Chewstick Executive Director Gavin Smith says, "It is always good to get families together and for this reason it was a very easy decision for us to get involved. At Chewstick, the promotion of arts and culture is something that we live for and it has been great rounding up a diverse range of entertainment for all segments of our community to enjoy."
Organizing Committee Member Eugene Dean is pleased to see the community coming together, saying: "Collaboration is the key to our evolution and as a result it is important that we find effective ways to work together by complimenting each other's strengths.
"For years Chewstick has been building relationships and developing a growing following around arts and entertainment, so when it comes to anything performance related, it is only natural for them to play a key role."
Entertainment will be featured in the Clock Tower Lawn every hour on the hour, and between acts DJ QB will be playing your favourite tunes.
A host of new games and children's activities have been added to the growing list of attractions at the family festival this weekend. A 200ft Zip Line,which just recently arrived in Bermuda, will be featured in Play Land along with laser tag, archery, fun castles, slides, and pony rides.
Several fair games have been added to the Kids Activity Area including Plinko, sack toss, bottle toss, balloon darts, tug of war, sack races, egg and spoon, video games and more.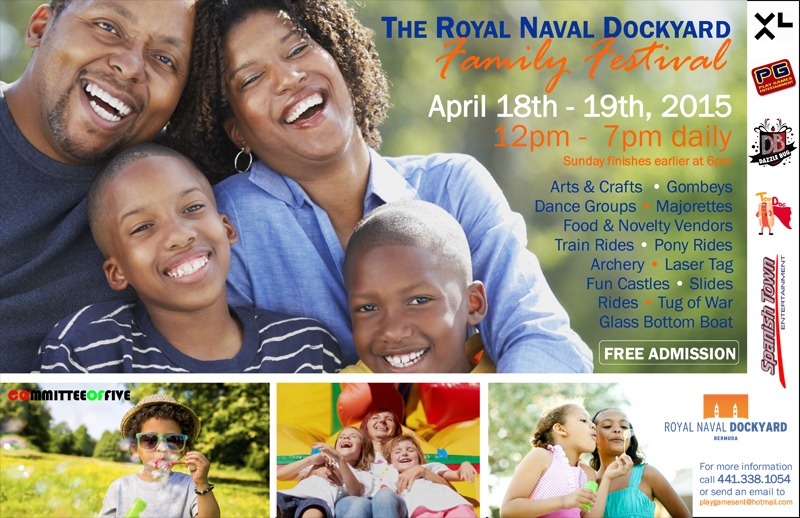 The entertainment at the Festival will include:
Masters of Ceremonies: Ed Christopher and Ninja Cutty
Big Snipes
Rivah
Larrita Adderley
Paul Smith
Raven
Deondre
Jeff Marshall
Ramon Clarke
Sheri Scott
Sui Generous
Keya's Dance Group
Filipino Dancers
Warwick Gombeys
Vendor will include:
Ashley's Lemonade
D&T Bijoux
Dandy Donuts
Top Dog
Snorkel Park
Bonefish
Dazzle Bug
All-In-One Sports
Sensational Delights
Grill N Stix
Four Star Pizza
Sweetstixx
Event Layout:
Clock Tower Lawn – Live Entertainment, DJ Music & Vendor Village
Adjacent Parking – Lot Kids Activities & Games
Victualling Yard – Play Land The Ultimate Adventure Center for Kids
Transportation Update:
A statement from the organisers said, "Additional Ferries have been arranged for the festival to allow persons travelling from eastern and central areas to park in Hamilton and take a 20 minute ride to Dockyard on the water.
"Ferry service from Hamilton to Dockyard will start each morning at 9 am and continue throughout the day until the last ferry leaves Dockyard each evening at 7:30 pm. Please remember to purchase a round trip token when boarding in Hamilton, so that you have a token in hand to return.
"For those who drive, due to renovations and construction in preparation for the Americas Cup, all parking for the festival will be at Malabar Field. The cost for parking is $8.00 and a dedicated shuttle will be available to transport you and your family to and from venue for the duration of the event.
"Proceeds from parking will help us cover the costs associated with producing the family festival, so we encourage all drivers to give us their full cooperation and support."
Read More About
Category: All, Entertainment