Bermuda Red Cross Thrift Shop, Upstairs Closet, has launched an initiative to provide Thrift Shop vouchers to selected charities for the remainder of this year.
Each month a charity has been selected to get $200 in Thrift Shop Vouchers which can be used to purchase clothing or shoes available in the Thrift Shop.
A spokesperson said, "We have been looking at ways in which we can reach out to various non-profits to collaborate/partner/assist them with some of their more vulnerable clientele and felt this would be a great way to provide something in the way of a base necessity during these hard times.
Maria Duffy, Bermuda Red Cross Thrift Shop Manager, presenting Thrift Shop Vouchers to Claudette Fleming, the Executive Director at Age Concern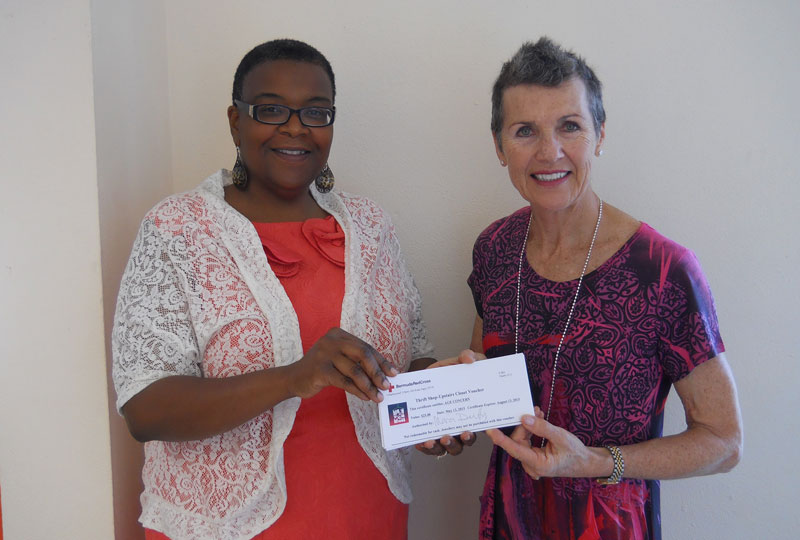 "It will be up to each charity to distribute the vouchers amongst their clients based on their own criteria selections."
"The Thrift Shop, Upstairs Closet, has a large selection of clothing and shoes for men, women and children. They are open Tuesday, Friday and Saturday from 8:30 am– 3 pm.
"Some of the charities that have agreed to participate in this venture are Age Concern Bermuda, PRIDE, the Coalition for Protection of Children and PALS. We are awaiting response from 4 others."
Claudette Fleming, Executive Director of Age Concern, "said: Age Concern values the support and partnership of the Red Cross, one of its vital Charity link partners.
"We are always looking for creative ways to support the needs of older people especially during times of crisis. Food, clothing and shelter are the fundamental components of our basic need so we express our gratitude to the Red Cross for continuing to ensure that the basic need of humanity is met both in Bermuda and around the world."
Read More About