Bermuda's soldiers training at the US Marines Camp Lejeune in North Carolina were recently visited by Governor George Fergusson, the UK Military Attache at the British Embassy in Washington Brigadier James Illingworth, Honorary Colonel Eugene Raynor and Junior Minister for National Security Jeff Baron.
Brigadier James Illingworth chats to a Regiment soldier on a Camp Lejeune firing range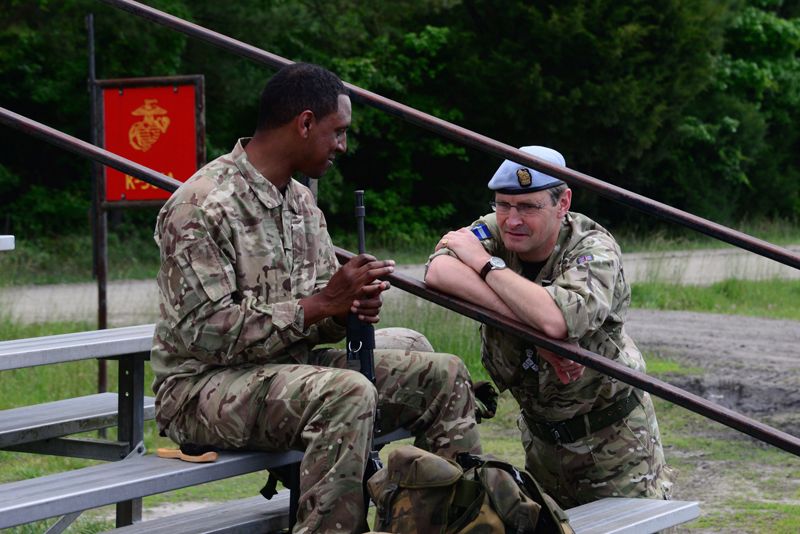 Mr Fergusson said: "Everyone is having a great experience and thoroughly enjoying themselves.
"These are great facilities here and the Regiment is making the most of them. I've been round various people doing different stages of weapons training – people getting ready for an exercise and people getting ready for the firing range."
Regiment 2nd Lieutenant Mark Prior and Governor George Fergusson on a firing range at Camp Lejeune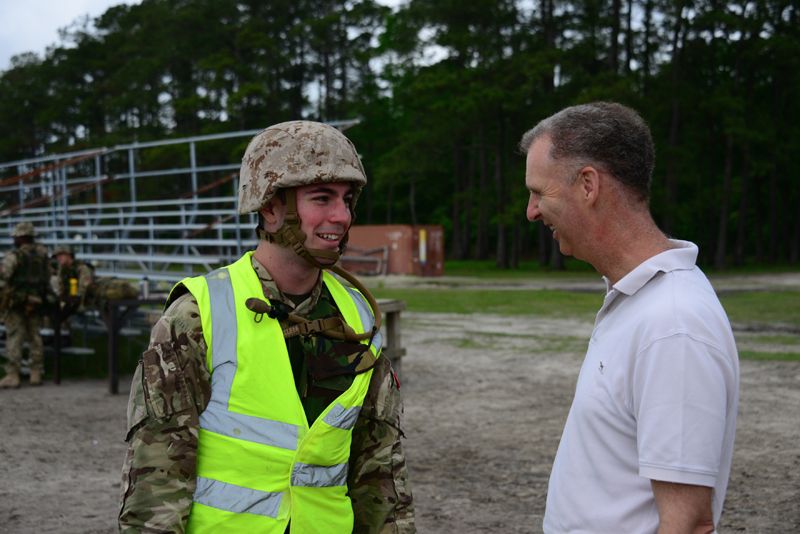 He added: "The soldiers seem to have particularly enjoyed the weapons part and several of them have had their first lift in a helicopter, which they really enjoyed.
"One soldier told me the best thing was finding out much she liked being an instructor. They all seem to be enjoying themselves and getting the most out of it."
Junior Minister for National Security Senator Jeff Baron and a Regiment soldier at one of Camp Lejeune's urban training areas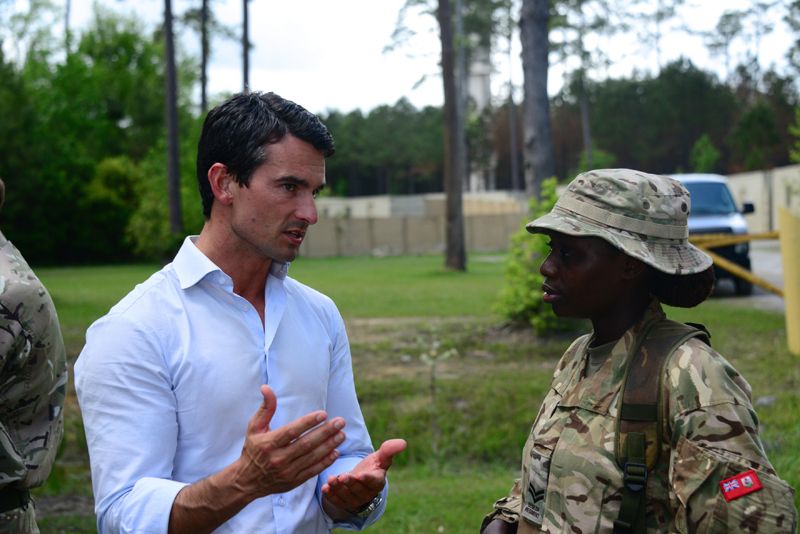 Brigadier Illingworth, who has visited the Regiment in Bermuda and overseas before, added: "I've seen novel training, exciting training and imaginative training with some very positive results, which we saw with the hurricane recovery.
"At the same time, what's really exciting is we have the Bermuda Regiment 50th anniversary, BR50, and the America's Cup.
Governor George Fergusson tries out a Heckler & Koch G-36 rifle at Camp Lejeune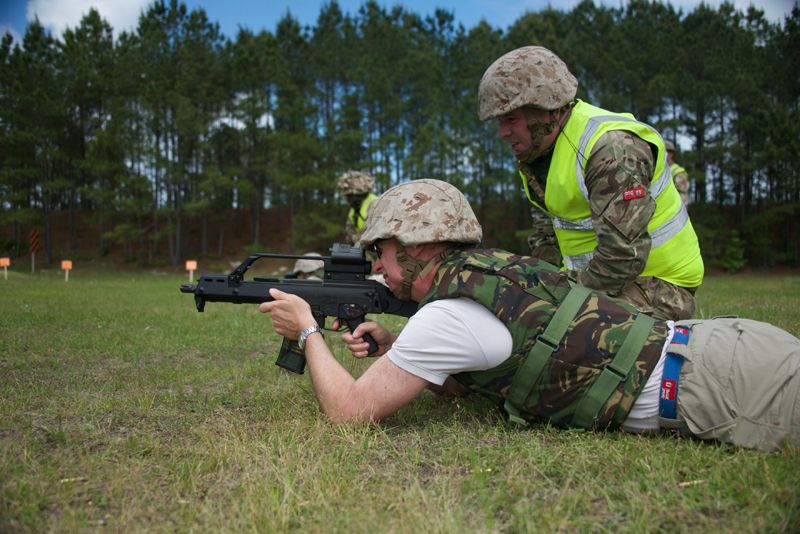 "There's a real focus for the future – for the Regiment to be all volunteer and maintain all the things we have talked about."
Brigadier Illingworth added: "I'm never surprised by the enthusiasm of the Bermudian soldier, both the conscripts and the volunteers. It's very encouraging and great to be here when you're surrounded by that kind of enthusiasm."
Senator Jeff Baron on the firing range at Camp Lejeune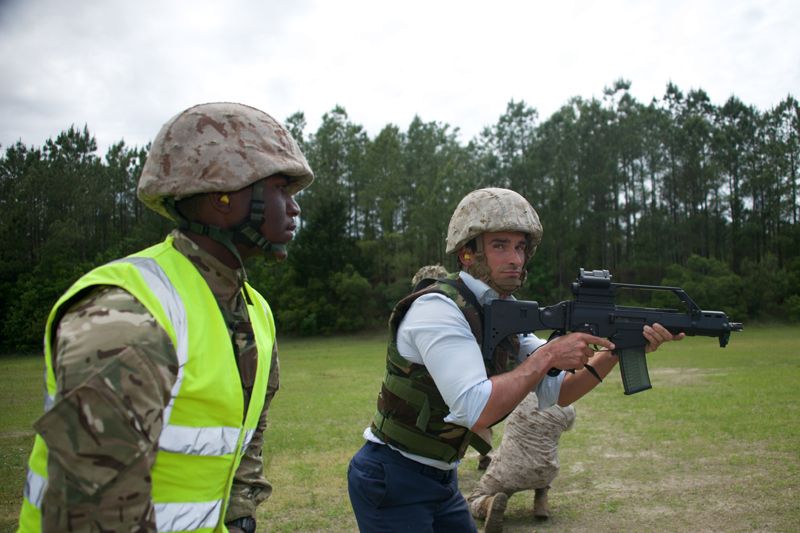 Senator Baron said: "Camp Lejuene has a great reputation and that's why the soldiers are so excited about being here. The standard of the facilities and the standard of training the Bermuda soldiers are getting and their willingness to participate is just off the charts.
"It's an absolute honour for me to be representing the Premier and Minister of National Security Michael Dunkley and the Government .
Governor George Fergusson and Lance Corporal Michiko Campbell at the firiing ranges at Camp Lejeune.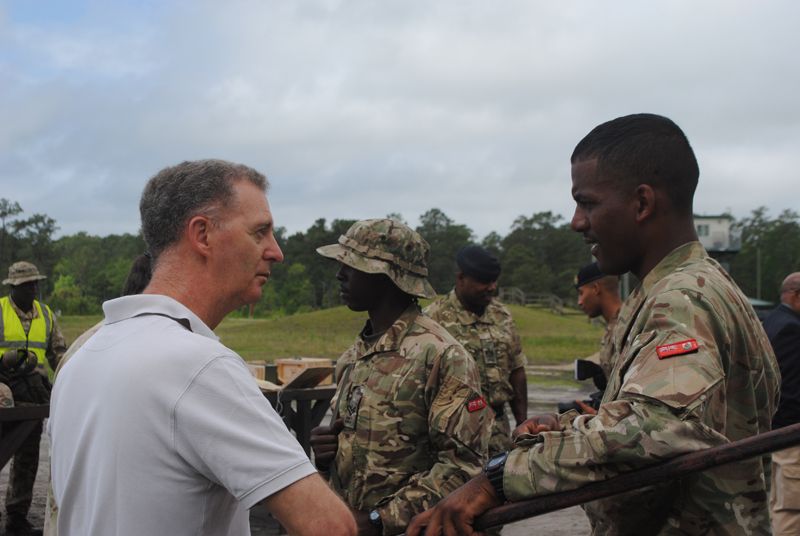 "It's good to see all that enthusiasm and to know that Bermuda's soldiers are coming home with new friendships, new skills, new stories and a fresh outlook on their life in Bermuda."
Col. Raynor added: "The Regiment has changed over the years – but the dedication and spirit of the soldiers is a constant. I've been very impressed by the training and the soldiers' response to it."
Corporal Kenton Trott – who celebrated his 30th birthday in the field at Camp Lejeune – gets a happy birthday from Junior Minister for National Security Jeff Baron.
Corporal Kenton Trott – a driver of a massive seven ton Marines truck used to transport troops and also assisting with the Junior Non-Commissioned Officer Cadre [JNCO] training – celebrated his 30th birthday in the field, carrying a rifle and wearing heavy combat armour in temperatures that hit 80 deg F.
But Cpl Trott, a full-time soldier, said: "To be honest, I'm happy with it. I love the Regiment and I like doing all this tactical training and having new experiences like getting on a helicopter – to me it's all fun and nothing could be better."
Read More About