Bermuda's Forensic Psychiatrist Dr. Marcel Westerlund and his new book will be the focus of the next installment in the BUEI Talks series, titled 'Is There Life After Death?'.
The talk will talk place on Thursday, July 16 at 7.30pm.
The event poster says, "Dr. Westerlund worked as a Forensic and General Adult Psychiatrist in Sweden for eight years and within the British National Health Service for a further eight years.
"In Sweden, he worked on behalf of the National Board of Forensic Medicine, and was also head of the second largest psychiatric hospital. He now resides in Bermuda and works as the island's Forensic Psychiatrist."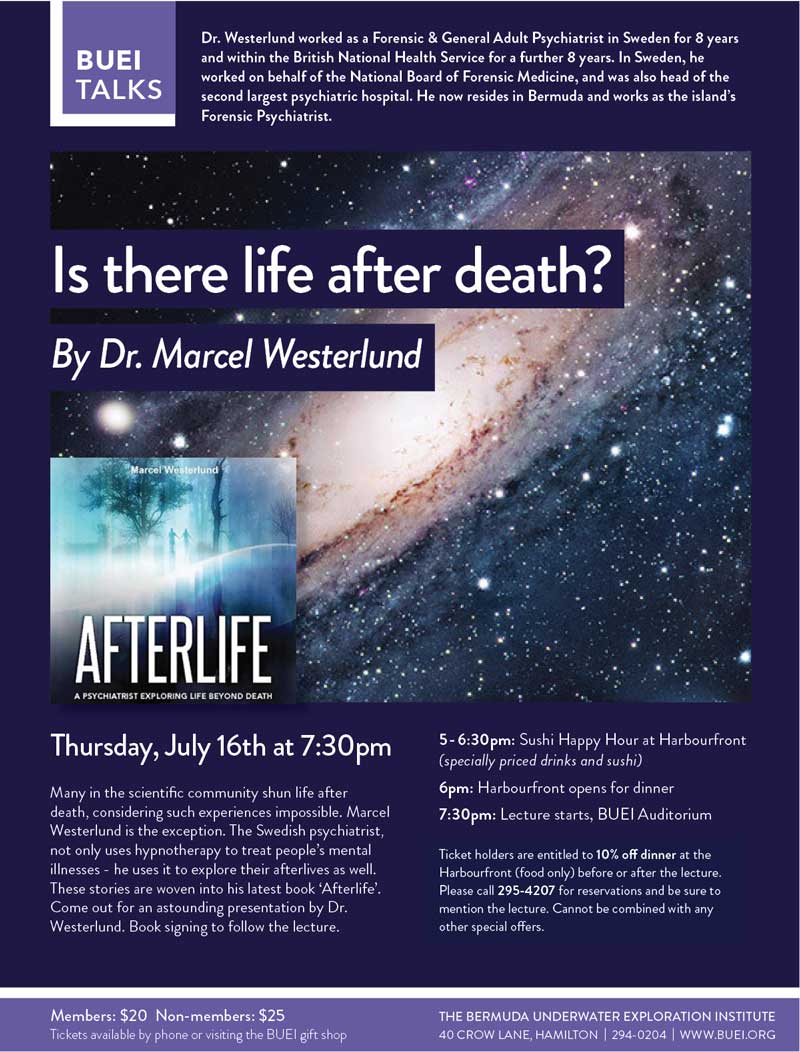 "Many in the scientific community shun life after death, considering such experiences impossible. Marcel Westerlund is the exception. The Swedish psychiatrist, not only uses hypnotherapy to treat people's mental illnesses – he uses it to explore their afterlives as well.
"These stories are woven into his latest book 'Afterlife'. Come out for an astounding presentation by Dr. Westerlund. Book signing to follow the lecture."
The presentation will get underway on Thursday, July 16 at 7.30pm, with a Sushi Happy Hour to be held at Harbourfront from 5.00pm to 6.30pm, with dinner opening at 6.00pm.
Tickets cost $20 for members and $25 for non-members, and are available by calling 294-0204 or visiting BUEI's Oceans Gift Shop.
Read More About
Category: All