The trial of 20-year-old Calin Maybury began in the Supreme Court, with Mr. Maybury accused of causing the death of Melvin Smith as well as causing grevious bodily harm to his wife, Dawn Santucci–Smith, by careless driving on Kindley Field Road in St. George's during Cup Match last year.
According to the prosecution, Mr. Maybury fell asleep at the wheel, resulting in his vehicle crashing into a tent being occupied by Mr. And Mrs. Smith early on Saturday, August 2, 2014.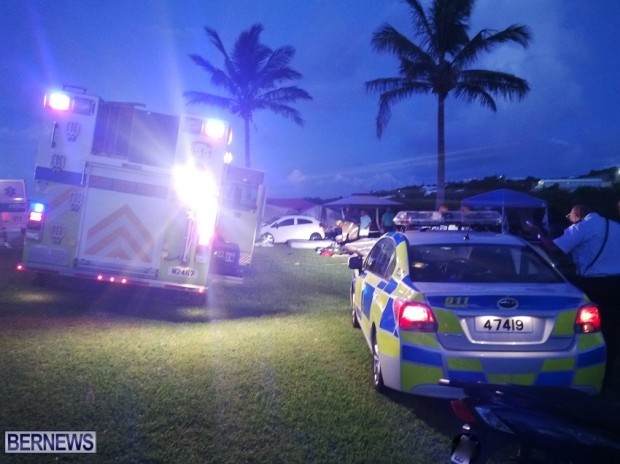 Prosecutor Garrett Byrne said the defendant had spent the day at the Somerset Cricket Club with friends, went to Snorkel Park in Dockyard, and had dropped friends off in St. David's before falling asleep on Kindley Field Road.
He said that the defendant had gone without sleep for some 24 hours, which he called a critical feature of the case.
Mrs. Santucci–Smith told the jury her family have camped on the Kindley Field stretch over the Cup Match holiday weekend for the past few years.
She said that she and her husband slept on an inflatable mattress in a tent. She recalled falling asleep with her husband, and then waking up in excruciating pain.
Mrs. Santucci–Smith says she was unable to move, and repeatedly cried out for her husband, however there was no response.
Mrs. Smith said she was able to exchange "I love yous" with her husband before he was taken to surgery, however unfortunately she was later told that her husband had passed away.
Mrs. Santucci–Smith also told the jury about her injuries, which included her neck, shoulder, as well as extensive nerve damage to her left arm and leg. She said her injuries require therapy, and she is still unable to return to work.
Also testifying was a friend of the deceased who was also camping that night.
He said he never felt comfortable with the tent site being so close to traffic, so had set up a perimeter of cars to protect the tents from oncoming east bound traffic, however the barrier did not protect the Smith's tent because the car that struck them was travelling west.
The witness said that early that morning he heard a voice screaming, and saw the Smith's tent had collapsed.
Mr. Maybury, represented by lawyer Marc Daniels, denies the charges and the trial continues.
[Note: Due to legal reasons there are very specific rules about commenting on court stories, and as such comments are restricted].].

Read More About
Category: Accidents and fires, All, Court Reports, Crime, News