[Opinion column written by Shabnam Jheengoor]
Over the past year, the crisis in Syria/Iraq created by ISIS has assumed tremendous proportions, the repercussions of which are being felt globally. The refugee situation, immigration issues, radicalization of youth and all the unavoidable resulting issues are becoming increasingly complex. People are either travelling to Syria to join ISIS or pledging allegiance to the terrorist group online and spreading terror in their own countries.
As a result of the terror being spread by 'so-called Muslims', in much of the world today there is the belief that Islam is a religion of extremism and coercion. Donald Trump called for all Muslims to be barred from entering the US and many countries are fretting over the influx of Muslim refugees. Several countries including Russia, Germany, France and the UK have joined the fight against ISIS recently. Is it Islam the root cause of this unfolding disaster or is it the unquenchable thirst for power and influence which is responsible for this chaos?
The Islamic concept of jihad is wrongly believed to be the cause of this disorder. The true concept of Jihad refers to the purification of self and to strive in a noble way. It is not a struggle for evil.  It is imperative to realize that Islam does not advocate for extremism and terrorism in any form.
The concept of Jihad espoused by ISIS is wrong and completely against the teachings of the Holy Quran and the Holy Prophet Muhammad [pbuh]. Unfortunately, the concept of Jihad is not only being used by terrorists to justify their acts of destruction but it is also being used by politicians and policy-makers and others to justify hate speech against Islam and Muslims.
Think of Donald Trump's proposal of barring Muslims from entering the US. There is dire need for people to understand the true teachings of Islam. We cannot respond to acts of terror with further acts of hate and discrimination against Muslims. Such acts will only result in further alienation of Muslim youths, making them easy targets of radicalization.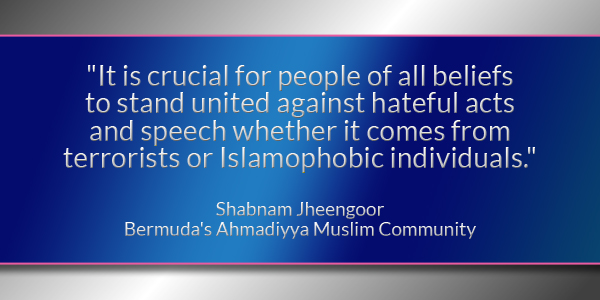 Without doubt, there is a need for monitoring and surveillance by law-enforcement authorities. Governments do have the right to curtail the speech of individuals if they use their pulpits in mosques to preach hatred and violence. The curriculum of madrassas must be verified. But blanket-bans and boycott of all Muslims make the preposterous assumption that every Muslim is violent and Islam is itself a dangerous faith. This is truly the height of ignorance.
The Ahmadiyya Muslim Community worldwide has for numerous years been bringing people of different faiths and persuasion together through seminars and campaigns with the aim of conveying the true teachings of Islam and consolidating interfaith harmony. Divisive rhetoric which paint every Muslim as a blood-thirsty monster is neither constructive nor will it bring peace. The media has to play its part in giving due time and space to voices of moderation and peace.
ISIS must be stopped. It is regrettable that neighbouring Muslim countries have largely failed to act swiftly and decisively to solve the Syrian crisis.  Whether bombing Syria is the right way to stop ISIS is a debatable issue considering the terrible loss of civilian lives during these bombings. The recent deadly bombing of the Medecins Sans Frontieres [MSF] hospital in Kunduz by US forces may serve as a warning of the inherent dangers of aerial attacks.
The worldwide Head of the Ahmadiyya Muslim Community, His Holiness Mirza Masroor Ahmad, has for the past years been advising that it is crucial to block the funding and supply line of ISIS to weaken them.  There are reports of ISIS selling historical artifacts to individuals in western countries and supplying oil to neighbouring countries. Means should be implemented to cut off these sources of funding.
Now that several countries have joined the fight against ISIS, it is possible that ISIS may be eradicated. However, His Holiness Mirza Masroor Ahmad has issued a dire warning. The countries which have joined this fight are not in agreement regarding how to deal with the government of President Assad. Even if ISIS is eradicated, it may not mean an end to conflict.  His Holiness has been drawing attention to the potential of a Third World War for many years now but recently many analysts have also reached the same conclusion. It is mostly civilian lives which are being lost and will be lost if this conflict escalates and this will claim the lives of both Muslims and non-Muslims.
It is crucial for people of all beliefs to stand united against hateful acts and speech whether it comes from terrorists or Islamophobic individuals. The true teachings of Islam must be conveyed widely as it has emerged quite clearly by now that those who join ISIS lack serious religious training and have flimsy knowledge of Islamic teachings. They are armed only with few distorted verses of the Holy Quran. Parents and Muslim leaders have an essential role to play in providing the youth with the correct understanding of Islamic teachings and values. Love of country is part of faith.
It is noteworthy that no member of the Ahmadiyya Muslim Community and no mosque of the community has ever been found to be associated with hateful ideologies in any way. The Ahmadiyya Muslim Community is the largest organized Muslim community in the world and under the leadership of His Holiness Mirza Masroor Ahmad will continue to work towards peace by conveying the true peaceful message of Islam, advocating justice and honesty and interfaith harmony.
- Shabnam Jheengoor, Ahmadiyya Muslim Community Bermuda

20 Most Recent Opinion Columns

Opinion columns reflect the views of the writer, and not those of Bernews Ltd. To submit an Opinion Column/Letter to the Editor, please email info@bernews.com. Bernews welcomes submissions, and while there are no length restrictions, all columns must be signed by the writer's real name.
-

Read More About