Internal discussions continue within the Progressive Labour Party, as following the retirement of one of their MPs and their new smaller Shadow Cabinet, the latest matter involves a former Party Leader sending a legal letter to the sitting Party Leader requesting a retraction of comments he allegedly made.
Legal Letter
A lawyer representing former Premier Dr Ewart Brown sent a letter to Opposition Leader Marc Bean, saying: "We have been consulted by the former Premier and Leader of the Progressive Labour Party, Dr. the Hon. Ewart Brown.
"Dr. Brown has consulted us in relation to remarks made by you to those assembled at Alaska Hall last week for two closed sessions involving matters concerning your leadership of the Progressive Labour Party.
"It has come to Dr. Brown's attention through a number of sources that during those sessions you made a number of comments against Dr. Brown…"
Screenshot of part of the letter: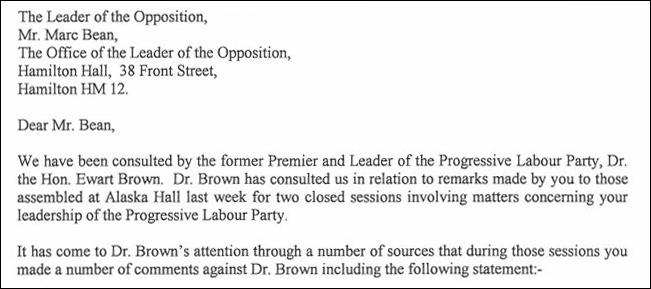 The letter goes on to detail comments allegedly made by Mr Bean said to contain allegations against persons including Dr Brown.
The letter, which is dated December 7th 2015, goes on to say that "Dr. Brown understands that there is to be another meeting at Alaska Hall tonight and he has therefore instructed us to write this letter demanding that at that meeting you retract the comments set out above.
"In the meantime Dr. Brown reserves all such rights as he may have to commence proceedings against you for significant damages arising from the comments made above. We look forward to receiving confirmation that you have retracted the comments."
Mr Bean actually holds the same seat Dr Brown used to, with Mr Bean winning the bye-election in Warwick South Central following Dr Brown's resignation in 2010.
He topped the polls with 310 votes, winning approximately twice as many votes as his two rivals combined, with that bye-election seeing a three-way race between the PLP, United Bermuda Party and Bermuda Democratic Alliance.
Mr Bean wins the 2010 Warwick South Central Bye-Election 
Recent Changes Within The PLP
This latest development involving members of the PLP follows after the resignation of one of their MPs, and their recent announcement of a smaller Shadow Cabinet.
The new Shadow Cabinet does not include Zane DeSilva, Wayne Furbert, Walton Brown, Glenn Blakeney, Rolfe Commissiong, Kim Wilson, and Derrick Burgess – who all previously served in the Shadow Cabinet.
MP Zane DeSilva, who previously served as Shadow Minister of Tourism, confirmed he resigned from the position saying "after months of careful consideration I came to the conclusion that I could no longer serve in a Shadow Cabinet led by Marc Bean."
While Glenn Blakeney confirmed he was resigning from politics for 'personal reasons', the remaining MPs have not publicly confirmed their reasons for no longer serving in the Shadow Cabinet, however it is speculated that some segments within the party desire a change in leadership.
 Bye-Election To Be Held
Glenn Blakeney is no longer a part of the Shadow Cabinet as he retired from politics overall, with his resignation effective this past Monday, prompting a bye-election in Constituency 13 Devonshire North Central.
In submitting his resignation letter, Mr Blakeney said, "My decision is predominantly based upon personal reasons and although I will no longer sit as an elected member in the lower House, I hope to continue contributing in meaningful ways to the wellbeing of my island home."
The PLP is expected to announce their bye-election candidate later today, with unofficial suggestions indicating that Opposition Senate Leader Diallo Rabain could be announced as candidate.
According to his bio on the PLP website, Senator Rabain was educated at Elliot Primary School, Saltus Grammar School and Florida A&M University, graduating in 1995 with a B.Sc. in Electronic Engineering Tech.
He has served on numerous Government and Private Boards, and completed serving his second term as the President of Bermuda Chapter of the Alpha Phi Alpha Fraternity.
In the 2012 General Election, Senator Rabain ran for the PLP in Constituency #7 Hamilton South, which was won by the OBA's Sylvan Richards with 59.71% [569 votes]. Senator Rabain won 38.2% [364 votes] while Independent candidate Gershwyn "High Priest Shiloh" Smith received 2.1% [20 votes].
The date of Devonshire North Central bye-election has not yet been announced, however the formal writ is likely to be announced in the coming days, while the actual bye-election is likely to be held early next year.
Read More About