Bermemes, known for their satirical work on Bermudian culture and local events, have recently launched a new product, with the team unveiling an online "Bermudian dictionary."
When asked about the concept, Dejon Simmons from Bermemes said, "Originally, we created small comics featuring a 'Vurd of de Veek' but with a small team plus other projects on hand, the comics became less consistent, less effective and time-costing.
"The idea itself was always there, but it was more of one of those moments where you literally want to facepalm yourself."
Screenshot from the website: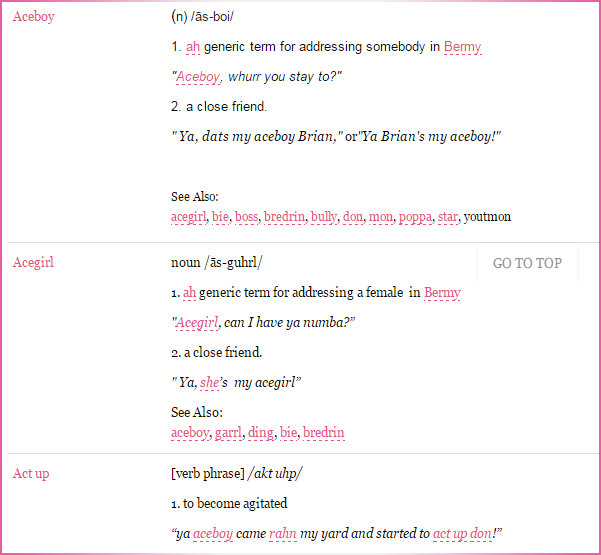 "The dictionary was based from an older version of Bermudian verds dictionary written by Peter Smith & Fred Barritt [known from the Not the Um-Um Players group] which was somewhat hidden on the internet due to lack of SEO [search engine optimization].
"The older version had a lot of older Bermudian terminology which I'm grateful for and learned a lot from, but it also looked like from the 80s or early 90s, so it was kind of long overdue for an update."
Using Bermemes' satirical style, the 'dictionary' includes over 500 words so far, and Mr. Simmons says that they are still updating, tweaking as they go, and encouraging others to give the feedback; good or bad.
He added that although the project is still in the early stages, there are people already sending in their submissions or "vurd."
Asked what he likes most about the project, Mr Simmons told Bernews, "It's all a learning experience, an 'each one, teach one' vibe, but the real beauty of the hub is that it integrates with the website so no matter whether you're local, young or old, or even a tourist you can learn the translations as you read on the website.
"Bermemes would also like to deeply remind everyone that this is an ongoing collaborative piece of work and the more feedback they receive the better it'll ultimately be."
The online 'Bermudian dictionary' can be found here.
Read More About
Category: All, Entertainment, News, technology