Two interns have graduated to full-time jobs at Bermuda IT company Fireminds and a third intern has recently been recruited.
Fireminds Ltd. runs an graduate intern programme for recent university graduates with degrees in Computer Science or Software Development.
They are put through an intense six-month programme which includes help desk, IT support, software development, project management and business analysis. Fireminds boasts a team of 35 developers and technology consultants based in Bermuda, Toronto and Europe.
Bermudians Cooper Simpson, 25, and Nolan Moniz, 21, have passed their internship and a new intern is hoping to follow in their footsteps.
Mr. Simpson, who completed a Bachelor of Science in Cybernetics and Artificial Intelligence, said: "It's been great working as an intern as you get involved in some pretty big projects."
"You get thrown in, but it is in a good way – you are given a huge opportunity to take on challenging assignments, it is up to you to take advantage and apply yourself."
He added: "It's fantastic, I love it here. You can feel the excitement around the office. Working with Michael Branco, the CEO, is great, he is very hands-on with tutoring and mentoring."
From left to right: Nolan Moniz, Cooper Simpson, Michael Branco, Gabriel Jones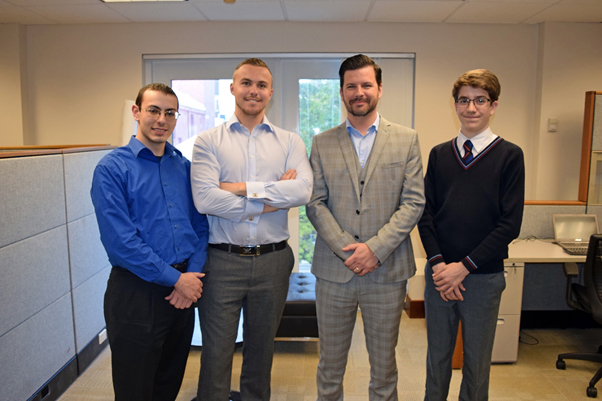 Fireminds Ltd. is 100 percent Bermudian-owned and employs 32 people. It is also the parent company of Premier Tickets and recently was named as the 2015 Microsoft Country Partner of the Year Award for Bermuda for "demonstrating excellence in innovation and implementation of customer solutions based on Microsoft technology".
Mr. Moniz, a former Saltus Grammar School student who is completing a degree at the University of Arizona in software engineering, said: "Working at Fireminds really exposes you to a number of opportunities. Originally, I came to Fireminds to look for a tech role, but I was quickly assigned to a number of different environments throughout the company."
"Fireminds has provided me the advantages to develop a well rounded skillset for task solutions in the workforce. I am looking forward to evolving with the newest tech advances and growing with a company who supports my career."
Mr. Branco added: "Training Bermudians for the future is a role we take very seriously and I am delighted by the progress that both Cooper and Nolan have made. Technology is such an important field that the more Bermudians we can train in this sector, the better.
"Fireminds is an intense environment with a large team of very intelligent technologists. We expect a lot from our interns and in return they learn a great deal about technology."
As well as taking on graduate interns, Fireminds also sponsors a talented high school student who works in the Bermuda office once per week as a member of the software development team.
This year 14-year-old Gabriel Jones, a Saltus student, was recently listed a finalist in the under-25's category at the Bermuda TechAwards.
Mr. Branco, who was named as the 2013 Technology Mentor of the Year in the Island's annual TechAwards, added: "I think Gabriel has an amazing future and I would not be surprised if we see and hear a lot more of him in the years to come."

Read More About
Category: All, Business, technology