"We have decided to speak up and speak out on an issue that will affect every Bermudian and future generations to come," said a spokesperson for the Anonymous Youth Caucus, adding that they feel the "answer is bipartisan comprehensive immigration reform, collective input from all sides."
The statement from spokesperson Aminah Simmons, 17, said, "Currently as it stands in Bermuda, PRC holders can work here, buy transportation here, buy homes and buy land in Bermuda.
"The only thing they can not do is vote, which is completely acceptable! The least our fellow PRC holders can do is show us a little bit of respect and leave the hard earned franchised vote, in the hands and on the ballots of Bermudian Born Citizens.
"What else do our fellow PRC's and status holders expect us to give up? We have extended our hand, and in return they have taken our entire arm."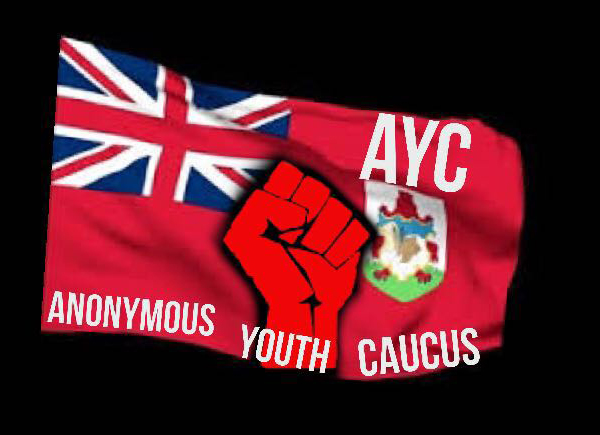 "Another reason being put forth by our Government as to why this legislation must be passed, is simple fact that we don't have enough persons working and we must stabilize our economy.
"How can one say this statement with conviction knowing that there are approximately 4,000 Bermudians out of work who are actively seeking employment?
"How do you expect a young Bermudian to feel, when they see a foreigner get the job they applied for, when they are equally qualified?"
The full statement is below:
Bermuda Is The Only Place You Know But Bermuda Is The Only Place We Have

Most people do not listen with the intent to understand; they listen with the intent to reply." - Stephen R. Covey, The 7 Habits of Highly Effective People

The question remains: are the Government really listening to the people? We are certain that they are hearing us, but are they taking the time to understand us?

Democracy is defined as a system of Government by the whole population or all the eligible members of a state, typically through elected representatives.

"Undoubtedly, the Government is supposed to represent the entire population and get input from all sides of the spectrum before going forward with the business of the people.

Assessing the current situation that is unfolding in our island, sadly, our Government Elected Officials have not consulted all members that make up this beautiful society.

A few perpetual questions must be asked and deserve answers. Firstly: Why the urgency? Why must this bill be passed in this legislative session alongside the 2016/17 budget?

Secondly: What is the real reason behind the need for this particular pathway to status?

The Bermuda Immigration Act 1965 states:

Section 16[2] of the Act provides that any person who is under the age of twenty­ two years and who is a child, step child or child adopted in a manner recognized by law, of a person who has Status, shall be deemed to have Status.

Section 20[1] of the Act further provides that if:

[a] you are between the ages of 18 and 22; and
[b] you have been ordinarily resident in Bermuda for 5 years preceding your application1; and
[c] you have been deemed to posses Status pursuant to Section 16[2] for 5 years prior to your application; you shall be entitled to have Status granted to you.

For the children of long term residents, the act states:

In section 20A of the Act provides that you may apply to the Minister for Status if:

[a] you were born in Bermuda or first arrived in Bermuda before your sixth
birthday;
[b] you are a Commonwealth citizen and not less than 18 years of age;
[c] you were ordinarily resident in Bermuda on 31 July 1989 and on 23 July 1994;
[d] you were ordinarily resident in Bermuda for ten years immediately preceding your application; and
[e] you make your application on or before 31 July 2008.

Therefore, isn't it disingenuous and untrue for persons to sell the rhetoric and sympathy stories as if they absolutely can not apply for/be granted status in this little paradise called Bermuda?

On June 7 2014, around 1,500 residents stood to obtain Bermuda status according to a recently discovered immigration loophole, affirmed in a ruling by Chief Justice Ian Kawaley.

It was confirmed in the House of Assembly, as MPs clashed over the ruling's implications, that a large group of Permanent Resident Certificate [PRC] holders have already applied to Immigration to get Bermuda Status.

This number of 1,500 new PRC holders are added to the number of PRC's we already have, which also range in the thousands.

There are approximately 3,000 children of PRC holders alone on this rock called Bermuda.

Considering all the numbers we have and which have been calculated and accounted for, our Government is now telling us with this new legislation: this is simply not enough, we must open our hospitable arms and give away our homes, jobs, and land to even more new comers.

Currently as it stands in Bermuda, PRC holders can work here, buy transportation here, buy homes and buy land in Bermuda. The only thing they can not do is vote, which is completely acceptable! The least our fellow PRC holders can do is show us a little bit of respect and leave the hard earned franchised vote, in the hands and on the ballots of Bermudian Born Citizens.

What else do our fellow PRC's and status holders expect us to give up? We have extended our hand, and in return they have taken our entire arm.

Another reason being put forth by our Government as to why this legislation must be passed, is simple fact that we don't have enough persons working and we must stabilize our economy.

How can one say this statement with conviction knowing that there are approximately 4,000 Bermudians out of work who are actively seeking employment?

How do you expect a young Bermudian to feel, when they see a foreigner get the job they applied for, when they are equally qualified?

The US Immigration and Border Control make it clear to us as fellow Bermudians, after six months we have to leave their country. Subsequently, in Bermuda we are not asking our fellow expats to leave. We are simply asking what more do you need? What more do you want? What more can you morally take from us?

Aren't we supposed to be the ones to tell you what's best for our island? After all, we are the ones who are stuck here, whilst you have the privilege and option to return to your country of origin whenever you so desire.

We can no longer sit on the back bench in silence and watch all of this chaos unfold in our tranquil abode. We will no longer be told what to do and be told how to run our own house.

We no longer allow others to set the tone and set rules and make laws that we, as Bermudians, have to abide by at the end of the day. We have decided to speak up and speak out on an issue that will affect every Bermudian and future generations to come.

The answer is not to run and hide from, and continue to ignore the people, some of whom may have elected you.

The answer is bipartisan comprehensive immigration reform, collective input from all sides.

Signed,

The Anonymous Youth Caucus

17th March 2016
Read More About