[Updated with more videos] Crowds of people gathered on Friday following the People's Campaign's call for an "island-wide withdrawal of labour" as a "show of people power and island-wide solidarity appealing to the Government to withdraw its intention to table the Bermuda Immigration and Protection Act 2016."
The withdrawal of labour resulted in the suspension of bus, ferry and garbage collection services on Friday, with many workers attending the gathering to lend support to the protest.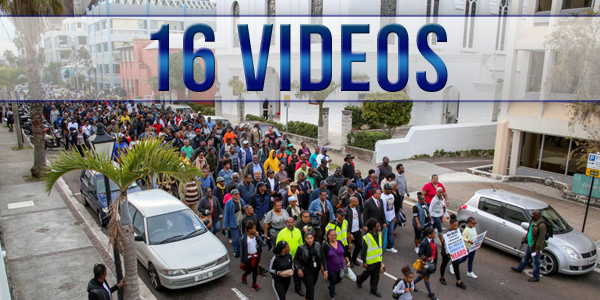 People gathered outside the BIU headquarters early in the morning, then marched to the House of Assembly, then marched to Cabinet, marched back to the House, then made their way back to the BIU building.
Public services resumed again this morning, however protesters intend to gather again outside the Union again on Monday, which means service interruptions may occur again on Monday. You can follow all our live updates on the matter over the weekend and again on Monday here.
The sixteen videos below show various parts of the day including some speeches, marching, musical performance, the police escorting the Ministers through the crowd and more.
1 hour and 20 minute video of some of the speeches
Mark Anderson At Bermuda Parliament Grounds
Graham Maule At Bermuda Parliament Grounds
Crowd Marches On Church Street
Protesters, Ministers & Police Escort
Hunger striker Enda Matthie speaks to the crowd
BIU President Chris Furbert & Rev Nicholas Tweed speak before the march
Drummers at protest
Crowds march on Parliament grounds
People at the House of Assembly
'We Shall Not Be Moved' by Graham Maule
Crowd outside Cabinet
Cabinet Ministers leave escorted by Police
Drummers at House
Protesters leave House Grounds
Marchers Leaving House #2
Read More About