[Updated] The Ministry of Home Affairs confirmed that meetings took place today and yesterday following correspondence from the BIU indicating that unless Government withdrew the proposed immigration legislation, they would call on "people to protest" by withdrawing labour on Friday.
The Ministry said they propose that a consultation committee "discuss matters of mutual interest between the Government and the Unions" such as a review of work permit policy to further ensure that Bermudians are given more training opportunities, and said they "look forward to constructive dialogue going forward, but do not believe such dialogue can happen unless all parties come to the table with clean hands free of threats of labour withdrawal."
A Ministry spokesperson said, "The Ministry of Home Affairs can confirm that yesterday afternoon [9th March], following a request by the President of the BIU and President of the BPSU to meet, a meeting was held between the Minister of Home Affairs and the Attorney General with the Presidents of the BIU and the BPSU.
Screenshot of BIU President Chris Furbert's letter to the Premier: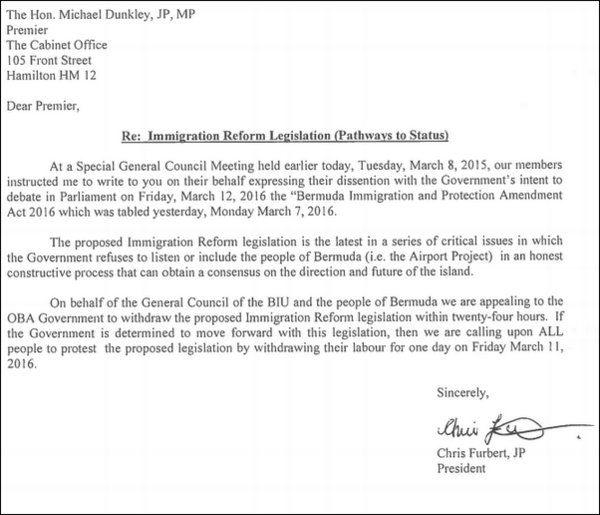 "At that meeting a request was made of the Government to withdraw the Bermuda Immigration and Protection Amendment Act 2016 ["the Bill"] from the Parliamentary Order Paper, failing which the Presidents' expressed that some in the community may engage in undesirable activity.
"A healthy and fruitful discussion ensued and the Government was of the view that the meeting was productive in that a better understanding of both sides' views was expressed.
"At the conclusion of the meeting the parties agreed to another meeting today [10th March]. Both parties also indicated that they had no desire to see any form of unlawful action in the community.
"Earlier today a further meeting was held, although on this occasion Rev. Nicholas Tweed was in attendance.
"It is important to note that the Premier advised the BIU on 9th March 2016 that the Government was not debating the Bill on 11th March 2016 and never had an intention of doing so on that date [copies of correspondence attached]. The attendees were also advised that the Bill would not be removed from the Order paper.
Screenshot of the Premier's response to the BIU President: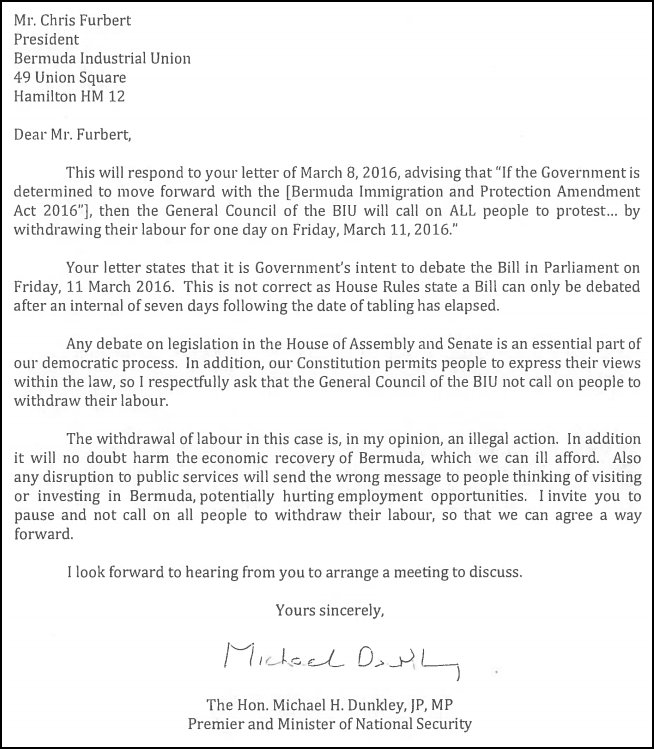 "The Government proposes that that the Bill will be debated this session, and should the Bill pass, the implementation date would be later in the summer.
"The Government also proposes that during the interim period between passing the Bill and commencement, a consultation committee will be struck to discuss matters of mutual interest between the Government and the Unions which could include but not be restricted to a living wage, review of work permit policy to further ensure that Bermudians are given even more training opportunities and dealing with concerns about the use of low paid guest workers over Bermudian workers.
"The Government believes this will assist in ensuring that Bermudians get every opportunity in their own country.
"The Government is always willing to listen. There are many issues that are affecting our community, but it is our belief that this legislation is the right way to go and the right thing to do. To that end, we look forward to constructive dialogue going forward, but do not believe such dialogue can happen unless all parties come to the table with clean hands free of threats of labour withdrawal. "
Update 8.31pm: Shortly after this was posted, the People's Campaign issued a statement "calling for an island-wide withdrawal of labour on Friday March 11th, 2016 as a show of people power and island-wide solidarity appealing to the Government to withdraw its intention to table the Bermuda Immigration and Protection Act 2016."
The letter from the BIU to the Premier follows below [PDF here]
The response from the Premier to the BIU follows below [PDF here]
Read More About