On Saturday, March 19, The Town of St. George's will host 'Signature St. George's' a free event to showcase all of the venues they have available for special celebrations, including weddings, birthday parties, and corporate events.
Mrs. Francine Trott, Forts Manager for the Bermuda Department of Parks, and a member of the Signature St. George's planning team, explained, "Throughout the town there are many historic sites that can be rented for special events. Fort St. Catherine, St. Peter's Church, the Unfinished Church, World Heritage Centre and Somers Garden are all used for weddings, and other parties. We wanted to organize a day so that everyone could see all of the spaces, get rental rates, and plan their special event."
In addition to the beautiful churches, historic venues and vacation accommodations, Signature St. George's will also showcase the town's restaurants, stores, and businesses that offer event related products and services.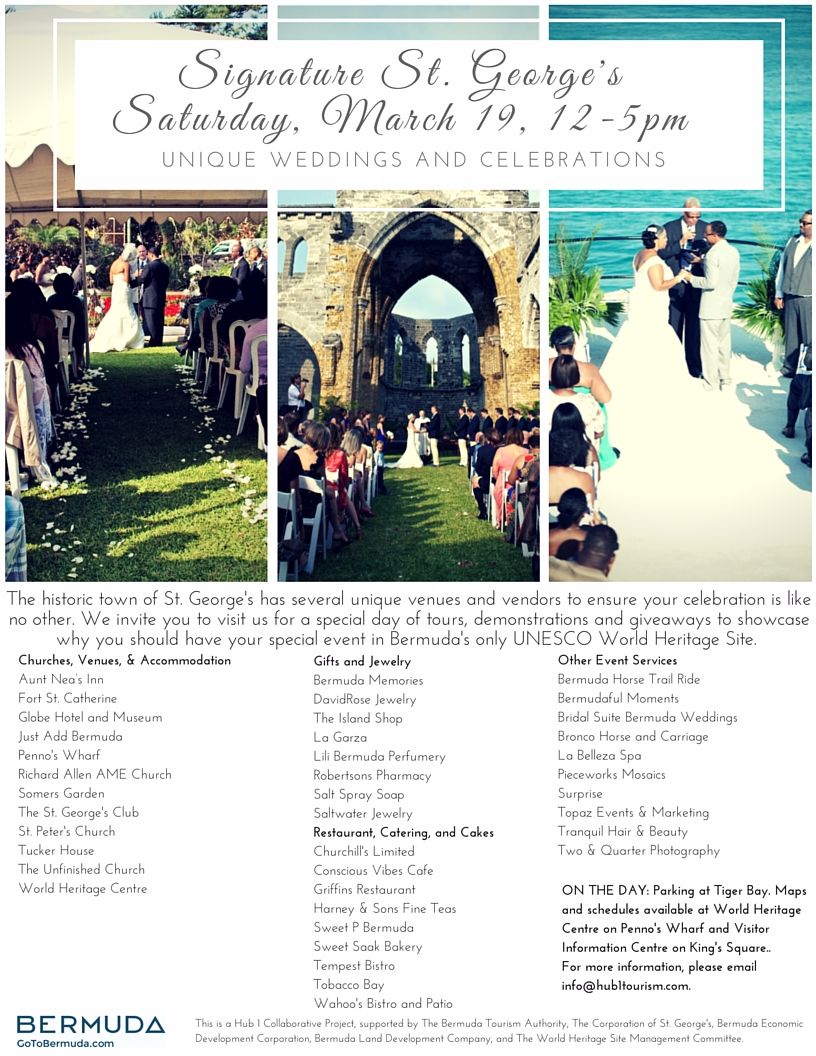 Artist and Designer, Tara Cassidy, owner of La Garza retail store in St. George's and another member of the planning team said, "From jewelry, wedding favours and bridal party accessories to transportation, beauty services, and event planners – we really have it all right here in the town. On March 19, all participating stores will showcase what we can offer to those planning a special event. Many will also have special talks and tastings and a full schedule of activities will be available closer to the day."
This project is part of the Cultural Tourism Plan for Hub 1 [St. George's and St. David's], which highlighted a need for more collaboration between east end vendors. The planning team says that this is just the beginning for encouraging more people to consider hosting their event in the East End, and will soon be rolling out marketing materials and website, and even developing a 'Rent the Town' package that uses multiple venues and vendors.
Mrs. Trott continues, "Our historic sites are special, and key to St. George's being a UNESCO World Heritage Site. When people have their events here, and support the businesses, they are ensuring we have the funds to preserve and promote our important historic treasures."
Read More About
Category: All, Entertainment