Following Jason Hayward's apology to Finance Minister Bob Richards in Court yesterday, the People's Campaign said they "would like to affirm that we stand without reservation in support of our colleague."
The Finance Minister launched legal action against Mr Hayward last year after he made certain statements about the Minister on a TV appearance in which he discussed the airport redevelopment with the Canadian Commercial Corporation.
The transcript of the apology said, "On 14th July 2015 I was sued by the Minister of Finance, the Honourable E.T. [Bob] Richards, in respect of statements made during the course of a broadcast sponsored by the People's Campaign including allegations of corruption, collusion and scandalous behaviour.
"My intention was to highlight concerns about aspects of the Airport Development as a representative of the People's Campaign, not to deride the Minister.
"It was never my intention to insult the Minister or to cause the public to think less of him as a person. I unreservedly apologize to him if those words had that affect."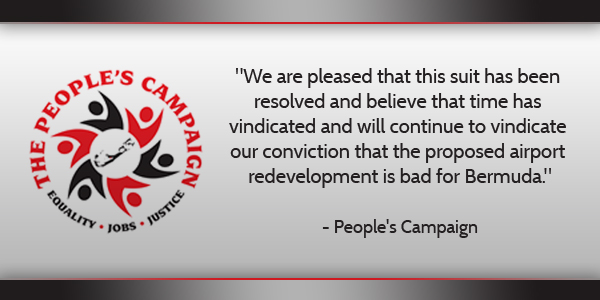 The PC issued a statement — signed by Chris Furbert and Rev Tweed — which said, "On behalf of the People's Campaign for Equality, Jobs, and Justice we are making the following statement in response to the settlement reached in the suit brought by E. T. Richards against Bro. Jason Hayward.
"We would like to affirm that we stand without reservation in support of our colleague," they said, noting that the statements made were "based on information and documentation that we received as a result of a PATI request in Canada."
"We believed and continue to believe that this suit represents a growing trend globally and one that has finally found its way into Bermuda, in which it is becoming increasingly common for Governments and/or Corporations to use a method called "Strategic Lawsuits Against Public Participation [SLAPP Suits]" to suppress and silence free speech.
"Strategic lawsuits against public participation [SLAPP] are lawsuits that are intended to censor, intimidate, and silence critics by unduly burdening them with excessive costs for legal defense until they abandon their criticism or opposition to a government, or corporation.
"Lawsuits of this nature have been made illegal in many jurisdictions on the grounds that they impede, and suppress free speech. Perhaps it is time for such legislation in Bermuda.
"This Government is increasingly employing methods that in our view constitute a fundamental attack on the constitutional rights of Freedom of Assembly, Freedom of the Press, and Free Speech.
"We are pleased that this suit has been resolved and believe that time has vindicated and will continue to vindicate our conviction that the proposed airport redevelopment is bad for Bermuda," the statement added.
"Again, we fully understand the necessity of settling what we consider to be a politically motivated, frivolous suit," the statement added. "While this matter has been settled in the Courts, the court of public opinion has long since drawn judgment on the airport".

Read More About