A teenager who works packing groceries after school has been praised for stepping up to help a senior citizen who was short of cash at the checkout counter, with the young man contributing some of his own money to ensure she could buy her groceries.
The lady's son, and a friend of his, were so impressed by the young man's generosity they paid him a visit and repaid him with an amount above and beyond what he had initially loaned, saying they wanted to "bless him for this wonderful act of kindness."
Mr Romano Ramirez pays back student Isa Trott who generously offered to help while packing groceries: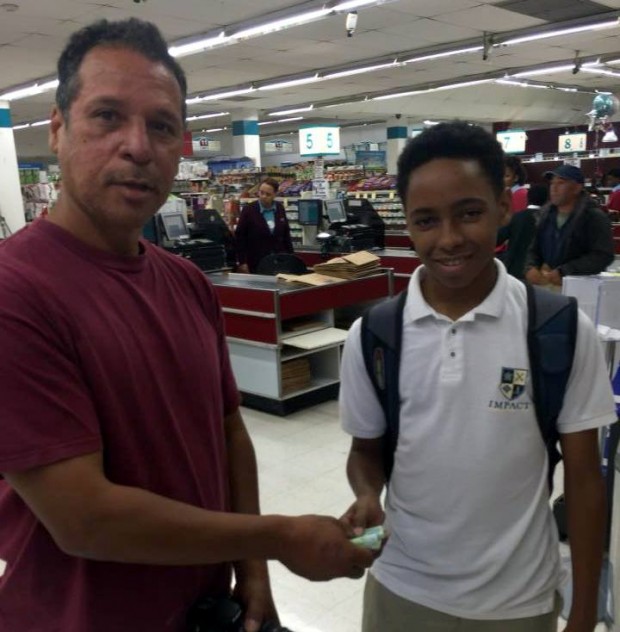 While Mr. Romano Ramirez's mother was shopping at the MarketPlace in Shelly Bay, she was short $8 at the checkout counter. So she told the cashier she would put back $8 worth of her goods.
The cashier agreed, however the young man packing the bags interrupted and offered to pay the $8 that was owed.
Mr. Ramirez's mother — who is over 85-years-old –accepted the $8 and said she would repay him at a later date.
When her son found out about this good deed, Mr. Ramirez went to the store to thank the young packer, who wasn't working at the time.
A helpful packer who attends Berkeley checked the schedule, and found that his young man's name was Isa Trott and he attends Impact Mentoring Academy, and let them know when he would be working again.
Mr Ramirez, accompanied by Robert Durham, then returned to the store, as Mr. Ramirez wanted to personally thank him and bless him "10 fold" and Mr Durham an additional "5 fold" for what they called his "wonderful act of kindness."
Isa was apparently quite shocked to get a visit and to be paid back multiple times over, as he had just made the initial gesture in good faith to help out Mr Ramirez's mother and did not expect anything in return.
Read More About