The Commission of Inquiry advised today [May 2] that they have launched a website and a Facebook page to "keep the Bermuda community informed of their process as well as their progress."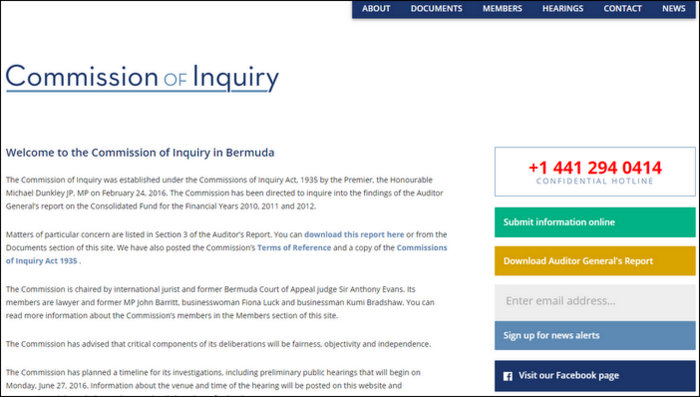 The Commission's website can be found at www.inquirybermuda.com and includes the following information and documents:
An outline of the process the Commission will be following as they conduct their investigation
Information about how to submit information to the Commission
A listing of the Commission's confidential hotline [+1 441 294-0414]
Bios of the Commission members
Relevant documents such as the Commissions of Inquiry Act 1935, the Terms of Reference and the Auditor General's report
The Commission has also established a Facebook page at Facebook.com/inquirybermuda.
Commission Chairman Sir Anthony Evans reiterated the Commission's "commitment to a fair, transparent and objective process."
"We believe that the simple website and Facebook page we have established will give the Bermuda community the information they need to understand the manner in which we are conducting our investigation," said Sir Anthony.
"We understand that there may be persons who would like to submit information to us by phone and, in this regard, we have featured our confidential hotline prominently on the website and Facebook page. We urge its use by those who feel they may have something of relevance to contribute."
The Commission of Inquiry has been charged with investigating the findings of the Auditor General's report on the Consolidated Fund for the 2010, 2011, and 2012 Financial Years.
The Commission is chaired by international jurist and former Bermuda Court of Appeal judge Sir Anthony Evans. Its members are lawyer and former MP John Barritt, businesswoman Fiona Luck and businessman Kumi Bradshaw.

Read More About
Category: All, technology