[Updated with video] Earlier today [May 11] Premier Michael Dunkley announced several initiatives as a result of the Government's renewed agreement with Norwegian Cruise Line, with the cruise line agreeing to provide a minimum of 12 cruise calls to St George's per year from 2017 to 2022, as well as support other initiatives such as commissioning two new ferries.
Joined by Frank Del Rio, CEO of Norwegian Cruise Line Holdings and Colin Murphy, SVP Destination and Strategic Development, Premier Dunkley announced NCL's commitment to the commissioning of two new ferries, the injection of funds to enhance the cruise visitor experience, and dedicated cruise calls to St. George's.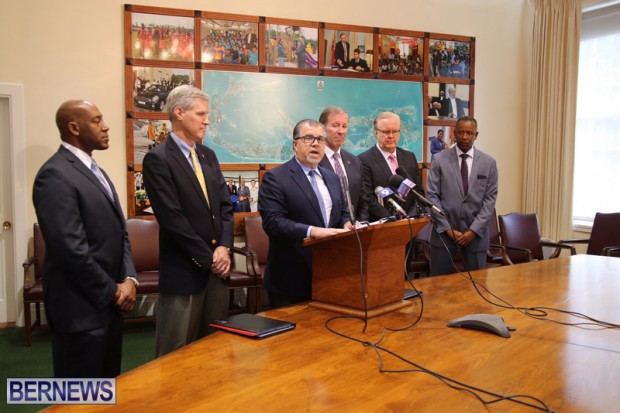 The Premier noted that NCL is one of the Island's "longest serving cruise partners". And he stressed that with a competitive cruise, ever changing cruise industry, Bermuda must nurture and maintain its stakeholder partnerships if the Island's tourism industry is to be a success.
Premier Dunkley said, "We recognise that the global cruise industry is an ever evolving one and for many visitor markets, like Bermuda, it is a key economic contributor. We understand that in the face of increasing competition from other visitor markets, as a destination, we too must adapt to the current industry trends or risk being left behind.
"Bermuda understands and appreciates the value of partners such as NCL Holdings and in that spirit of partnership I am pleased to announce that the Bermuda Government and NCL have extended our partnership through 2022."
Over these next several years NCL will undertake a series of initiatives as part of the agreement.
The Premier continued, "St. George's occupies a unique pride of place as part of Bermuda's heritage. In recent years, regrettably, the Old Towne has not seen the type of visitor influx that was once common place.
"But my colleagues and I have worked incredibly hard to ensure that St. George's becomes a premier visitor attraction once again. Our commitment to St. George's is evidenced by our success in securing a hotel development on the site of the old Club Med.
"Today, I am pleased to announce that Norwegian Cruise Line Holdings has agreed to provide a minimum of 12 cruise calls to the historic town per year from 2017 to 2022. We believe that this will aid greatly in the revitalization of St. George's."
The Premier also said another highlight of the agreement is commissioning of two new ferries. He explained that in consultation with the Department of Marine and Ports Services NCL will commission the construction of two ferries and meetings have already commenced to expedite construction and delivery of the vessels.
Premier Dunkley concluded, "There are other great highlights regarding our agreement, but one last aspect deserves particular note – and that is the commitment of NCL to provide $150,000 per year for initiatives to improve the cruise guest experience in concert with the Bermuda Tourism Authority.
"This takes effect immediately and runs through the contract through 2022.
"Today's announcement is good for Bermuda and is an excellent demonstration that if individuals, groups or organizations who want the best for Bermuda can come together in the spirit of partnership and cooperation, great things can happen.
"I want to take this opportunity to extend my thanks and appreciation to Frank Del Rio, Colin Murphy and the entire NCL family not only for their willingness to collaborate, but for their continued confidence in Bermuda."

Update 5.58pm: We asked the Government if Bermuda provided anything in return for this agreement, and a spokesperson said, "The 12 cruise calls provide additional berthing rights for the cruise line through 2022. That is considered a benefit for NCL regarding this agreement."

Read More About