In the latest of a series of profiles of members of Bermuda's team in the Red Bull Youth America's Cup, we spotlight Naeem Griffith, who provided insight into the dedication and training that it takes to represent one's country at the very highest of levels.
A former Berkeley Institute student, Mr. Griffith said, "It means a great deal to me to be racing in such a prestigious event, and I am honored to be representing my family and my country."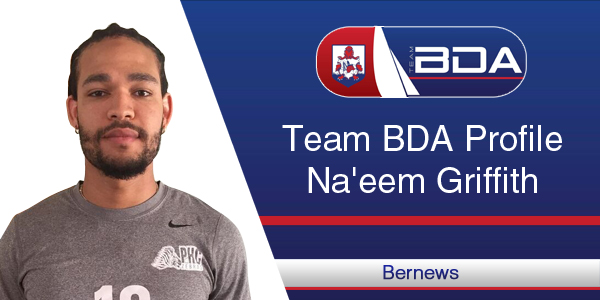 Q: Tell Bernews a little about yourself.
A: I'm 23 years old, I currently work at Fairmont Southampton Princess Hotel and Resort. I'm not in school at the moment due to a member in my immediate family taking ill while I was abroad in school. So I would consider myself a person who knows how to deal with tough situation when handed to me.
I attended the Berkeley Institute while in Bermuda for two years and then I was a student at Darlington Soccer Academy in Rome, Georgia, for three years, and also attended Lees- Mcrae College in Banner Elk, North Carolina, where I was able to pursue my love for Soccer along with my academic endeavours.
Q: What made you try out for Team BDA in the first place?
A: I was interested in representing my country and I knew a few things about sailing. They said they were looking for some of Bermuda's top athletes within a certain age to come out and join, so I thought why not give it a try. I am an athlete with a passion for sports and fitness.
Q: Now that you are in Team BDA what do you hope to achieve – you want to win, but do you think you will take sailing even more seriously and look for a career in it, or at least to get more involved in it?
A: First and foremost, I would love to win, but I know that's not going to be a walk in the park; if we want to achieve these goals of winning it will only come with preparation, hard work and dedication.
You only get out what you put in. I definitely take it seriously, and I'm interested in taking it to the next level. The sky is not the limit for the heights I am trying to reach.
Q: Do you think that taking part in an event like this is something that will stand you in good stead for the rest of your lives – in terms of career, self-esteem/confidence?
A: I believe that something like this is great for things and will help us in all of our endeavours. It will help with things such as confidence, team skill, future careers, and also for our country, and it will help bring our community out also to show their support.
I feel it will open doors for all of us because we all bring different skills to the table. If prepared right, it will be a recipe for success.
Q: What does it mean to you to be a Bermudian, racing in Bermuda for Bermuda in such a prestigious event?
A: To be a Bermudian means things such as Gombeys, swimming off the rocks, pink sand, Dark & Stormies, close knit community, very friendly, laid back, and 24th of May are just some things that can describe what it means to be a Bermudian, and with some of these things it makes us different in a good way.
It means a great deal to me to be racing in such a prestigious event, and I am honored to be representing my family and my country.
Q: What excites you most about the time to race time?
A: Actually pushing each of my teammates to the best of their ability when we are training, so we can get the best possible result and make our country proud; it feels good to show them support. Being on the ocean is the ultimate for me; our waters are some of the best worldwide.
Q: Do you think the Red Bull Youth America's Cup has the potential to leave a lasting legacy for Bermuda?
A: Yes, I feel as if it has the potential to leave a lasting legacy for Bermuda because we have some very good talent throughout the island and if we can help push the upcoming youth in the right direction, I'm sure it will continue on for many years to come.
Q: What sailing experience do you have?
A: My sailing experience dates back some years. I was involved throughout my early teen years for a few summers. I would have to say that I pick up on things very well and quickly. I'm a hands on type of person, so the best way for me to learn is through physically approaching it.

Team BDA is Bermuda's entry into the Red Bull Youth America's Cup that will take place in the Great Sound in June 2017. They are mentored by Oracle Team USA and will race on the same high-speed AC45F catamarans seen during last October's Louis Vuitton America's Cup World Series in Bermuda.
The team comprises of 15 young Bermudians who will form the crew, the back-up crew and shore crew. Team BDA is being funded entirely by donations.
Team members are Connor Astwood, Mackenzie Cooper, Peter Dill, Preston Farrow, Na'eem Griffith, Philip Hagen, Kalin Hillier, Mustafa Ingham, Emily Nagel, Daniel Pell, Nicholas Pell, Owen Siese, Dimitri Stevens, Shomari Warner and Cecilia Wollmann.

Read More About