[Updated with videos] Former Premier and founder of Bermuda Healthcare Services Dr Ewart Brown held a press conference today [June 16], to address the "unjust and unwarranted arrest of Dr Mahesh Reddy."
Dr Brown said that Dr Reddy "had his home raided at dawn in a heavy handed manner by no less than eight police officers," based on "a suspicion that he had been overusing MRI and CT scanners," with Dr Brown saying he wants to "make it absolutely clear that these suspicions are completely unfounded."
Dr Brown had a number of supporters present at today's press conference, including his brother Phil Butterfield, MP Derrick Burgess, MP Rolfe Commissiong, MP Zane Desilva, MP Wayne Furbert, BIU President Chris Furbert and more.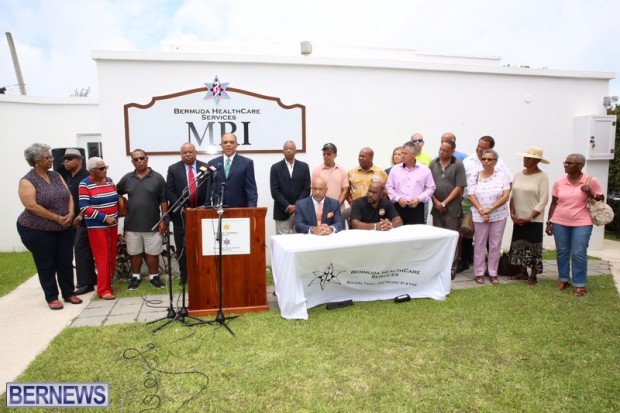 Speaking at a press conference today, Dr Brown said, "It has been a long time since I have made any public statement after I served as Premier of Bermuda. However, I now feel compelled to speak out because of what I see as a terrible injustice currently being committed in Bermuda.
"I refer to the unjust and unwarranted arrest of Dr Mahesh Reddy, a distinguished medical practitioner who has devoted many years to the people of Bermuda.
"Dr Reddy's lawyers are in the process of challenging the legality of this arrest and the illegitimate search of his home.
"Dr Reddy will also be seeking redress in terms of compensation for the wrongful arrest and the distress that has been caused to himself and to his family. I have no doubt he will be vindicated.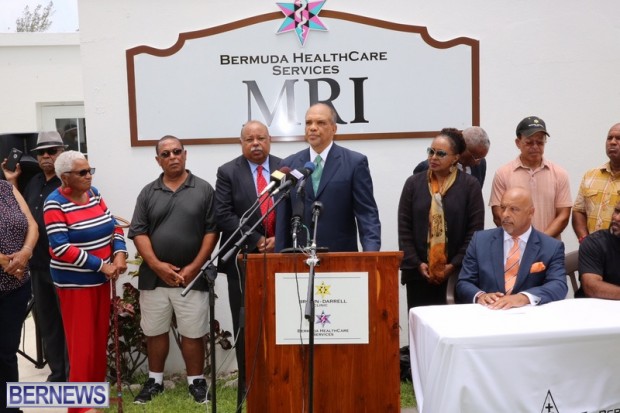 "Dr Reddy, the Chief Medical Officer at Bermuda Healthcare Services and the Treasurer of the Bermuda Medical Doctors Association, had his home raided at dawn in a heavy handed manner by no less than eight police officers.
"This disproportionate action was based on no more than a suspicion that he had been overusing MRI and CT scanners to make more money.
"I set up Bermuda Healthcare Services, which has brought much needed and overdue improvements to healthcare services in Bermuda, and I want to make it absolutely clear that these suspicions are completely unfounded.
"These are the facts: Every scan carried out by Bermuda Healthcare Services has followed all the procedures set out by recognised professional bodies.
"Every scan referral is reviewed by an independent panel of radiologists in the US. No patients, and no insurance companies which paid for the scan have ever made one single complaint concerning these very necessary diagnostic procedures.
"The facts show that our scanners are properly used without any anomalies. The results of the scans carried out are entirely consistent with what would normally be expected in any reputable healthcare centre around the world. In fact, these scans are capable of identifying very serious conditions and lives have been saved as a result, including my own.
"Until we invested in MRI and CT, these scanners were only in hospitals and they had long waiting lists. When the hospital scanner broke down last January, we stepped in.
"We have also brought x-ray, ultrasound and mammography equipment to Bermuda, which has massively improved healthcare and reduced a need for Bermudians to fly out to the US at great expense for diagnostics.
"This unwarranted arrest is the last straw. There has been a long string of malicious slurs and false allegations, with the real target being me because of my past political views as the former Premier."
"My political enemies in Bermuda and the UK are seeking to discredit me.
"They have tried many times to prove I have done something wrong but not one of their claims has ever been substantiated.
Update: 10-minute video of Dr Brown's Q&A with the media
"I have kept my counsel on this until now, assisting investigations and providing complete transparency in accounts and paper trails I have freely given but the arrest of Dr Redddy is too far. Enough is enough.
"I owe it to the ordinary people of Bermuda who have seen their health standards improve, and to my supporters in the PLP, to put a stop to this damaging and unwarranted harassment.
"Resources that should be deployed to fight real crimes that blight our streets such as recent armed robberies and murders are instead being devoted to a long running politically motivated campaign of harassment which has now put a hard-working doctor under false suspicion.
"This nonsense must stop and I have appointed high level counsel to challenge this harassment. Of course, no one should be above the law and if there are charges, then let me face them now.
"After many years of fruitless investigation, it is time for the prosecutors and the police to put up or shut up and let us get on with the vital business of helping people with their healthcare needs."
Update: 5-minute video of Dr Brown's statement:
Update 6.33pm: In response, a police spokesperson said, "The BPS has previously confirmed that an investigation was commenced in 2012 into allegations made at the trial of Mr. David Bolden. That investigation is still being conducted and as such no further comment can be made at this time."
Read More About