The Bermuda Tourism Authority [BTA] has produced a new video as part of a multi-layered approach to introduce Bermuda to filmmakers, television producers and others in the global entertainment industry.
"The plan began in August of 2014 when the BTA joined the Association of Film Commissioners International [AFCI]," the BTA said.
"As a member of AFCI, the BTA is recognised as the certified film commission for Bermuda and becomes part of a fraternity of film commission offices around the world who have credibility with entertainment industry decisions makers.
"Increasingly we talk with film and television crews about shooting their productions in Bermuda because they know our picturesque landscape and geographic location sets us apart from other destinations," said Tiffani Cailor, the BTA's director of public relations and content management.
"Recent activity has included a US cable reality show, a UK film location scouting visit and an NBC-created programme slated for key US east coast television markets.
Television crew and talent of X Factor on a shoot in St. George

"There is a lot happening in this space since our alignment with AFCI and it is generating on-island spend because all of these crews hire a Bermuda production company even before they arrive."
"Visiting film crews have truly broadened the visibility of Bermuda and the opportunities for local production talent," said Nhuri Bashir of Burnt House Productions [Into Bermuda]. "They contribute to a small yet growing equipment rental business and also connect locals to international talent and resources in the entertainment industry.
"Similarly, many of the film crews cast local talent – models, makeup artists and personalities – to be featured in their work, which puts our people on the international stage for the world to see."
British actor Douglas Hodge performs a scene from The Tempest at Gates Bay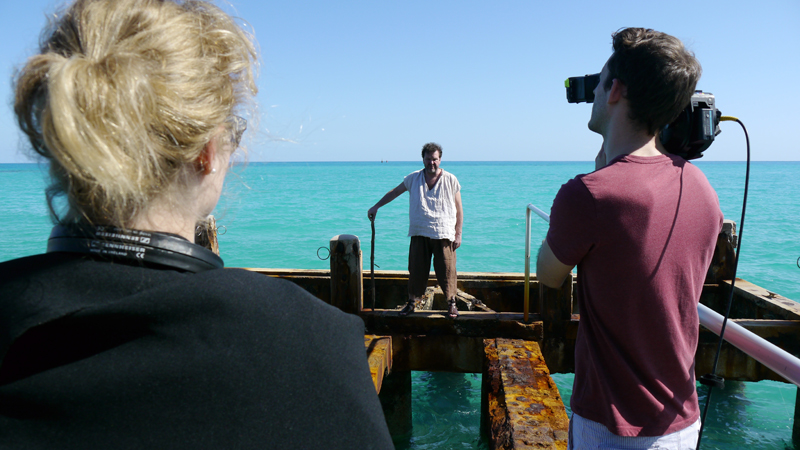 "The BTA has created a section on its website to make it easier for interested production crews to get more information about shooting in Bermuda. It includes listings of local production companies and a guide for utilising the BTA's assistance to navigate the Customs and Immigration process," the BTA added.
"The BTA also attended the AFCI Locations & Global Finance Show this spring where they generated more than 60 new leads on filming opportunities in Bermuda.
"Going forward the BTA will work with the Ministry of Tourism, Transport & Municipalities and other government agencies to determine strategies designed to further incentivise decision makers to bring their projects to Bermuda.
Michael Fahy, the Government Minister responsible for Tourism, said: "Often times these productions bring marketing exposure for tourism, they create temporary jobs in our community and they generate a healthy economic impact for the local economy.
"Where that is the case we want to make sure our regulations are at least as competitive as other jurisdictions in the region so that these opportunities come to Bermuda instead of going elsewhere."
Local production companies who want to be listed on the BTA website as a resources for visiting production companies should send their interest via email to the BTA's Digital Manager Jamari Douglas jdouglas@bermudatourism.com.

Read More About
Category: All, Entertainment, Films/Movies