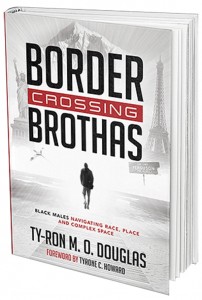 Dr. Ty-Ron Douglas, an Assistant Professor in the Department of Educational Leadership and Policy Analysis, and an affiliate faculty member of the Black Studies program at the University of Missouri, will release his latest book – Border Crossing Brothas: Black Males Navigating Race, Place and Complex Space – on Tuesday, October 4th in Bermuda.
The book's description said, "Border Crossing Brothas examines how Black males form identities, define success, and utilize community-based pedagogical spaces [e.g., sport venues, barbershops, churches] to cross literal and figurative borders.
"The tragic deaths of Michael Brown in Ferguson, Tamir Rice in Cleveland, and numerous others from Brooklyn, Britain, and Bermuda whose lives have been taken prematurely suggest that negotiating race, place, and complex space is a matter of life and death for Black males.
"In jurisdictions such as the U.S. and Bermuda, racial tensions are the palpable and obvious reality, yet the average citizen has no idea how to reasonably respond. This book offers a 'reasonable response' that pushes readers to account for and draw on the best of what we know, the core of who we are, and the needs and histories of those we serve.
"Drawing on the educational and socializing experiences of Black males in Bermuda—a beautiful yet complex island with strong connections to the U.S., England, and the Caribbean—this book offers educators and leaders new language for postcolonial possibilities and emancipatory epistemologies related to Black male identities and success in a global context.
"Intriguing findings and fresh frameworks grounded in understandings of race, class, ability, transnationalism, culture, colonialism, and the construction/performance of gendered identity emerge in this book."
Dr Douglas earned a Ph.D. in Educational Studies/Curriculum and Teaching with a concentration in Cultural Studies and a Post-Master's Certificate in School Administration.
He has taught in K-12 and post-secondary settings in the U.S. and Bermuda, founded and directed a GED Community School, and served on the executive committee of the American Educational Studies Association.
He has also been the recipient of many awards and scholarships, including the 2008 Dudley E. Spurling Postgraduate Award and the Fessenden-Trott Award [Bermuda], the 2013-2014 UNCG School of Education's Early Career Award, a 2013 Distinguished Dissertation Award by the American Educational Research Association [AERA], and the 2016 Mizzou College of Education Outstanding College Teaching Award.
Dr. Douglas' most recent publications have appeared in outlets such as Educational Studies, The Urban Review, Teachers College Record, Race, Ethnicity, and Education and The Handbook of Research on Educational Leadership for Diversity and Equity.
He is the co-editor and a contributing author of 12 Shades of Man: Testimonies & Transitions to Manhood, and co-author with his wife of So Amazing… Her Story: Secrets to Finding and Keeping a Great Man. He has also written numerous book chapters and journal articles related to his research interests.
One of his most recent speaking events include a keynote address at the 2016 Sport Exchange Summit in Kansas City, MO, drawing on his 2015 NCAA grant funded study on Black male student-athletes at the University of Missouri.
Dr. Douglas will be a keynote speaker for the International Colloquium on Black Males in Education in Bermuda this October, and his book will be released on Tuesday, October, 4th at Brown and Co and it can also be pre-ordered via his website.

Read More About