[Updated] A campaign group trying to stop the development of a new maintenance yard in the middle of the Botanical Gardens has delivered a 1,500-word letter of objection to Government.
And Take Back Our Park is urging more people to sign its petition [here] in a bid to convince Government not to carry on with work on a new HQ for more than 100 parks staff.
Jennifer Flood, a spokesperson for TBOP, said: "We have been consistent in saying that the Parks staff deserve a new headquarters, just not in a place that virtually bisects a national park.
"We know that a yard has existed there previously but we feel strongly that Government has missed an opportunity to move it somewhere more suitable. In addition, the sheer scale of the development is wholly inappropriate."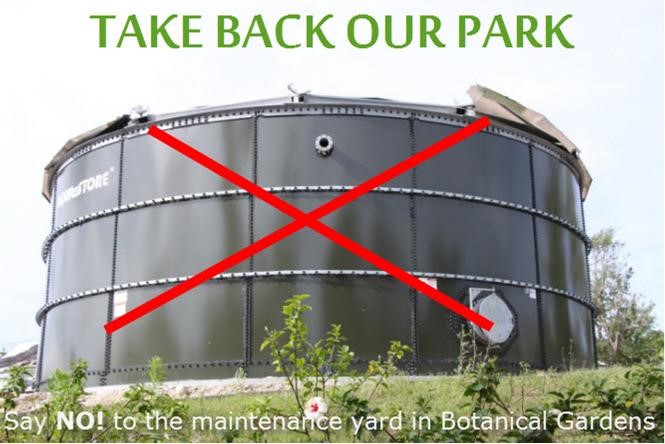 Work on the new maintenance yard was stopped earlier this year when the Chief Justice granted a temporary injunction halting Government from proceeding with its plans.
TBOP say the Botanical Gardens is the wrong place for a two-story water tower, a 30-foot high 'L' shaped prefabricated metal warehouse and one 100-foot long and 18-feet high building.
It would also be a mustering post for up to 120 Parks staff, as well as a parking lot for all the Department's heavy vehicles, trucks, equipment and trailers.
Government recently held a public meeting on the plans which was attended by TBOP members who described it as 'disappointing'. The 1,500-word document was submitted as part of that consultation.
Mrs Flood added: "We would urge people to sign our petition and to write to Government protesting these plans.
"We believe there are suitable alternative sites and that this is a great chance to enhance the Botanical Gardens, a national treasure."

Update 11.16am: The group added, "We have issued a call to action TO and are asking everyone to submit their objections or comments about the proposed maintenance yard to Marcus Wade at Marwade@gov.bm. The Botanical Gardens belongs to all of us and it's time for Government to hear our voices and stop this project.
"The petition was submitted to the Minister on January 29th 2016, but in light of the fact Government has now opened up Public Consultation on the project that we have reopened the petition"
Read More About
Category: All, Environment, News