[Written by BTA Chairman David Dodwell as part of the Bermuda Tourism Authority's 'Tourism Forward' series]
Sailing fits perfectly into Bermuda's seaside lifestyle – that is true today and all the way back to the advent of the Bermuda rig. Despite that reality, it is fair to say our country's bid for the 35th America's Cup was audacious.
No country our size had ever gone far in the bid process and more importantly, no America's Cup-holder had ever defended the event outside of its home turf. Somehow though, Bermuda broke the mould.
Since the day we learned of the successful bid back in December 2014, the benefits for the country have been plentiful and − more importantly − there is more to look forward to as we welcome the world's sailing fans to our shores, both in person and on television.
From a tourism industry perspective we evaluate the positive impact in three primary categories: brand exposure, economic impact and legacy benefits.
Brand exposure
Our CEO Bill Hanbury often reminds me that the America's Cup has taken us to places the Bermuda Tourism Authority [BTA] could never go on its own. He is right. In the United States, Europe and around the world we have seen a volume of editorial coverage most destinations can only dream about.
Of course, the America's Cup is a unique sport in that the athletes, the event organisers and their families live in the destination where they will compete, six, 12, even 24 months before the event. That has given the BTA an opportunity to tell amazing stories about the Bermuda lifestyle − and those stories are sometimes told through the eyes of the world's greatest sailors.
I have seen stories of Oracle Team USA Skipper Jimmy Spithill diving for Bermuda lobsters, tactician Tom Slingsby windsurfing on the weekends or grinder Cooper Dressler fishing somewhere off the coast. It is not uncommon to see an entire America's Cup team training on our pink sand beaches, just as readers saw in Du Jour last year. These intrinsic Bermuda activities and the storytelling around them have helped us reach a younger, more adventurous, experiential traveller than was the case before.
Jimmy Spithill, Tom Slingsby and Cooper Dressler of Oracle Team USA have soaked up adventure activities around Bermuda: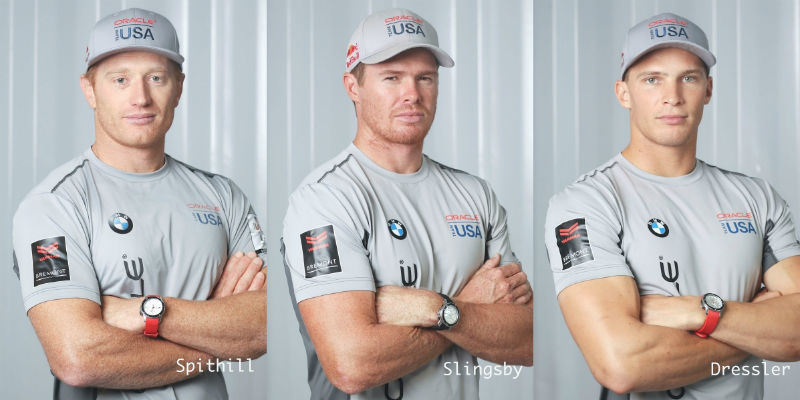 In the past year, we have seen impressive growth in age categories under 45. Just as the average age of the modern day America's Cup sailor has skewed younger, so too has Bermuda's visitor since the Island was chosen as host of the 35th America's Cup.
It is clear to me that the America's Cup has played an important role in helping us capture the imagination of some of the most influential publications and that exposure has inspired the next generation of Bermuda visitors.
In additional to editorial coverage, our marketing team has partnered with powerhouse lifestyle brands like Louis Vuitton, Bremont, Moet, Red Bull and Vineyard Vines. In the space of just a few months, three of those brands were in Bermuda for photo shoots to promote their products around the world and as a residual benefit, Bermuda's profile as an aspirational destination is undeniably raised.
Economic Impact
Also undeniable is the positive impact the event is having on our Island's economy. In addition to the homes purchased, leases signed and goods consumed by the teams and their families already in Bermuda, the country hosted the Louis Vuitton America's Cup World Series in October 2015.
That event filled our hotels and restaurants, our retail stores and attractions. The economic impact on the country was estimated to be $8.6 million, an impact 406% above that projected by the Government of Bermuda, according to America's Cup Bermuda Ltd.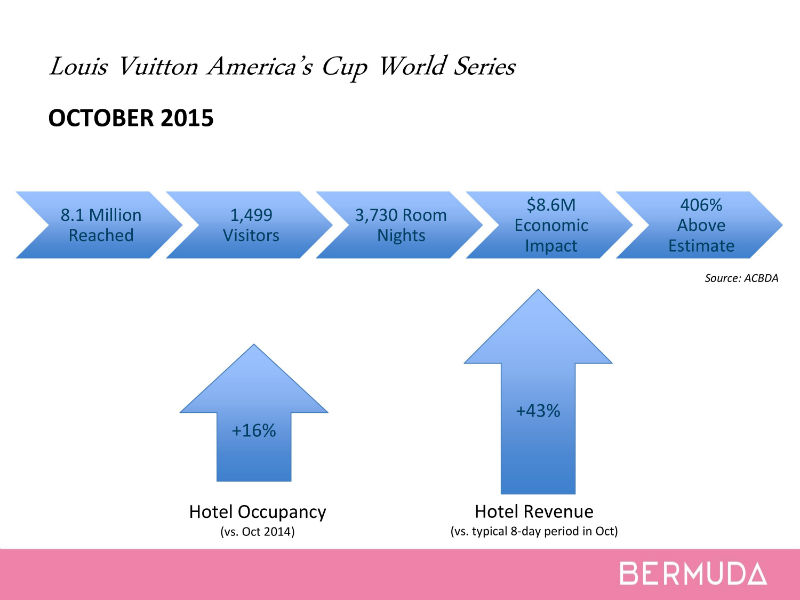 The World Series was essentially a three to four day affair. The final race calendar in May and June of 2017 will last five weeks. Consequently Bermuda is faced with a tremendous opportunity and every day between then and now we are getting ready. We will have at least one new hotel completed by that time, others significantly upgraded and some much needed marina space constructed as well.
The marina space is particularly helpful as we expect high demand from yacht and superyacht owners. We may see as many as 100 superyachts during the 2017 race calendar, each with the potential to inject more than $100,000 [on average] into our local economy. These visitors have a substantial impact on the local economy and we are busy preparing the resources necessary to serve their every need.
Legacy Benefits
Superyachts is an area where Bermuda has a tremendous amount of unrealised potential and we think the marina infrastructure coming to fruition for the America's Cup will have a lasting benefit for the country.
We have two assets that set us apart from all competitors. The first is geography. We are ideally positioned between the Mediterranean and the Caribbean. In early spring and early winter, superyachts are often in our neck of the woods travelling between those two regions. We want them to stop over in Bermuda more frequently or even stay an entire season. Of course some already do, but we want this to be a 'must-visit' stop for a greater number of superyachts and our geography gives us an advantage.
The America's Cup is our chance to get the attention of the world's superyacht owners and capture their imaginations. We want to impress them so that they consider coming back year-after-year in the future.
Superyachts, of course, is only one aspect of the legacy benefits associated with America's Cup. There are many other economic opportunities for entrepreneurs and social benefits for our island's young people. At the BTA we're working hard to include as many as are willing in the tourism-related benefits of America's Cup, noting that our most important responsibility is ensuring the positive effects we record now are built to last for the long haul.
- David Dodwell is Chairman of the Bermuda Tourism Authority Board of Directors. If your corporate office, civic group or school would like someone from the BTA to give a presentation on the tourism-related benefits of the America's Cup, contact our Director of Public & Stakeholder Relations Glenn Jones at gjones@bermudatourism.com. Watch the Tourism Forward video series online at the BTA's Vimeo channel. Tourism Forward also airs on cable on Channel 82.

Read More About