Earlier today Premier Michael Dunkley met with the Chinese Ambassador to the United Kingdom Liu Xiaoming, to discuss ways in which to establish stronger trade ties between China and Bermuda.
"During their conversations, the Ambassador updated the Premier on some of the areas where he believed Bermuda and China could further strengthen their relationship – one of which was in regard to the millions of Chinese tourists that leave their homeland each year to travel overseas on vacation," the Government said.
Premier Dunkley said, "While the Ambassador acknowledged that many Chinese people are aware of Bermuda – and, in particular, the Bermuda Triangle – many of them were not familiar with exactly where we are located or what sight-seeing options exist here. We discussed tourism in depth, as well as opportunities with regard to international business, reinsurance and investment potential."
"On this note, Ambassador Liu invited the Premier to visit China and said that an immediate possible opportunity could be Bermuda's participation in the upcoming Chinese International Tourism Expo," the Government said.
"The Premier took this opportunity to present the Ambassador with a pair of traditional Bermuda shorts and socks as well as a bottle of Black Seal Rum and a book highlighting outstanding photos of Bermuda.
"This meeting was followed by a roundtable breakfast hosted by the Premier and Minister of Economic Development the Dr. Grant Gibbons with leaders of Bermuda's International Business sector, the Chamber of Commerce and Government.
"At the breakfast, the Premier facilitated discussions regarding the services that Bermuda companies can provide to Chinese businesses and family organizations, including investment in international insurance companies, asset management, and trusts.
"The Ambassador was very keen to strengthen those relationships and showed great interest in working with Bermuda companies and those operating from Bermuda in terms of introducing those companies to Chinese companies."
Ambassador Liu arrived on the island on Saturday where he has since met with various groups.
The visit of the Ambassador is a direct result of the diplomatic and trade visit undertaken at the end of November by Minister Counsellor Jin Xu, First Secretary, Mr. Huang Hongyong and Third Secretary Mr. Peng Zhang of the Economic & Commercial Counsellor's Office of the Chinese Embassy in the United Kingdom, when Premier of Bermuda, Michael H. Dunkley extended an invitation to the Ambassador to visit.
Ambassador Liu is accompanied by his wife Mrs. Hu Pinqhua, Consular Official Mr. Guo Chentao, and Second Secretary, Political Section, Mr. Pan Feiya.
This is the first time that a Chinese Ambassador to the United Kingdom has been to Bermuda.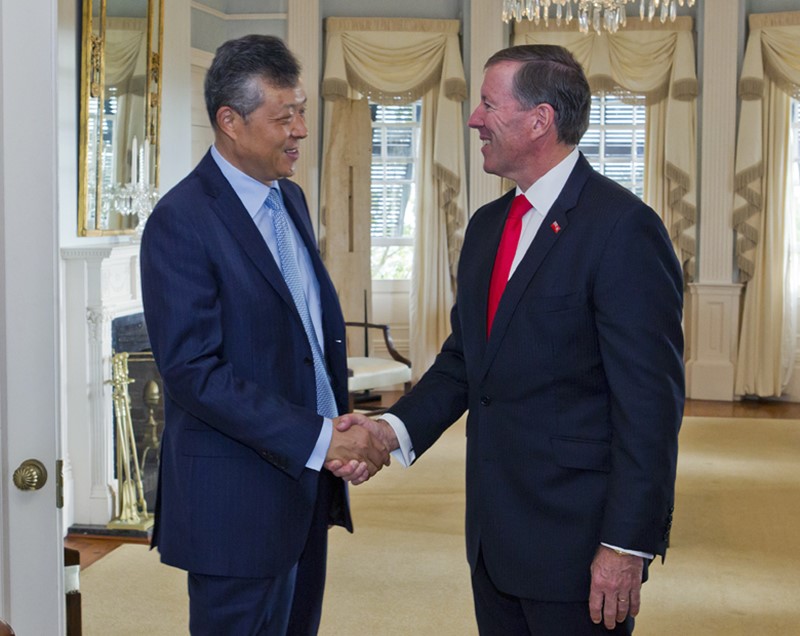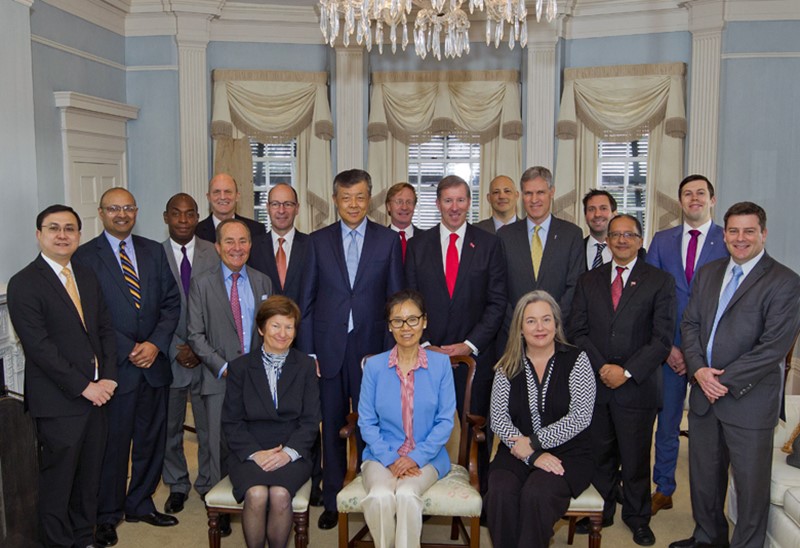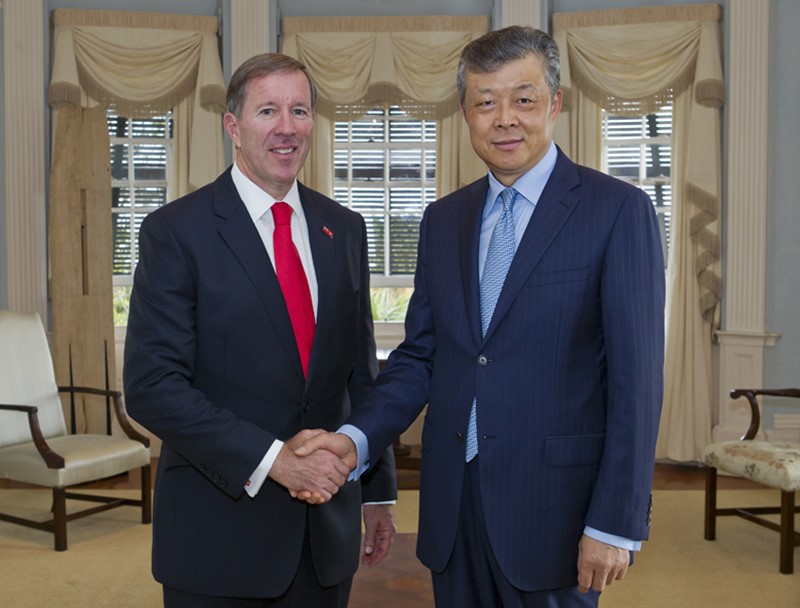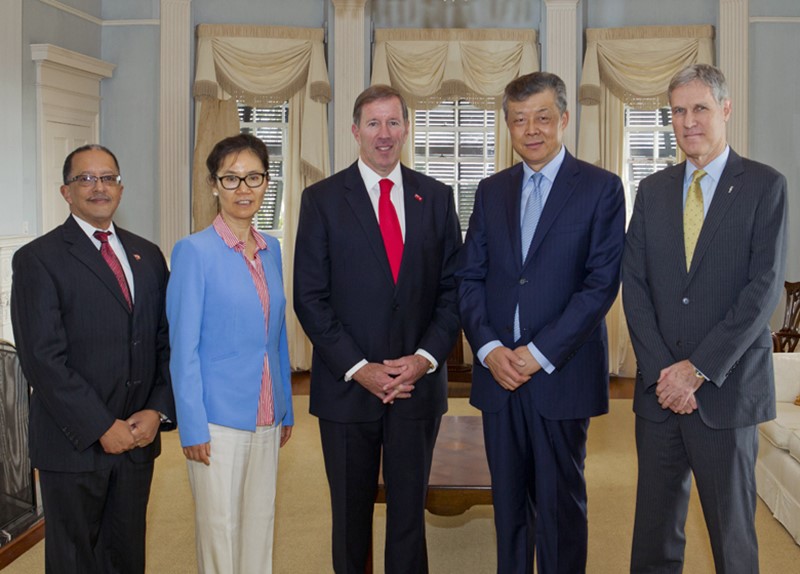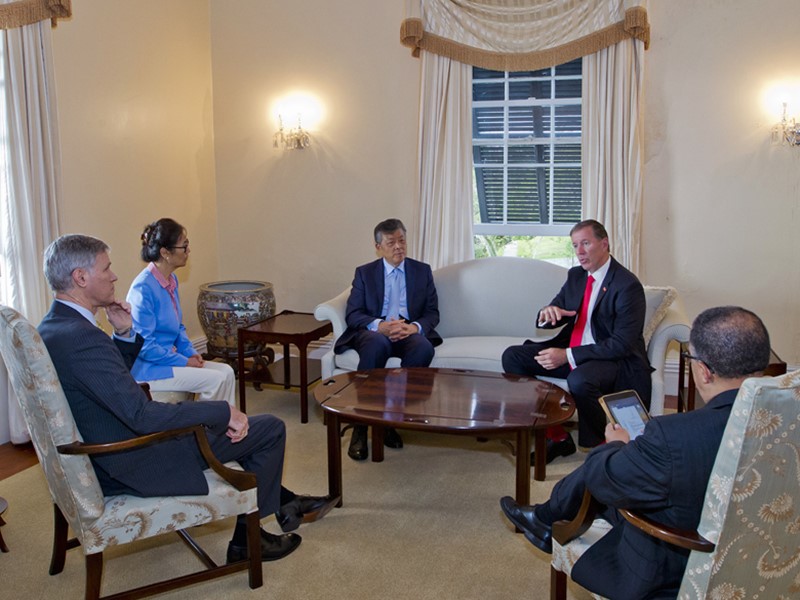 Read More About