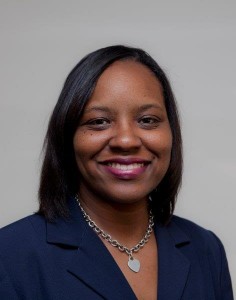 No matter how hard she tried, Malika Cartwright's career never ventured far from the hospitality industry.
Her first job at 17 was as a cashier at Waterloo House; later she worked in the sales office at St George's Club.
"Believe it or not, I had every intention of never going into hospitality full time," said Mrs Cartwright, the Executive Director of Bermuda Hospitality Institute.
"It wasn't my interest at that time. I was really fascinated with computers at the start of university and thought I would be in I.T., but took my first computer class in college and said 'This is for the birds'. 'I can't do I.T. all day, every day – this isn't for me'."
She didn't commit to a major until eventually stumbling on a marketing class at Kean University in New Jersey.
But as luck would have it she kept being drawn back to the hospitality industry through various summer jobs.
"I couldn't escape it," she said, with a laugh.
Through jobs on the front desk and as a restaurant host she was able to pay for all her schooling on her own.
She also learnt first-hand that hard work pays off.
While working a summer job at the Hamilton Princess a general manager secretly put her name forth for an overseas marketing post with the Fairmont in New York.
"Back then I didn't even realise the general manager knew my name, but I learnt from that you always have to put your best self forward because you never know who is watching," Mrs Cartwright, 39, explained.
She spent 18 months working in the Big Apple after graduating from college; then returned to the island in December 2002 to work in the marketing department at Hamilton Princess.
In 2004, she decided to spread her wings and work with various Government departments, but it wasn't long before she started to see another pattern emerging: all of her responsibilities fell under the remit of tourism and transport.
Mrs Cartwright credits hospitality with teaching her the value of a good work ethic, how to work with different personalities and how to manage time and responsibilities.
In the 2.5 years since taking over as the head of the BHI, Mrs Cartwright is most proud of the strong connections she's built within the local education system.
She loves being able to talk to young people about this industry and the opportunities that exist. Her goal is to show them, no matter what their interest, there are viable career options available in the hospitality sector.
"A lot of young people can't see how hospitality relates to them and their passions," Mrs Cartwright explained.
"They look at the service industry and think it's front desk work and housekeeping, and yes, it is all of those things, but then I get to tell them about all the other things it is and my personal experience.
"They can't believe it when I tell them I started out pushing minibar carts, but when I tell them my journey they learn that in the middle of all that I was able to get a Bachelor's and a Master's degree and still have my hand on the pulse."
Mrs Cartwright has been able to meet famous faces like Alicia Keys and Lionel Richie through the Bermuda Music Festival. She's also made friends with people from around the world.
"It's one of those industries that open so many doors and opportunities. You have to work hard, but you get to play hard too," she said.
"In some industries, you work hard, but there's no reward at the end of the day. With hospitality, you get to learn about food and wine, even if you're not in Food & Beverage because you have friends in those areas who will tell you about it."
She stresses to young people considering hospitality that providing great service doesn't mean you are in servitude to someone else.
"I tell people to go beyond the golden rule of treating people how you want to be treated and instead treat them how you would want someone your mom or your favourite person to be treated. Go the extra mile," she said.
Moving forward, Mrs Cartwright wants the BHI to be recognised as an agency working to help Bermudians become the best they can be when it comes to hospitality and making visitors feel welcome on our shores.
Next up for BHI is Hospitality Month 2017 in April. Also on the horizon is the fifth anniversary edition of Plates of Passion and the fourth annual Tomaz Tabor Golf Tournament this summer.
For more information on the events and how you can participate, visit: www.bhi.bm.
Read More About