[Updated] The Premier announced changes to Cabinet today, with Wayne Scott stepping down from Cabinet and being replaced by Cole Simons as Education Minister, while Nandi Outerbridge was appointed the new Minister for Social Development & Sport.
In addition, Sylvan Richards is the new Environment & Planning Minister, while Leah Scott will be the Junior Minister of Education, with all other Ministers remaining the same.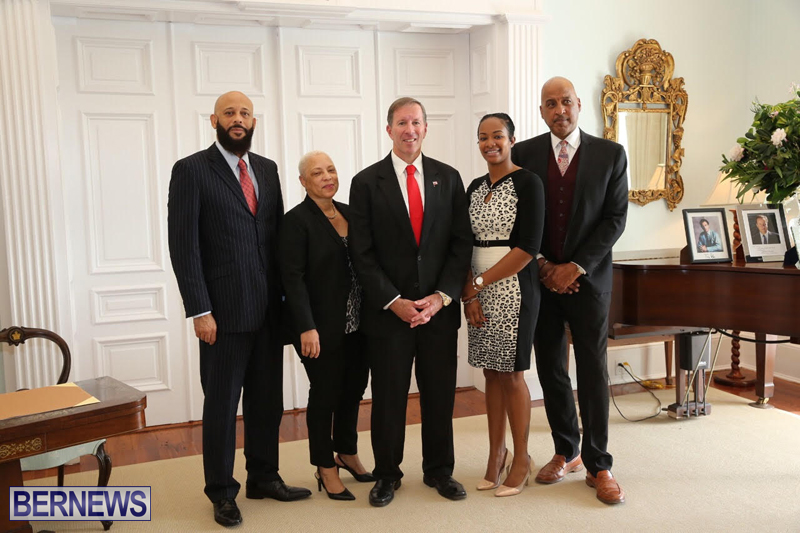 Speaking at the swearing in ceremony today, the Premier said, "As Premier, it is my duty to make sure the Government provides the people of Bermuda with the leadership and service they need to live their lives on an even playing field, in safety and with opportunity.
"A critical instrument to achieve these things is through appointments of Cabinet ministers who, through the collective wisdom of the Cabinet, direct the resources of government toward meeting the needs of people.
"The make-up of a Cabinet team is always subject to change, depending on developments and opportunities, and so today, in this light, I would like to announce changes to the Government's Cabinet team.
"A few days ago, my colleague R. Wayne Scott informed me that he would like to pursue opportunity outside of politics.
"I respect his wishes and so I have accepted his intention to step down from the Cabinet.
"Wayne has served with dedication and enthusiasm in his two years as Education Minister, and before that in Social Development and Sports. I have appreciated his tireless energy, advice and trusted support.
"I wish him the best in his future endeavors and he has assured me of his continued support to OBA, in the House of Assembly where he debates with spirit and conviction, bringing added strength to the backbench and at the next election.
Premier Announces Changes To Cabinet
"Cole Simons will serve as Education Minister.
"I have great confidence in Cole. He is a proud Bermudian who carries that pride wherever he goes and in whatever he does.
"Minister Simons has proved himself a very capable performer in Cabinet, moving issues forward for consultation and decision, and providing a perspective to discussions that brings into play his business knowledge, his compassion for others and his love of country.
"Minister Simons is eager to take the baton from Minister Scott. In our talks on his new appointment, he made it clear that there is no more important work than making sure Bermuda's youth get the education they need to realize their potential and their dreams.
"That's the kind of commitment needed to make a difference.
"I look forward to Minister Simons joining with education professionals from the ministry to the classroom to strengthen the classroom experience of students.
"Sylvan Richards will serve as Minister of Environment and Planning.
"Minister Richards remains a strong presence at the Cabinet table, using his experience in international business and his community awareness to progress public concerns and needs.
"The environment is critical to our quality of life and our success as a destination for others. Bermuda's beauty needs to be preserved and to sparkle and those objectives will be central to the work. In addition as the economy continues to strengthen Planning will be at the forefront to the growth of our people.
"Nandi Outerbridge will serve as Minister for Social Development & Sport," the Premier continued.
Nandi Outerbridge being sworn an as the new Minister for Social Development & Sport
"One of my aims as Premier is to do what I can to keep the doors open to young Bermudians who want to serve, and to make sure they know that their participation and views are needed to help Bermuda advance in the most inclusive way. In addition those of us with experience are expected to nurture and help grow the younger members of our team.
"I have worked with and supported Nandi for nearly five years now, and can say with conviction that she is smart, organized and strong.
"Nandi has grown from year to year in confidence and knowledge. She has proven herself as an MP, Government House Leader and Party Whip, and she has carried forward her responsibilities as Junior Minister for Social Development and Sport with seriousness and energy.
"Nandi is ready to take the next step, and so I am pleased to announce her appointment as Minister for this important portfolio.
"Nandi got into politics out of concern for the safety and future of her young son and I can think of no greater motivation for public service than a young mother stepping forward as Nandi did.
"She is deeply aware of needs and happenings across the community, and I believe she is well suited for this post.
Leah Scott being sworn in as the Junior Minister for Education.
"And finally I am pleased to announce that Leah Scott will serve as the Junior Minister for Education.
"MP Scott has shown a deep desire to improve education and I am sure her partnership with Minister Simons will provide tangible benefits to our children and our public education system.
"All other Ministers remain in place," the Premier said.
"As a team, we are committed to moving Bermuda forward, and doing so with continuing urgency. The Cabinet is ably supported by a strong backbench and Senate team, all of them worthy of a Cabinet appointment.
"In closing, as the Government we have made progress. We ended years of decline however there is more work that must be done. Now the focus must be on extending recovery, opportunity and hope into every household. That is the mission of this Government."
Update: The Premier answers questions about the changes
Read More About