It was Mustafa Ingham's grandmother who gave him the initial nudge to try out for TeamBDA. The Hamilton Parish resident had never sailed before, but thanks to hard work and natural talent has put himself in the running for the position of Bowman in the 2017 Red Bull Youth America's Cup in June.
His sailing odyssey has created other opportunities too. Last year, Mustafa impressed Team Aqua, a professional RC44 sailing team, with his drive and determination and worked with their shore crew during the RC44 Bermuda Cup.
The 20-year-old attended Harrington Sound Primary, Clearwater Middle School, Impact Mentoring Academy and The Berkeley Institute.
Mustafa deferred his studies at Bermuda College, in the motor vehicle technology programme, to participate in TeamBDA. In the meantime he has earned a W.I.T.S. Personal Training Certificate, also at the Bermuda College.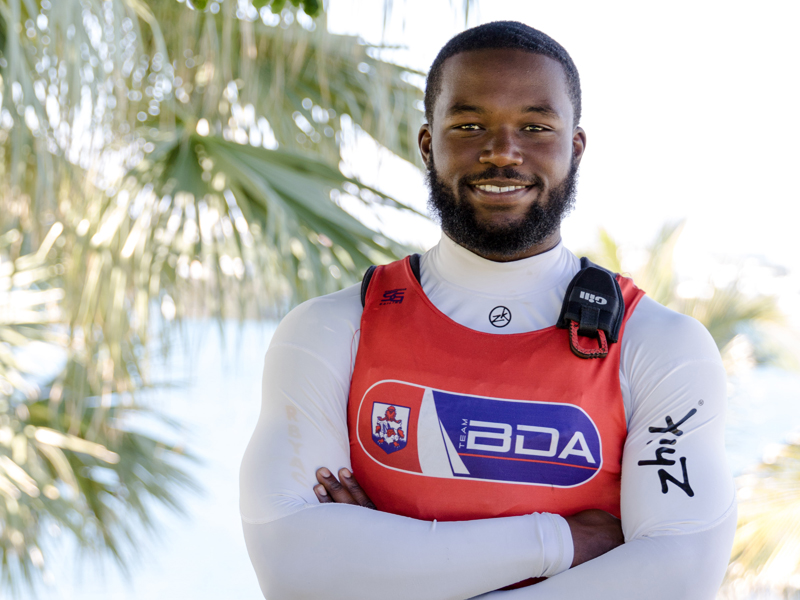 Here Mustafa tells us more…
Who is the Bermudian you most admire?
Mandy Ingham, she's one of Bermuda's top nurses and gives her all in everything she does. She is passionate about her job and hobbies; also she never stops striving to better herself and she means the world to me.
Who is your sporting hero?
Usain Bolt, simply because he is the fastest man on the planet and he has put in so much work that is shows in many ways. He is confident in himself and abilities, which is why I guess he never looks nervous.
If you weren't on Team BDA you would be…?
Probably working out in a gym somewhere.
What would surprise people about you?
That I am terrified of planes!
What do you do in your spare time?
Just go to Beyond Fitness and workout.
Somerset or St. George's?
St. Georges exists?
What is your favourite or most used Bermudian phrase?
"Right Roun' d corna"
If you could choose a new first name what would it be?
Wouldn't change it.
What are three songs you love right now?
Rockin- The Weekend; Married to the Game- Future; Spectrum- Calvin Harris
What's your favourite of ice cream?
Cookies and cream.
Netflix binge watching?
Narcos.
What is one movie you think everyone should see?
The Fantastic Mr. Fox .
What muscles do you have now that you didn't have before?
Every last muscle I have!
How many push-ups could you do before this and how many can you do now?
40 – then, 72 – now but only within a minute
What do you eat or drink now that you didn't eat before?
Protein shakes
What don't you eat or drink now that you did before?
Coffee Rolls

Read More About