[Written by Don Burgess]
The iconic ClearView Suites & Villas are for sale.
The hotel property on Sandy Lane as well as a nature reserve lot on North Shore and a property across the street on Sleepy Hollow are available to be purchased.
In total, 22,795 square feet of property across 3.9 developed and undeveloped land is being listed by Rego Sotheby's International Realty which is describing this opportunity as a "Developer's playground."
The ClearView and Sleepy Hollow properties were put up for sale earlier this month. The ClearView side includes six lots of property.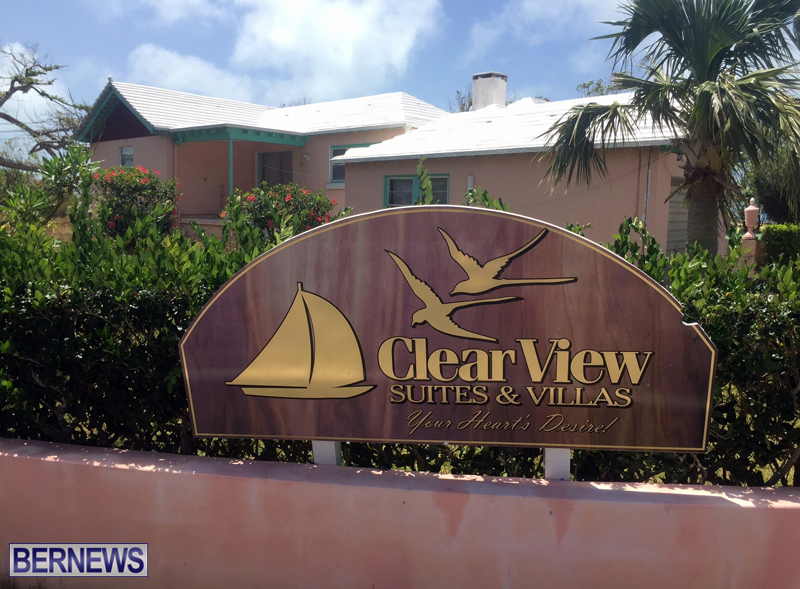 Penny MacIntyre, partner at Rego Sotheby's told Bernews they were hoping "to find a purchaser who would buy the whole property all together. But if anyone was interested in running it as a hotel, they would need to reapply for a [hotel] licence. If someone wanted to run it as a hotel there are advantages to its location.
"Its great if you're looking at potential property you want to retrofit some of the cottages."
Ms. MacIntrye said the apartment block for ClearView has been renovated.
She said the property is subdivided into individual lots so if a buyer was interested in a particular piece, they could just purchase that instead. "However, we are looking for a buyer who will purchase all the property."
No price was listed on line for the land, but Ms. MacIntrye said if a serious buyer was interested in acquiring the property they could present an offer to the sellers. "The expectation is to have the market to generate what the price points are given what they intend to do with the property; whether they want to run it as a hotel; whether they want to own it outright and do what they want with the individual lots."
She said the Sleepy Hollow property includes 1.5 acres of land and is a four bedroom, three baths home.
Ms. MacIntrye said on the ClearView side some of the outstanding features include magnificent water views that stretch out to Dockyard and the Railway Trail.
"It is picturesque with turquoise water and with one of the most beautiful stretches for the Railway Trail is right there. It's a beautiful property in terms of its water views."

Read More About