The Financial Policy Council [FPC] has held its fifth meeting at BMA House in Hamilton, Bermuda.
The Council, established in 2015, advises the Ministry of Finance and the Bermuda Monetary Authority on financial system stability in Bermuda. Its purpose is to assess possible threats to Bermuda's financial stability, and to identify policies and actions to mitigate or eliminate such threats.
It also advises on development of the financial stability framework in Bermuda, and makes policy recommendations designed to support the general economic and financial well-being of the country.
Members of the Council are the Deputy Premier and Minister of Finance Bob Richards [chair], Sir Andrew Large [deputy chair], BMA CEO Jeremy Cox, Sir Courtney Blackman, Michael Butt, Dame Amelia Fawcett and Gil Tucker.
At the most recent meeting, Council members reviewed recent international developments and discussed the impact these might have on Bermuda's financial stability. In particular, they identified and assessed risk and opportunities derived from changes in the global environment.
Members of the Financial Policy Council are [pictured from left] Sir Courtney Blackman, Deputy Premier and Minister of Finance Bob Richards [Chair], BMA CEO Jeremy Cox, Sir Andrew Large [Deputy Chair], Michael Butt, together with Dame Amelia Fawcett [separately pictured] and Gil Tucker [not pictured].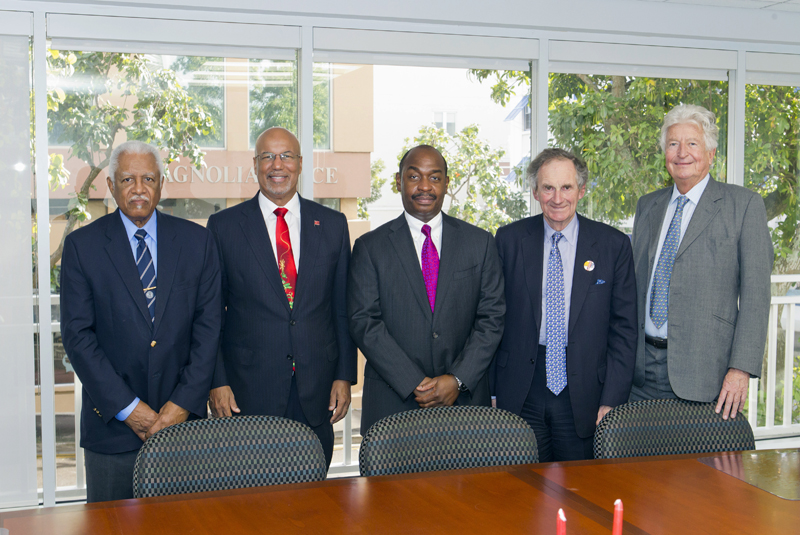 "The main topic of discussion was the threat to Bermuda over the last year from a growing wave of criticism from various external sources directed at the tax policies of the jurisdiction. These criticisms were sometimes broadly directed at smaller international centres, which cover a wide range of jurisdictions at various levels of regulatory rigour and transparency," a spokesperson said.
"Bermuda's long-standing history as a trusted jurisdiction, with the highest regulatory standards is often overlooked. In recent months, the challenges facing Bermuda have been amplified by ongoing changes in the international landscape with Brexit negotiations recently activated, proposed reforms in the US tax system that could affect Bermuda, OECD initiatives, and European Union tax policy initiatives targeted against so-called low/no income tax jurisdictions
"Council members urged the Government to continue to pursue its proactive stance and constructive engagement with relevant parties such as the OECD and the European Union.
"The Council also reviewed the current institutional arrangements in place in Bermuda for dealing with these matters and explored pathways towards strengthening these arrangements. It was noted that Bermuda would need to continue to strive to promote its history as an international financial centre that has pursued the highest international standards.
"The most recent threat that was given close scrutiny by the Council was an initiative by the European Union to develop a common system for listing of non-cooperative jurisdictions or a 'blacklist'.
"Bermuda recognises the importance attached by the European Union to clamping down on tax evasion and avoidance and promoting fairer taxation. However, Bermuda believes that its regulatory and tax systems meet relevant international criteria, especially with regard to transparency and the exchange of information, harmful business taxation and, most recently, the fundamental principles underpinning the OECD's 15 Actions on Base Erosion and Profit Shifting [BEPS].
Dame Amelia Fawcett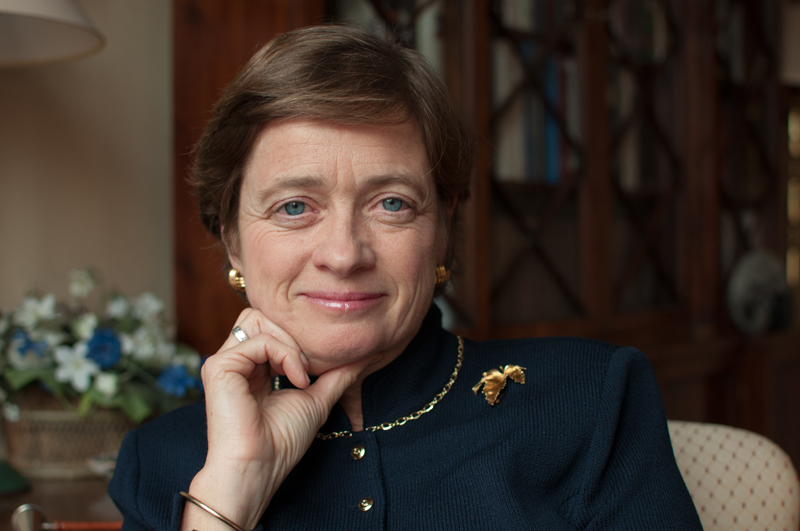 "Bermuda will be striving in the coming months to ensure that the EU fully understands Bermuda's tax framework and the proactive actions being advanced. These include Bermuda's current membership in the OECD's Inclusive Framework Group on BEPS and eventual participation in the OECD's new BEPS Multilateral Instrument.
"The Council also reviewed work under way by the National Anti-Money Laundering Committee [NAMLC] towards strengthening Bermuda's anti-money laundering and counter-terrorist financing framework in advance of the 2018 Caribbean Financial Action Task Force Mutual Evaluation of the island's regime.
"As has been the case at previous FPC meetings, Council members emphasised the critical importance of a sound anti-money laundering and counter-terrorist financing framework to Bermuda's economic viability.
"They urged all relevant authorities to continue to attach priority and assign adequate resources to a timely implementation of its strategy, together with determined and enhanced project management to close any gaps in a timely manner.
"In addition, the following topics were discussed:
recent progress towards strengthening Bermuda's recovery and resolution framework for its domestic banking sector, including the formation of a Banking Liaison Panel;
recent pronouncements by credit rating agencies Standard and Poor's and Moody's affirming Bermuda's sovereign ratings and macro profile respectively.
The Council's next meeting is scheduled for August 2017.
Read More About