Sakari Famous — the island's top junior female high jumper who has won multiple medals for Bermuda in international competitions — has committed to competing for the University of Georgia Bulldogs in the fall of 2018.
Her decision comes after making official recruiting visits to universities including the University of North Carolina, Texas A & M and Vanderbilt University.
Ms Famous decided that University of Georgia was the best place to continue her education and athletic career.
Surrounded by coaches, teachers, family and friends, the five-time CARIFTA medalist signed her National Letter of Intent, which brings to an end the recruiting process.
"I want to get to the next level in high jump as I continue my education. I knew deep within that UGA was the right school for me and I am so grateful for this opportunity," she said.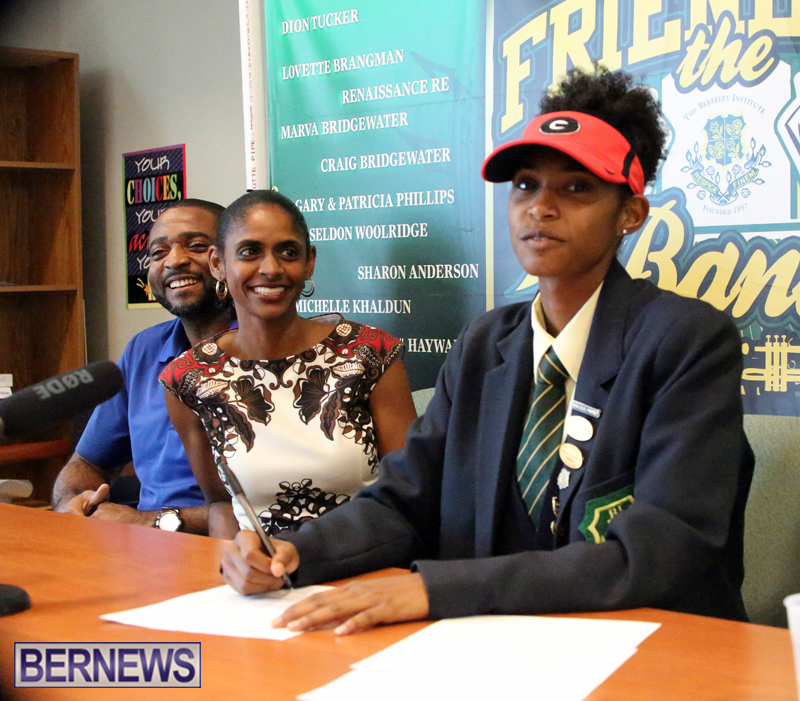 Bermuda National Athletics Association vertical jumps coach Rohaan Simons said, "Sakari was a part of my original crew of jumpers as I started to coach on the national level.
"I can definitely say that she set herself apart from any other female jumper. Her exceptional talent, her higher work ethic and excellent attitude is a coach's dream! Her accomplishments in CARIFTA may have been enough for some, but it was never going to be enough for Sakari.
"She has pushed me as a coach to find ways to improve, as we have worked out many problems over the years. I can definitely say that today is an extremely proud day for me and I wish Sakari all the very best as she pursues her craft while she obtains her education abroad. Congratulations once again and I'll always be here to support you in your quest for greatness."
UGA Head Coach Petros Kyprianou told Ms Famous on her visit to UGA that he would be happy to carry on the tradition of top Bermudian athletes at the University of Georgia.
Former top Bermudian middle distance runner Steve Burgess, 800m national record holder Aaron Evans and indoor high jump national record holder Latroya Darrell all competed for the University of Georgia .
Her mother says, "Sakari works hard on and off the track and as her family we are proud of the individual that she has become. The recruiting process has been such an eye opener to the opportunities that student athletes have.
"Although it was absolutely overwhelming, we are grateful for the guidance of Dr. Freddie Evans, the support of the teachers at the Berkeley Institute, the coaches at University of Georgia, and of course, our family during the last four months."

Read More About