[By the family]
Sotunji Jonathan "Man" Burgess | December 2, 1980 – December 10, 2017
Some eleven years ago a feature story in the Bermuda Sun, entitled "I Saved My Brother's Life" made headline news. The story of fraternal twins, Sotunji and Sheri Burgess, shared the plight of a young man who had been battling sickle cell and kidney failure. Known to many as "Jonathan", "Johnny" or "Man", his life was somewhat of a medical anomaly.
His story brought awareness to the community emphasizing the importance of becoming an organ donor and educating others about his disease. The fight for his life began…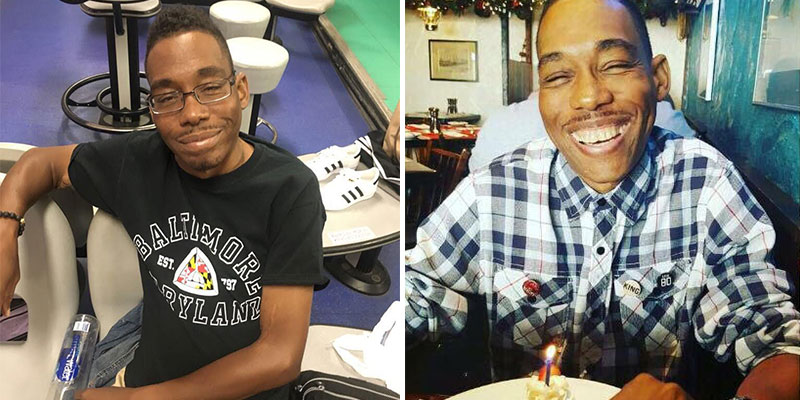 No stranger to adversity, Sotunji approached life with an unequivocal attitude. He triumphed over many adversities, including the failure of his first kidney and becoming the recipient of a second kidney donation in 2015.
He led a full life and yet, managed to fulfill others along the way.
He was a man of great humility and faith. He was fearless and his outlook on life was always positive. His heart was much, much bigger than his physical appearance and to all who knew him, he was the MAN. He stared death straight in the face…
His life's creed was simple "Push on, regardless."
Acknowledgement of Thanks
On behalf of the late Sotunji "Man" Jonathan Burgess, the family would like to express their heartfelt thanks to all who provided assistance on 10, December 2017 and throughout his life – JetBlue Airways Staff & Personnel, former airport colleagues, emergency personnel, first responders, staff at the King Edward Memorial VII Hospital and to the many family and friends who contributed to his care and well-being. We are forever indebted to you for your kindness and compassion.
As news spread of Sotunji's untimely passing, tributes poured in to honor his spirit. Here are few tributes from some of his loved ones:
"Johnny you were the life of the party. Never a dull moment when you were around. Your smile lit up the room even in your pain. I can hear your voice now "Waynette! What Ya Say'n!" Well Johnny now I'm saying I'll see you when my time comes, I'll laugh for us until we can laugh together again and I will live on and cherish our many memories. Love and miss you dearly."
- Love, Waynette Brangman
"He showed his love to us constantly by being there for us, and supporting us every opportunity he had. If he wasn't in the hospital, he was at every football game my son had on Saturday mornings. The Saturdays he was unable to make it he called me and said, "Meilz what's the score?" He loved his family and knew his time was precious, so he made sure that the time we spent together was meaningful, consistent and plentiful. We will miss his presence, his infectious laugh, his caring demeanor and his strength. His sickle cell disease was aggressive, but he never complained and even joked about it at times, making sure that none of us would worry about him or feel sorry for him. He would only want us to love him unconditionally, and that's what we did!'
- Love, Camille Outerbridge
"Yes, my cousin was sick.
But that never stopped him you see.
His heart, oh that mighty Man heart would always beat you see?
He made it to 37 and with everything against him, I never heard a complaint you see?? Broken down and rejected by the body he was born in, his mind didn't give in.
Second to his healthy twin, it never seemed to bother him.
He just walked with his strong stature enduring with a grateful heart the life he had been given.
Filled with love to give, always so peaceful and serene.
And an infectious laugh ha-ha, do you see??
Being sick was only what other people had seen."
- Love, Allison Outerbridge
"Man was my Super Hero, he knew that. I have never seen someone fight for a good life as hard as he did. People fail once maybe twice and give up, just quit, not Man. He proved most wrong living a life filled with love. Super Heroes don't always bust through your wall or block high speed cars to save you, some Super Heroes simply speak to your soul to remind you to continue to grow and never to quit."
- Love, Kaurie Daniels
"Man used to come to all my games. Man saw my first goals. Man video tapped one of my goals."
- Love, Amir Outerbridge
"While most called him Johnny I always loved to call him Sotunji because for some reason it sounded more lively and matched his vibrant personality. Many don't know this, but it was he who first gave me my social media name 'Empress'; he would say "Wha yuh saying Empress".
The name just stuck with me. If you knew him, you will never forget his laugh, it was very unique; so much so I found myself unconsciously burrowing his laugh from time to time and now my boss tells me I have one of the top 3 laughs in the company. Thanks Sotunji! Johnny and I would travel all over the United States and on Caribbean cruises together along with my mother Lovette, Aunt Dawnette and cousin Kyjuan Brown [Dr] and he was always the life of the party. We will miss you and until we see you again, we will all cherish the good times and simply LAUGH!'
- Love, Kennette Burgess
"Our grandmother Marilyn Collins [nee Burgess, Harrell] had six children and in 1980 she was blessed with six grandchildren [including a pair of twins] from five of her children! Although we lived throughout the island, each summer we got together at our grandmother's home, and with an older cousin, the seven of us spent many days and nights exploring St. George's together.
Being around Man you never would have known that he had a childhood illness. His infectious smile caused me to call him 'my happy cousin'. He always had a huge grin on his face, and faced each day as a new day. He accepted his lot in life, and never did you hear him complain or see him without his huge grin!
Man always managed to accomplish everything he had on his to-do list, and I was extremely proud of him when he started studying for his law degree. His positive outlook on life sustained him, and spread to everyone he met. It's endearing to have people comment on how his smile and laugh always brightened their day, it's a blessing to know that he impacted not only my life/our family's lives but those of his friends and strangers as well.
Man will always be in our hearts, as his legacy will never cease."
- Love always, LaRondie Harrell
He Only Takes the Best
"God saw that he was getting tired,
A cure was not to be.
So, He put His arms around Him and whispered, "Come with me"
With tearful eyes, we watched him suffer,
And saw him fade away.
Although we loved him dearly,
We could not make him stay.
A golden heart stopped beating,
Hard working hands to rest.
God broke our hearts to prove to us
He only takes "the best"
- Anonymous
Lovingly submitted by Confidant, Best-Friend & Sister.
For more information on Sickle Cell, Dialysis or becoming a donor please visit here, here, here  or visit the Bermuda Sickle Cell Association on Facebook or e-mail info@sicklecellbermuda.com
Read More About