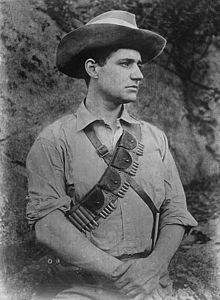 A man who was once imprisoned in Bermuda went on to live an incredibly colourful life filled with drama, danger, and high adventure.
Initially brought to Bermuda as a Boer prisoner after escaping from prison in Portugal, he ended up becoming a spy, faking his own death at the hands Amazonian natives, and escaping from another prison after pretending to be paralyzed before finally being arrested in what  J. Edgar Hoover called the greatest spy roundup in U.S. history.
The story of Frederick 'Fritz' Joubert Duquesne's life reads stranger than fiction, and many historical sources agree that he was a confidence trickster extraordinaire.
He served as a soldier in the Boer war in South Africa, and was captured by the Portuguese and sent to an internment camp in Portugal. Using his apparently considerable charm, he convinced the daughter of one of the camp guards to help him escape.
He then made his way to England where he convinced them to let him join the army and got stationed back at South Africa.
In 1901 he was posted to Cape Town in South Africa as a British officer and intended to commit sabotage, however he was discovered and jailed in South Africa. He tried tunneling out of his prison cell with a spoon and nearly escaped one night, but a large stone slipped and pinned him in his tunnel.
He was then sent to Bermuda, one of many Boer prisoners sent to the island during those times, and was one of an estimated 360 prisoners interned on Burt's Island.
A contemporary report [PDF] from the New York Times — which came after he faked his own death — said that he escaped from the island he was housed on in Bermuda, and swam to the mainland where he hid for 3 weeks "living chiefly on the onions obtained from gardens at night."
The NTY headline about his "death", which also mentions how he "swam to liberty from Bermuda"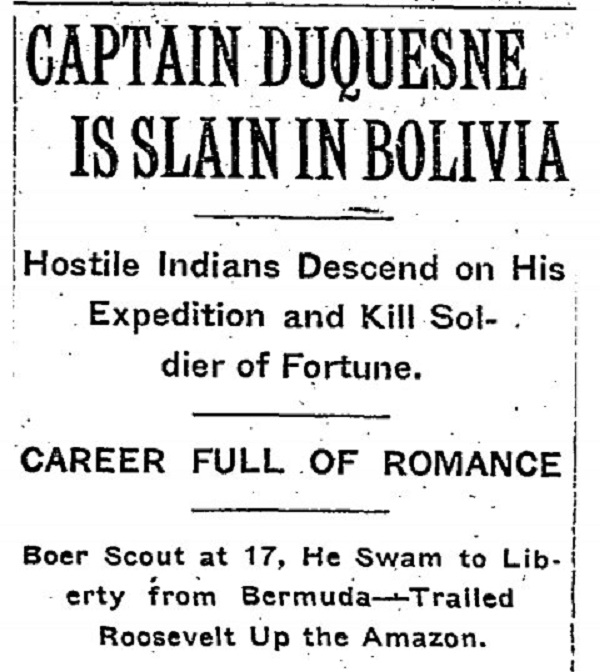 According to the NY Times, Duquesne was in Hamilton one night when he came across a tipsy soldier, overpowered him, stole his uniform and then disguised himself to gain passage on a ship out of Bermuda.
He then made his home in New York and traveled to Brazil where he planted time bombs on British ships with reports saying he sank over 20 ships.
In 1916, Duquesne then faked his own death in Bolivia at the hands of Amazonian natives, leading to the aforementioned obituary in the New York Times.
He was arrested in New York in 1917 on charges of fraud for insurance claims.
Historical footage of the Duquesne spy ring
By this time, the British authorities were also seeking to arrest Duquesne for  charges including "murder on the high seas" and "conspiring against the Crown".
American authorities agreed that they would extradite Duquesne to Britain, if the British sent him back afterward to serve his sentence for fraud.
After his arrest in New York and while awaiting extradition to Britain, he was sent to the prison ward at Bellevue Hospital where he pretended to be paralysed.
In 1919, after nearly two years of feigning paralysis, he waited to the opportune moment and escaped by cutting the bars of his cell and climbing over the barrier walls to freedom.
Duquesne disappeared at this point for a while, however in 1941 the FBI arrested Duquesne along with associates on charges of relaying secret information on Allied weaponry and shipping movements to Germany.
In 1942, the 33 members of the Duquesne Spy Ring were sentenced to serve a total of more than 300 years in prison, with J. Edgar Hoover calling it the greatest spy roundup in U.S. history.
FBI print of the 33 convicted members of the Duquesne spy ring, Duquesne is pictured in the top right: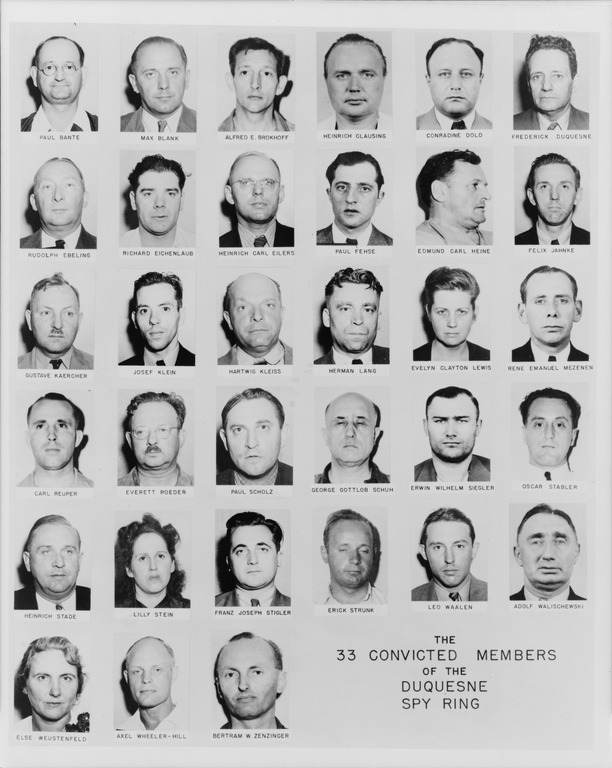 There was no escape for Duquesne this time, and he served 13 years before he was released in 1954. He died indigent at City Hospital on Roosevelt Island in 1956 at the age of 78 years.
Duquesne's life was the subject of a 1999 documentary film by South African filmmaker François Verster
Read More About