The Bermuda Society of Arts [BSOA] is holding an opening reception of the 53rd annual Middle and Senior Schools' Art Exhibition today [March 9] from 5.00pm to 7.00pm, with the exhibitions continuing until Tuesday, April 2.
A spokesperson said, "Come one come all. The general public is invited to the 53rd Annual Middle/Senior school art exhibition. Opening this Friday night at the Bermuda Society of Arts Gallery upstairs in city hall. Doors will be open from 5-7pm welcoming everyone to see Bermuda's next generation of artists on display.
"The hard working teachers from both public and private schools will be there to proudly show off their students work over the past year."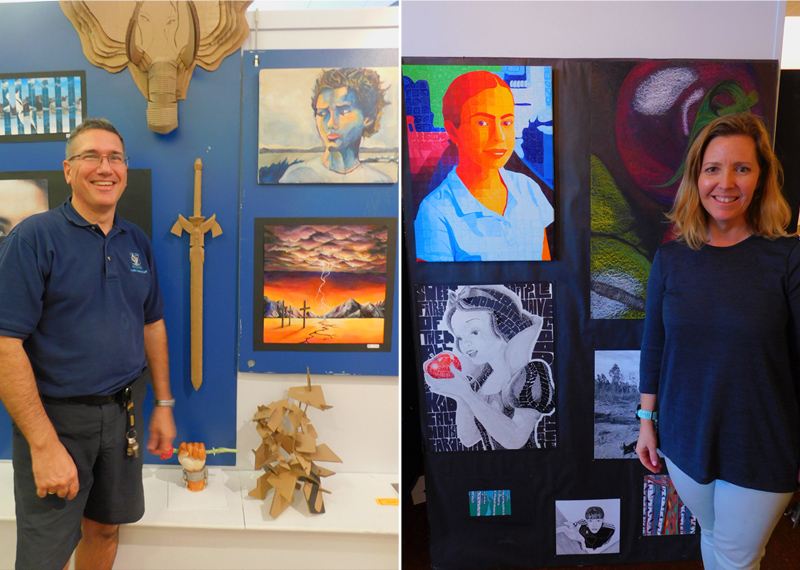 "Teachers like Ms. Angela Ming-Bean, from Clearwater middle school, has her students working on a broad range of projects from abstract concepts, exploration of contrast in black and white, printmaking to portrait drawing.
"Her M2 and M3 classes were given the option of different subjects for their portrait project, and while some chose self portraits or to work from magazine photos others were inspired to paint the faces of family members they had recently lost.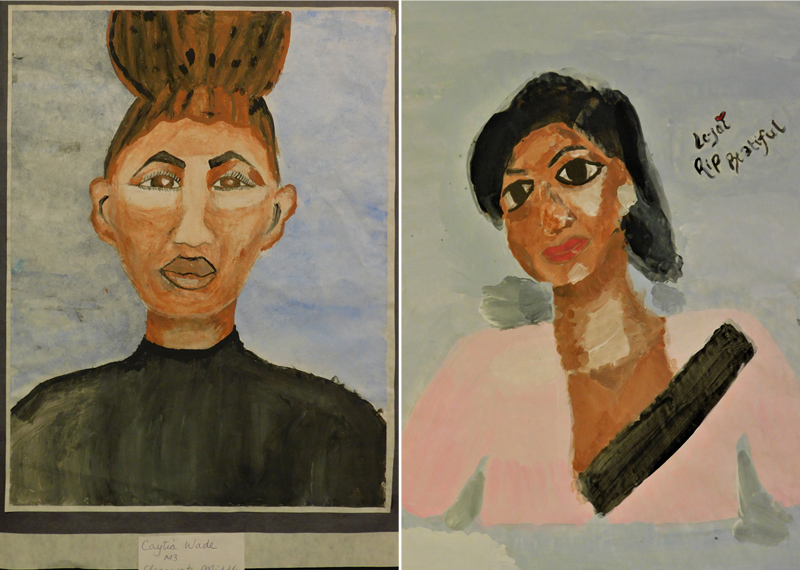 "Ms. Summer Wood is the art teacher at Somersfield Academy and also has her students covering a wide range of topics. All classes do a little bit of drawing and painting but focuses range from pattern and printmaking to African masks and skateboard designs.
"She make sure that the students but a lot of thought into each project, for example the M3 class had to imagine life on an alien planet. Starting with the weather and temperature conditions of the surface to how animal life has adapted to survive. Taking inspiration from the evolution of deep sea creatures, their hand crafted creatures are something out of this world."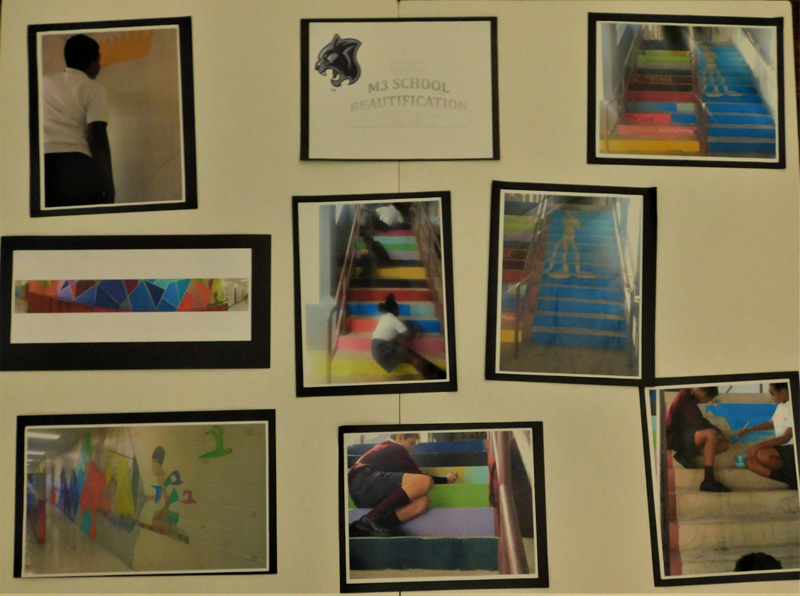 "Also working on three dimensional forms Mr. Dan Desilva, the teacher at Warwick Academy, uses simple cardboard as a easy medium to translate two dimensional ideas and drawings into 3D sculptures. Cardboard is easy to bend, cut, shape and layer to give both texture and an awareness of how components fit together, teaching students to always be thinking of the next step.
"These are all important concepts his younger classes are encouraged to learn so they can apply them to their ceramics projects in the IB program of their graduating year. Mr. Desilva believes in encouraging his students not only with examples from his own art career but to also strives to have the students share their own breakthroughs and successes so that they can learn from one another's strengths.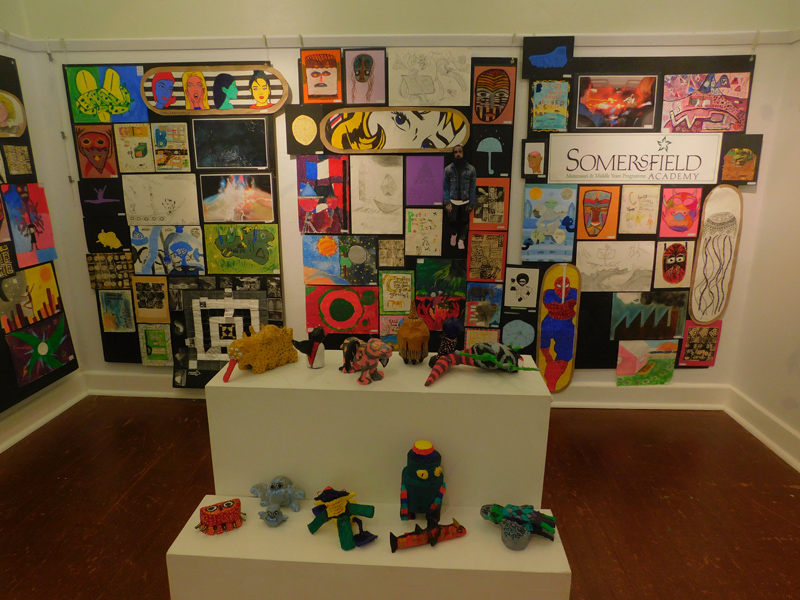 "Speaking on schools with a focus on shared successes and building a strong community, Sandys Secondary is leading the way with their school beautification project. Under the direction of Ms. Richards the students first studied murals and well known mural artists around the world.
"They then each got to plan, design and present their own mural ideas to the rest of the class. After the class voted on the designs Ms Richards plans the locations for each mural and the students get to painting. What a great way to see how art can make a big impact every day and leave a legacy you can be proud of behind.
"Mrs. Fiona Murdoch at Saltus SGY has her students working on micrography [using only words to create an picture, where emotion, tone and values come from both size and font] and Dellwood's students are designing new Bermuda themed paint jobs for the new current Twizzy cars.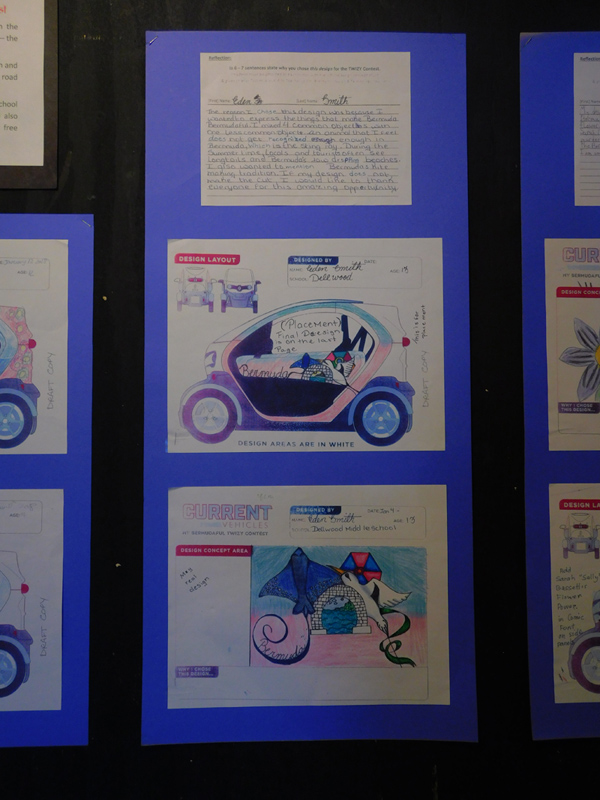 "These are just a few of the stories behind the art work opening this Friday night that you really don't want to miss. The show is sponsored by the Ministry of Education and will continue until April 2nd. Admission is free.
"The BSOA Peoples Gallery is located on the top floor of city hall and is open 10 -4 pm Monday to Friday and 10-2pm on Saturdays. Swing by and show your support for the newest generation of talented up and coming Bermudian artists and their hard working teachers."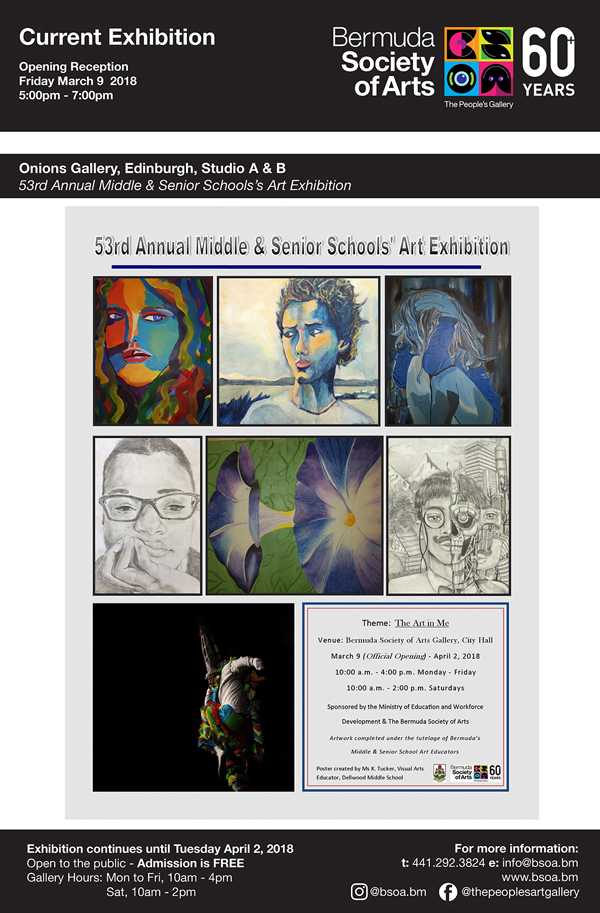 Read More About
Category: All, Entertainment