Following today's suspension of service as drivers are currently working to rule, the Department of Public Transportation said that bus service will resume on Tuesday [June 19] and DPT management and the BIU will return to discussions "in an effort to resolve the matters."
The Ministry said, "The Department of Public Transportation [DPT] would like to advise the public that bus service will resume tomorrow, Tuesday June 19.
"DPT management and the Bermuda Industrial Union will return to discussions. also on Tuesday, in an effort to resolve the matters outstanding.
"A work-to-rule remains in place until further notice, which may result in route cancellations if drivers are unwilling to work overtime.
"DPT apologizes for the inconvenience to the traveling public," the Ministry concluded.
Buses lined up at the depot earlier this morning as bus service was not operational: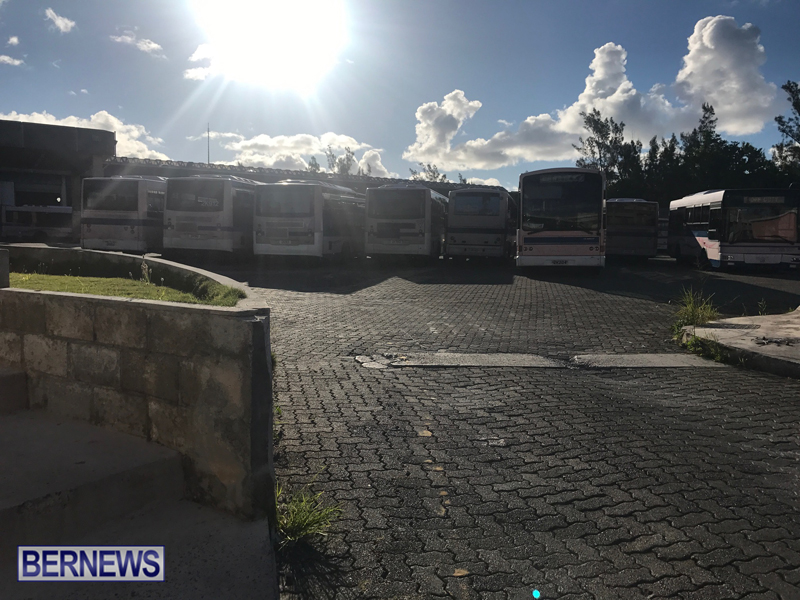 Earlier today BIU President Chris Furbert told Bernews that the division took the decision to work to rule, so they are that "not working any overtime and today would have been overtime with them."
Mr Furbert said the bus operators have 10 to 12 issues that need resolving. Last Thursday they were able to negotiate on a few of those issues to a satisfactory manner, but there still are six to eight issues that need to be sorted out.
"One of these issues go back several years now, and the workers have had enough," Mr Furbert said. He added the workers want to know when the issues will be addressed.
The BIU President said he did speak with Transport & Regulatory Affairs Minister Walter Roban on Sunday, adding that "he's given a commitment that he wants to sit down and work on a time frame to get these issues resolved. All the workers want to see that happen."

Read More About