Fifteen student interns are gaining valuable work experience this summer through Ascendant Group's Summer Student Programme.
The Interns are placed throughout the Group within a variety of departments at Ascendant, BELCO and Aircare.
Anthony Bailey, Jordon Lindsay, Daniel Pinto, Charnae Richardson, Azra Smith and Taye Thompson are supporting Ascendant's HR, Finance and IT Departments.
Chanah Bremar, Eric Desilva, Cameron LeeMing, V. Santee Symonds-Dill and Ellington Elrico Weldon are assisting BELCO in the Power Generation and Engineering Departments.
Tiffany Bean and Sekai Wainwright-Basden are Interns with BELCO's Occupational Health, Safety and Environment [OHSE] and Transport Teams, respectively; and Zuhri Burgess and Stephon Paynter, both returning students from IMPACT Mentoring Academy, are shadowing HVAC technicians in the field with Aircare.
Ellington Elrico Weldon, Chanah Bremar, Charnae Richardson, Tiffany Bean, Azra Smith, Anthony Bailey, Eric Desilva, Cameron Lee-Ming, Taye Thompson, Zuhri Burgess, V. Santee Symonds-Dill, Jordon Lindsay, Sekai Wainwright-Baisden, Daniel Pinto. Not pictured: Stephon Paynter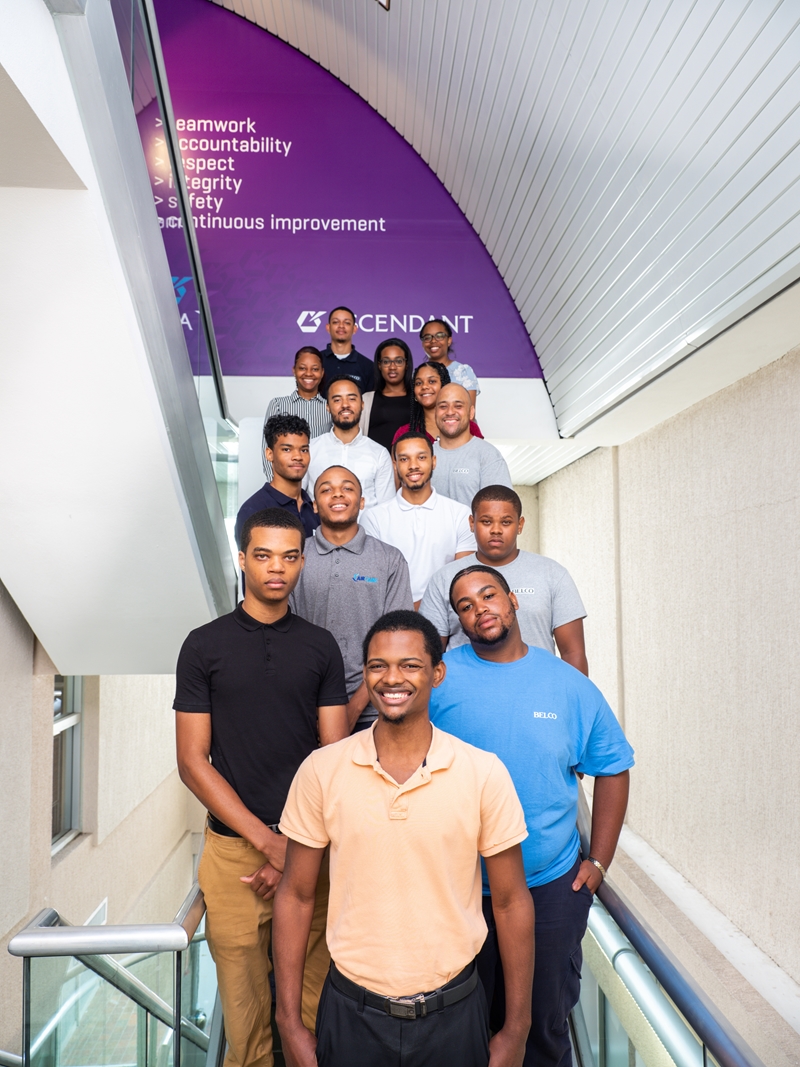 "We are delighted to have these bright young people on our Team across Ascendant over the summer," stated Sean Durfy, Ascendant's President and CEO.
"Investing in Bermuda's youth continues to be a critical component of our corporate citizenship. These carefully selected Interns will be able to use the insights and skills acquired during their internships to supplement their formal education and to enhance their career prospects upon graduation."
"Interns apply in February for one of the coveted spots. Returning students and recipients of BELCO scholarships and awards are given first preference. Ascendant makes a concerted effort to place students in departments that coincide with their fields of study," the company explained.
"New students receive orientation on their first day and they are given a tour of the facility," explained Human Resources Manager, LaKeitha Cunningham. "Each student meets with our CEO at some point during the Programme to discuss expectations and career goals and all are formally evaluated by their direct managers at the end of the Programme."
Tiffany Bean, a 4th year BSc candidate at Trent University who has returned to Ascendant for a second summer, shared, "I have assisted with various tasks within the OHSE Department, including inspectionson both the Environment and Safety sides. Currently, I'm working to create a GIS map of BELCO's water and working on a scientific report centred around ambient air quality and air quality standards."
Ellington Elrico Weldon, who is pursuing a Masters in Engineering Management at the New England Institute of Technology said, "I've been here for multiple summers and I keep returning because you will not find the knowledge and experience that we are exposed to anywhere else on the Island. The skills that we learn while being here are essential for any job that we choose in the future."
Azra Smith, who recently completed her undergraduate studies in Architecture Design at Temple University, added, "My experience at BELCO so far has been superb. It's a very welcoming environment with friendly employees.
"I definitely expect this internship to assist me in getting a job in the future as it helps me get more experience under my belt entering the workforce. For those still in university, it would help them improve their studies and techniques as well."
For more information about the Summer Student Programme, please email internships@belco.bm or visit here.
Read More About