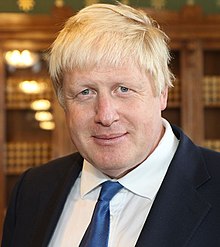 Boris Johnson has resigned from his post as the United Kingdom Foreign Secretary, it was announced today.
A story in the BBC said, "Boris Johnson has resigned as Foreign Secretary amid a growing political crisis over the UK's Brexit strategy.
"He is the second senior cabinet minister to quit within hours following Brexit Secretary David Davis's exit. His departure came shortly before Theresa May is due to address Parliament about her new Brexit plan, which has angered many Tory MPs.
"In a statement, No 10 thanked Mr Johnson for his work and said a replacement would be announced shortly.
"The BBC's political editor Laura Kuenssberg said Mr Johnson's exit had turned an "embarrassing and difficult situation for the PM into potentially a full-blown crisis". She said he was not any ordinary cabinet minister but was the "face" of the Leave campaign during the 2016 referendum and his departure would fuel speculation about a leadership challenge."
A story in the Guardian said, "Boris Johnson has resigned as foreign secretary, becoming the third minister in 24 hours to walk out of the government rather than back Theresa May's plans for a soft Brexit.
"The prime minister hammered out a compromise with her deeply divided cabinet in an all-day meeting at Chequers on Friday, but after consulting friends and allies since, Johnson decided he could not promote the deal.
"A Downing Street spokesman said: "This afternoon, the prime minister accepted the resignation of Boris Johnson as foreign secretary. His replacement will be announced shortly. The prime minister thanks Boris for his work."
After the Chequers summit, it emerged that Johnson had referred to attempts to sell the prime minister's Brexit plan as 'polishing a turd'."
A story in CNN said, "The turmoil over Brexit faced by Britain's Prime Minister Theresa May deepened significantly on Monday when one of her most senior Cabinet members, Foreign Secretary Boris Johnson, resigned.
"Johnson's decision to leave the government came just hours after the resignation of the minister in charge of Brexit negotiations, David Davis.
"It leaves her plan to for Britain's future relationship with the European Union in tatters, just three days after it was agreed with her divided Cabinet. It also puts her own political future under threat."
The Foreign Secretary overseas the Foreign & Commonwealth Office [FCO] which is the main body that manages the relationship between the UK and the British Overseas Territories, including Bermuda.
Read More About
Category: All