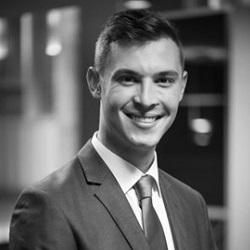 [Generation Next Youth Movement Series]
24-year-old Bermudian Sean Stapley is head of business development at the global blockchain consulting firm, MLG BlockChain.
Mr. Stapley said, "We're a global blockchain consulting firm that, at the heart, aims to help spread education and awareness about this transformational technology.
"We work with startups, enterprises, governments and universities doing everything from educational workshops, tech development, marketing, events and much more. We're a global team of more than 60 people in 9-10 countries with extremely varied backgrounds and big ambitions."
Sean fervently believes that blockchain will be beneficial to Bermuda.
"Blockchain is a technological force that will impact many industries in the future – it shouldn't be viewed as something optional to know about, but rather something to embrace. We're at a stage now it can be compared to the internet in the early 2000s – it's hard to predict where exactly things will change, but rest assured, they will," he said.
"Bermuda's flexible and small regulatory body and its status as an overseas international business centre means that it could be a hotbed of blockchain activity if the cards are played right.
"By encouraging legitimate blockchain companies to settle locally, a whole range of job opportunities exist for Bermudians to transfer into, even without prior blockchain experience – administrative, operational, financial jobs and more will have vacancies to fill."
Locally, Sean attended Montessori Academy, Somersfield Academy and BHS before moving to Montreal, Quebec where he graduated from McGill University with a BA in Economics, Finance and International Relations.
This young Bermudian is keen to position himself at the forefront of the global shift in technology.
"I am obsessed with future tech [robotics, renewable energy, decentralized tech and artificial intelligence are incredible to me] and I'm a huge fan of science fiction as well. I spend my free time in Montreal snowboarding in the winter or playing football in the summer and Montreal is incredible for there always being new events."
When asked about his ultimate career goal, Sean said, "I'd like to run my own venture capital firm that focuses on renewable energy, future tech and social impact. At the end of the day I'd like to have a positive impact in how people can live their lives sustainably, and being able to invest in and help grow companies that aim to do so would be one way to give back."
Sean credits his inspiration to the hard working team at MLG, saying: "MLG was founded and grew from personal networks that many of the original team knew for years and years. It helped us develop an incredible synergy as we expanded and not only am I lucky enough to work with friends, I'm lucky enough that my friends are incredibly hardworking and driven."
When asked what words of encouragement he'd have for other young Bermudians interested in blockchain and other developing fintech markets, Sean said, "Read. Read everything you possibly can and then just get out there.
"Accept how little you may know and ask for advice, suggestions, or just pointers in the right direction. The blockchain community is very open and welcoming for newcomers, and if someone wants to get involved in this industry, there are plenty of opportunities rising now and more that we haven't even created yet. Get out there, talk to people in the space, ask questions and always be hungry."
Learn more about MLG Blockchain at: mlgblockchain.com

Generation Next, in conjunction with Bernews, is producing a 'Youth Movement' series to spotlight our island's young people who are trailblazing paths not only here at home but across the globe with their respective talents, innovative ideas, fresh energy and vision. If you would like to recommend a young person to be featured, please contact generationnextbermuda@gmail.com. The Youth of Today, Leaders of Tomorrow, Generation Next!

Read More About
Category: All, News, technology