Bermuda's defence force pitched in to help a massive clean-up of the island's coasts at the weekend.
A group of ten Royal Bermuda Regiment soldiers, plus support from Motor Transport troops, volunteered to clear up waste in the water in the west end, near to the new headquarters of the expanded RBR Boat Troop.
The work, sponsored by professional services firm EY and run by environmental group Keep Bermuda Beautiful [KBB] involved about 740 people in 38 locations across the island.
RBR soldiers collect and sort trash collected from the waters around Sandys as part of an island-wide coastal clean-up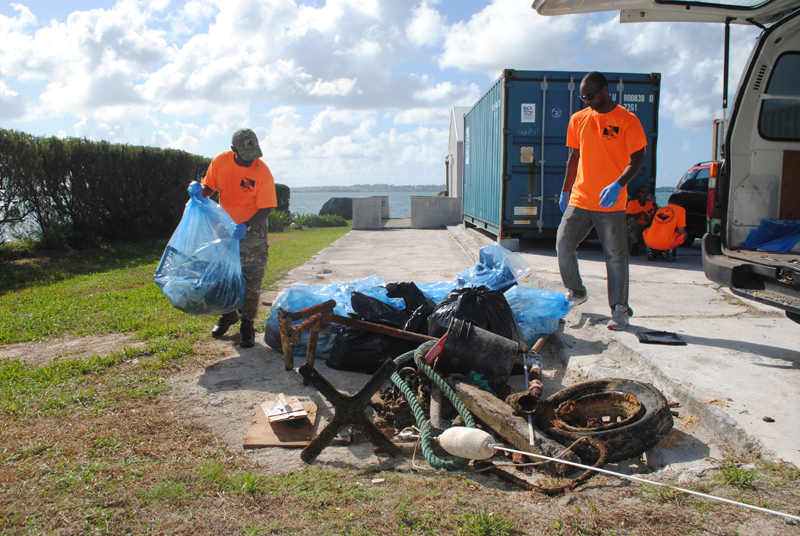 Private Kojo Darell, 19, from Pembroke, said: "I want to join the Boat Troop. I like doing volunteer work and it's a good thing to get on your record.
Pte Darell, who works in an administrative role in his sister's Ahir Am I beauty salon in Hamilton's Court Street, added: "It's also a good way to show your commitment and it's helping to clean up my home as well."
The soldiers collected more than 200 pounds of trash, made up of plastic, glass, cans and general waste on a Saturday morning blitz of the area between Woody's Bar and the West End Sailboat Club in Sandys on Saturday morning.
Sergeant Major Peter Ramm and Private Chanara Smith-Rookes collect trash from the ocean between Woody's bar and the West End Sailboat Club in Sandys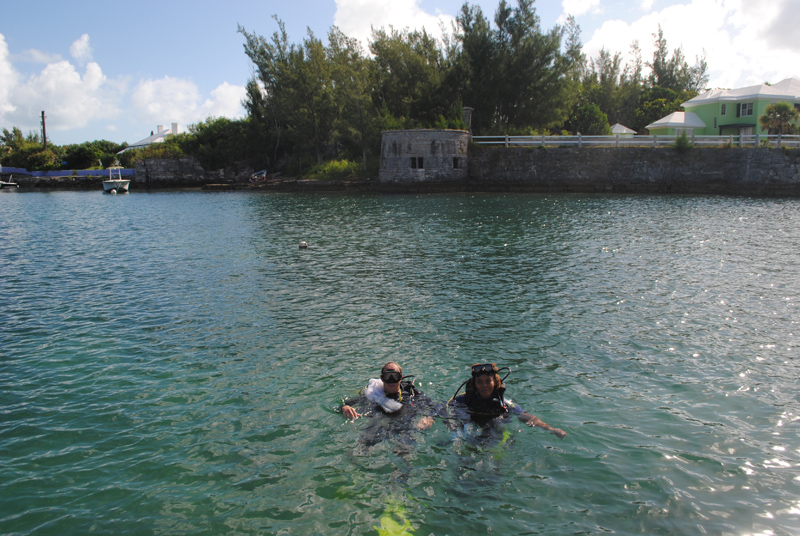 Several hundred pounds more of rusted metal and machinery were also recovered from the shoreline and from the water by divers from the RBR's Underwater Task Force.
Pte Chanara Smith-Rookes, 19, a member of the RBR Band & Corps of Drums and an experienced diver, worked with Sergeant Major Peter Ramm to clear waste from the sea bottom.
Pte Smith-Rookes, from St George's, said: "I wouldn't say I was surprised by the amount of trash, but there was a lot. People need to treat the island a little bit better and be responsible."
 Private Chanara Smith-Rookes collects trash along the shoreline in Sandys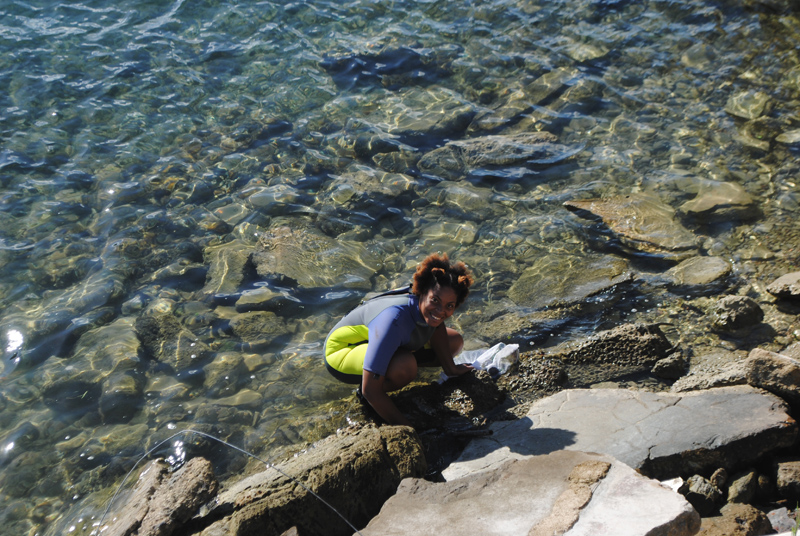 Pte Delgardo Pinto from Warwick and a member of the RBR's Guns and Assault Pioneers, added: "I volunteered because I wanted to help clean up my image as I help to clean up Bermuda."
The 30-year-old Watlington Water Works employee added: "I was amazed at how much trash was out there. It was crazy.
"I found a lot of bottles, a car wheel and tyre, crates, ropes, a whole lot of stuff."
Pte Delgardo Pinto with glass and plastic picked up off the Sandys shoreline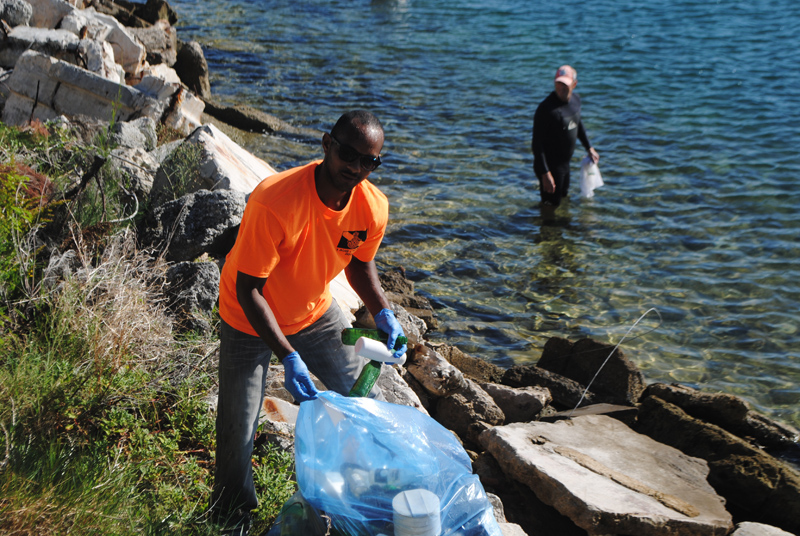 KBB executive director Anne Hyde said the Bermuda clean-up was part of the annual International Coastal Clean-Up organised for Saturday by global charity Ocean Conservancy and that 800,000 people in more than 100 countries were expected to pick up about 20 million pounds of waste.
She added: "We collected 8,700 pounds of debris last year and we're looking forward to beating that this year.
"We really appreciate the Royal Bermuda Regiment participating, as they do each year."
Soldiers show off more than 200 in plastic, glass and other waste, as well as heavy pieces of metal and machinery recovered as part of a coastal clean-up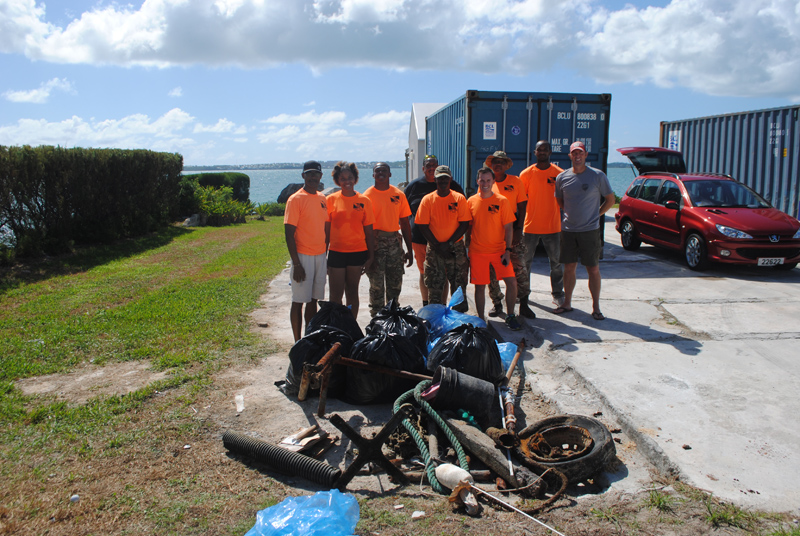 She explained volunteers sorted, separated and weighed the different types of trash so it could be collated on a world-wide basis by Ocean Conservancy and help to identify the worst problems.
RBR Director of Music Major Dwight Robinson, who led the Regiment's efforts and is acting chairman of the Regiment's underwater task force, said: "We're very grateful to the soldiers who came out.
"There are any number of things they could be doing on a Saturday morning. To help make Bermuda just a bit cleaner is a great thing to do and we appreciate their efforts."
Maj. Robinson added: "It also demonstrates the diversity of skills the Regiment is capable of and underscores that we're not just bombs and bullets. The soldiers here came from across the battalion, not just the divers.
"We are a member of the community – we do whatever we can do to advance that community and we offer support in a number of areas."

Read More About
Category: All