[Written by Patrick Bean]
The revelry and fine wares common to the festive Boxing Day were on full display on and off the pitch at Lord's in St. David's during the occasion of the Friendship Trophy semi-final soccer match as defending champions PHC withstood an early advance by Robin Hood to fight on to a 1-0 triumph.
Student Kole Hall, back home enjoying a Christmas break from his studies at Bridgewater and Taunton College in the Somerset area of England emerged as the heroic 'super-sub' as he came onto the pitch late in the second half and immediately energised and impacted the match, dazzling with forceful energy and a deadly final touch.
As it was, in the 78th minute, Hall was the man on the spot to pound home a close range, rebounded header of a scorching initial, angled drive from team captain Cecoy Robinson which Robin Hood goalkeeper had used all his effort to block, but unfortunately only as far as the purposeful head of Hall.
"I just wanted to be a game-changer and my intent coming on was to score … and I did that," said Hall, smiling broadly after the match. "I was confident coming on at such a late stage of the game and wanted to make a real impact on the game and coming on late gave me an advantage because everyone else was tired.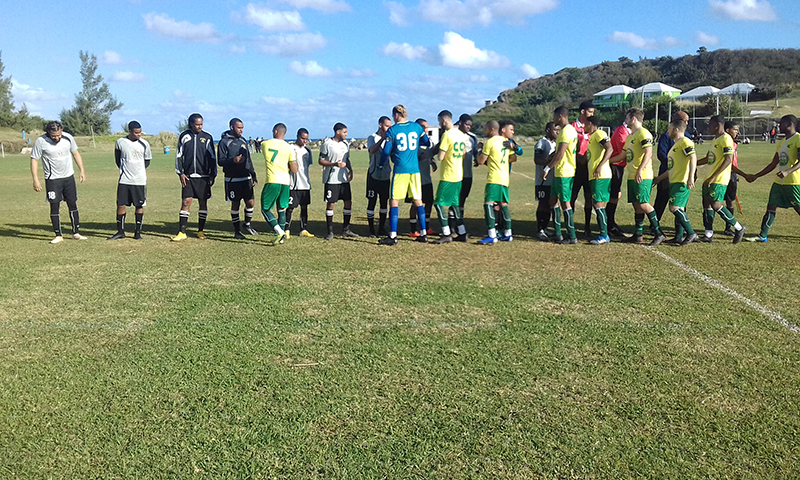 "I'm happy because I just came back from school and to be able to help my team."
Billed as a match of great intrigue involving local soccer's heavyweights, the initial displays did not disappoint as Hood, with a dream attack containing the likes of skipper Antwan Russell, play-maker Tomiko Goater and fleet-footed flankers Lejuan Simmons and Shakir Smith, launched forward early, forcing PHC on the defensive.
Smith, Simmons, Russell and Goater all had sniffs of the target in the first half, but were either expertly denied by the diminutive but heady and acrobatic Shaquille Trott in the Zebras goal or were wayward in delivery.
PHC had a header by Keishen Bean cleared off the goal-line near the half-hour mark and Robinson was his deft and creative self with little reward during the opening stanza..
And Hood were unfortunate to not take the lead moments following the interval when Trott again was alert to save off the boot of Smith after he'd been fed a fine ball by Russell, who had badly exposed the defence via a rampaging run into the penalty are from the right side.
PHC were again saved in the 66th minute, this time by the upright after Goater fired from the top of the semi-circle.
At the other end Eve was called into action to thwart Marco Warren with a diving save of a ravishing free-kick by the defender from all of 30-plus yards.
It was then time for Hall to resolve matters for the Warwick side with his heroics in front of goal.
"One of the reasons for bringing him [Hall] on was that he's a little more dynamic than some of our other players and he hasn't been here all season, so the opposition can't get used to or get a read of a player that you might have seen week in and week out, so we thought that would be a better sub to bring in and try to create something," said PHC coach Scott Morton of the move to bring on Hall, which ended as a true stroke of genius.
And duly proud of his youthful charge, Morton was equally gratuitous in regard his resourceful skipper and key cog in the Zebras' wheel … 'Just call him Mr. Robinson'.
"Cecoy just has this unbelievable attitude regardless of who is on the pitch, regardless of what opposition _ I believe that if it was Real Madrid on the other side we would see the same thing from him," he said of the play-maker extraordinaire. "You can't coach that, so I just have to respect that, appreciate and be able to harness it within the context of the team."
For rival manager John Barry Nusum the result was an obvious disappointment and marked his team's first defeat since losing to thee same team in the Charity Cup to open the current season.
However, Nusum took the loss in stride, as he could still count a trophy in the cabinet for the first half of the season – Hood won the Dudley Eve Trophy – and his side is yet within a point of the league leaders as squads prepare to engage the second half stretch run.
"Only one team can win every day and it wasn't us today," said Nusum. "This match is gone and we move on, we take a break until the New Year and then come back for the league again … so on to the next."
He explained how his vaunted and customarily deadly lead force had run into an in form goalkeeper who made much of the difference.
"We had some chances and the keeper made some good saves hat's what happens sometimes. He made some saves that against other teams they would have been buried but he makes some saves, keeps them in the game and they pop up and score one, that's how football works a lot."
The victory places the richly heralded and chronicled franchise on course for a solo record of 12 titles in the competition's history when they do battle with Dandy Town at Somerset Cricket Club on New Year's Day, starting at 2.30 p.m.
Robin Hood: Starting line-up: Dale Eve, Daniel Andrade, Casey Castle, Tomiko Goater, Aaron Nelson, Philip Parsons, Antwan Russell, Lejuan Simmons, Shakir Smith, Dominique Williams, Tariq Sabir – Substitutes: Arnezha Astwood, Christopher Ricca, Lozendro Symonds, Ereico Outerbridge, John Nusum, Tariq Bean
PHC Zebras: Starting line-up: Shaquille Trott, Daren Usher, Mikey Lambe, Na'eem Griffith, DeAndre Smith-Lightbourne, Rakeem DeShields, Tre Ming, Marquel Waldron, Marco Warren, Keishon Bean, Cecoy Robinson – Substitutes: Calvin Thomas, Zakiyah Lee, De-Aun Lodge, Kushae Hypolite, Shakhai Trott, Kole Hall, Jahiem Iris
Referee: Martin Wyer

Read More About