[Written by Don Burgess]
Dr Clarence 'Tessi' Terceira –  who passed away this week at the age of 91 – was an iconic figure to many in the Portuguese community.
Andrea Moniz-DeSouza, Honorary Consul of Portugal in Bermuda, said, "It was with great sadness that I learned of Dr Clarence Terceira's passing. On behalf of the Portuguese Government, I send our deepest condolences to Dr Terceira's family.
"Dr Terceira led an extraordinary life and devoted much of it to breaking barriers and protecting our common home and future.
"Having been born the grandson of Azorean immigrants who immigrated to Bermuda to work as farm labourers, he fought and conquered prejudice and the stigma of being of Portuguese descent, which at that time was prevalent."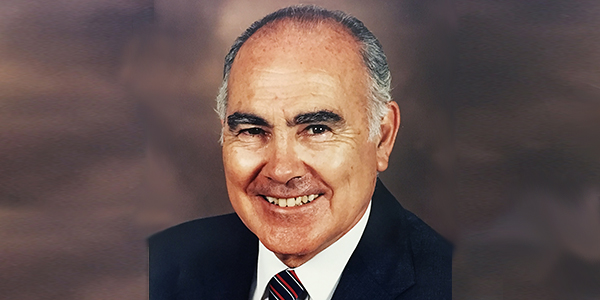 She added Dr Terceira was one of the first Portuguese Bermudians to gain advanced education overseas "but yet never forgot his humble beginnings. Through his life, he remained determined to find out more about his Portuguese ancestry.
"Dr Terceira supported the Portuguese community in many ways, often anonymously. He was instrumental in the Governments' decision to rename Spanish Rock to 'Portuguese Rock' acknowledging the true genesis of Bermuda's discovery. The Portuguese Government acknowledges Dr Terceira's contribution to Bermuda's Portuguese Community."
Milton Raposo, the owner of Method Media Bermuda, produced a film entitled "FABRIC" detailing the contributions of the Portuguese in Bermuda.
The video producer told Bernews he first met Dr Terceira several years ago working on the TV show 'Treasures'.
"A few years later I did a pre-interview with him at his home for my documentary film, FABRIC," Mr Raposo said. "He went into great detail about his ancestry, and it was clear to me he had very deep roots up in Somerset.
"He was very generous with his story, and I found him to be so enthused about telling the Portuguese-Bermudian story. He gave me a short study that he wrote in 1984 about the reasons for the arrival of the Portuguese-Madeirans into Bermuda and it's still a useful resource. Unfortunately, I never had the chance actually to film an interview with him for the film."
Mr Raposo added. "I gathered that he was very much influenced by his time as a student in Scotland; there were even tinges of a very light Scottish accent when he spoke but I had seen him around Bermuda, and he appeared to be the consummate politician by always stopping to chat to someone.
"He told me about his political life and the drama around the CedarBridge, Tynes Bay and Crow Lane projects but he was very proud of those events. He said he liked to go into the office on a Sunday morning and focus on all things he needed to do when the phones weren't ringing, or there were other demands on his time as a Government Minister. When you think about it, whether as a politician or as a citizen, he really was there through so much of what has shaped Bermuda as it is today."
In releasing his autobiography back in 2013, Dr Terceira began by citing the old Portuguese proverb; "Mais vale saber que haver e dar que receber", which he said roughly translates as "a good mind possesses a kingdom".
Read More About