The costs so far for the "drafting of the grounds of appeal and provisional advice to the Privy Council" for the same sex marriage legal case stands to date at £11,250 [$14,161], Premier David Burt said.
In answering questions in the House of Assembly on Friday, Premier Burt said, "I appreciate the question from the Honourable Deputy Speaker because it gives an opportunity to clarify information and misinformation which may be inside the public domain where there have been persons that have been quoting very large figures for the Government regarding the expenses in this particular instance.
"What I can confirm for the House is that for the original appeals, the Court of Appeal, the cost going to the public purse was £41,750, which equates to about $52,000 or $53,000 depending on the exchange rate, which, of course, depends on British politics daily."
That is the cost for the legal services of British lawyer James Guthrie QC, and the Government previously stated that there was an additional cost of $7,848.21 for his travel and accommodation.
Premier Burt added that the costs for "drafting of the grounds of appeal and provisional advice to the Privy Council, that stands to date, Mr. Speaker, at £11,250."
The audio of the question time is below, the SSM cost part starts at around 18 minutes in
The overall cost to the Government for the appeal is likely to also include the costs for local lawyers Mark Pettingill and Rod Attride Stirling, who successfully defended against the appeal, having represented the applicants of the original case.
Earlier this week Government confirmed that they applied to the Court of Appeal for permission to appeal to the Privy Council in the UK concerning the recent court judgment in the same sex marriage legal case.
Bermuda's courts have already, in effect, ruled in favour of same sex marriage on three occasions; same sex marriage was initially legalised following a Court decision in May 2017, the Court ruled in favour of it again in June 2018 when a challenge was brought to the Domestic Partnership Act, and in November the Court of Appeal dismissed the Government's appeal.
The case now looks set to head to the Privy Council in England, which functions as the highest and final Court of Appeal for Bermuda.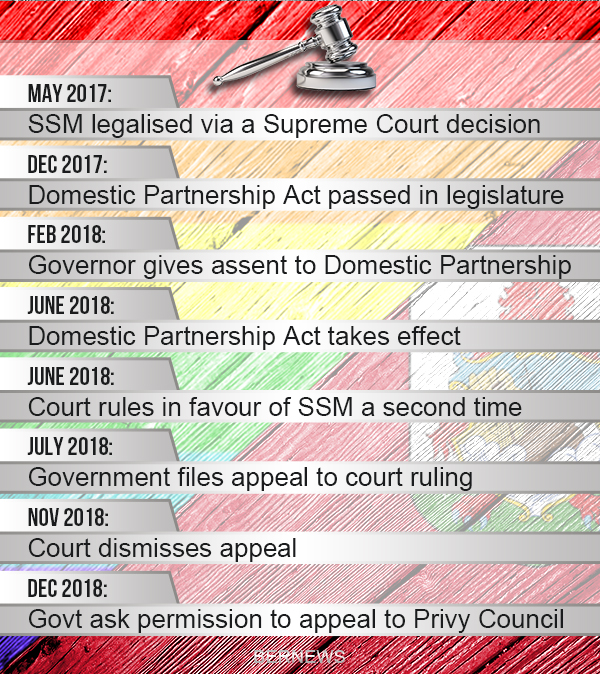 Read More About