[Written by Don Burgess]
It took some time for Bermudian Trey Simons to process the words of billionaire Robert F. Smith, who announced at Morehouse College's graduation that he would pay off the student loans for the entire graduating class, a gift estimated at some $40 million.
Mr Simons, along with the rest of the 2019 graduating class from Morehouse College heard Mr Smith say, "I am going to put a little fuel in your bus…My family is making a grant to eliminate their students' loans."
"When it initially happened, it kind of didn't register with people at first," Mr Simons told Bernews.
"We just looked at each other – 'What did he just say?' He went on to say that his family would be setting up a fund to pay our school loans, then everyone got up and started shouting and praising."
Mr Simons, who excelled athletically while at the College and graduated with honours with a degree in economics, said the debt-free promise didn't apply to him as scholarships covered his costs at Morehouse, but it was still a blessing to watch the reaction of the other 395 graduates.
"I saw how it affected my fellow brothers. One of my friends had more than $100,000 in student loans. He was next to me and broke down in tears. He asked me, 'Do you think this is real?' "
The Bermudian reasoned with his friend that since Mr Smith is one of the leading donors to the university, and he even donated $1.5 million the past semester, it had to be real.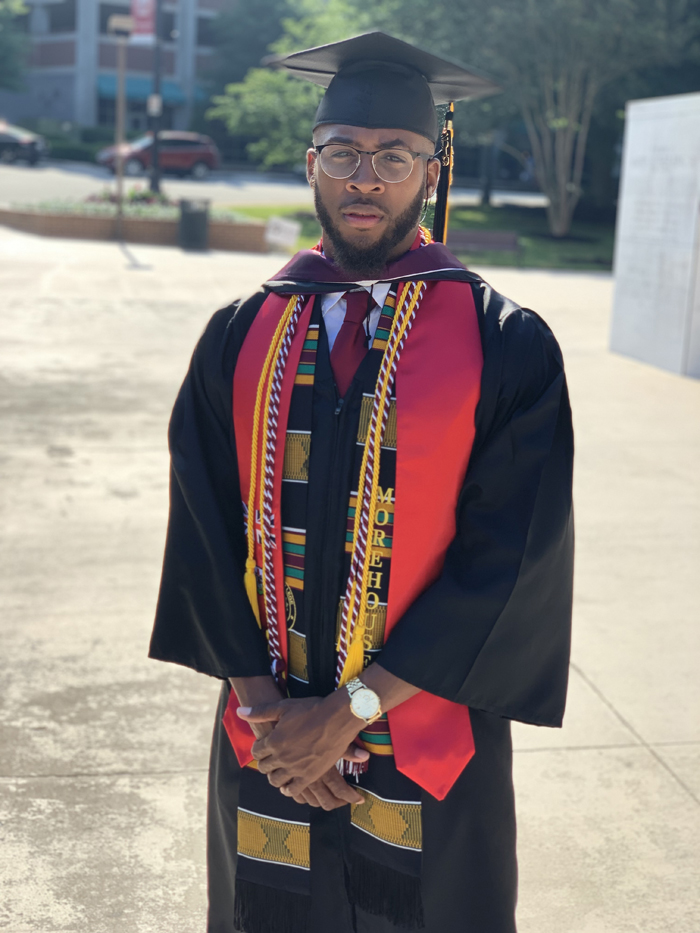 Mr Simons said this generous gift – estimated to be worth about $40 million – has him already looking to help others once he gets established.
"It has me thinking one day I will help at least one person, especially a Bermudian, and especially if they are attending Morehouse," he said. "Hopefully, I will be in the position to at least help one student the same way."
While he was fortunate in being able to attend on scholarships, Mr Simons said, "I was seeing people cry tears of joy, so it was an eye-opener for me. This was a great moment."
He has a contingent of his family present to watch his graduate, including his grandmother, mother, brother, sister, and his son. He becomes the first in his family to graduate from university.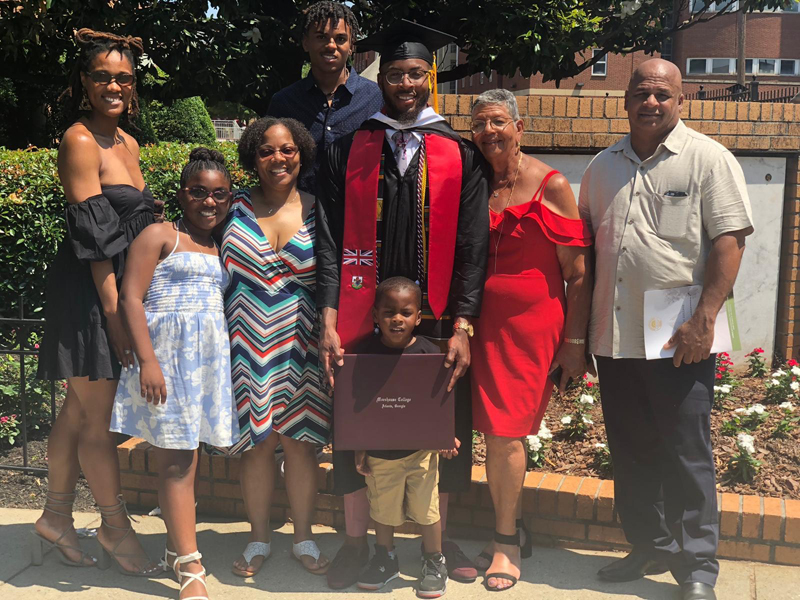 "This was a very emotional time for them, but it was very inspiring to me," he said. "You go through not really aware how you affect others, but I saw firsthand how extremely proud and happy they were.
"My brother is 15, and I was glad for him to be able to see that and watch as I broke that barrier. It then becomes easier and more feasible behind me to do it."
Speaking about his son, Mr Simons said, "Even though he is just three, in years to come, he will see pictures that his father graduated, and he will be able to follow in my footsteps."

Read More About