[Written by Talbot Wilson]
James Geil, Master of Tabor Boy, Tabor Academy's 92-foot iron schooner, was ecstatic about the outcome of the boat's first Marion Bermuda Race.
Will Tabor Boy come back for Marion Bermuda 2021?
"Absolutely!" Captain Geil said. "We will block of this window of time for that… Absolutely, Absolutely." The next race is scheduled to start June 18, 2021.
Tabor Boy and the Bermuda tall ship Spirit of Bermuda were both entered in the Classic Division of the 2019 race, the third Marion race for Spirit and first of any of the Bermuda races for Tabor Boy. In the past, Spirit had raced alone and this was expected to be a classic match. However, Spirit failed to cross the starting line in Marion, so the black and red Bermuda sloop was an automatic Did Not Start… DNS.
Tabor Boy, [2], the 92-foot iron-hulled schooner from Tabor Academy in Marion MA won the Classic Yacht Division of the 2019 Marion Bermuda Race. Her captain, James Geil, said Tabor Boy would defend her title in the next race scheduled for 18 June, 2021. Any Challengers? Photo by Talbot Wilson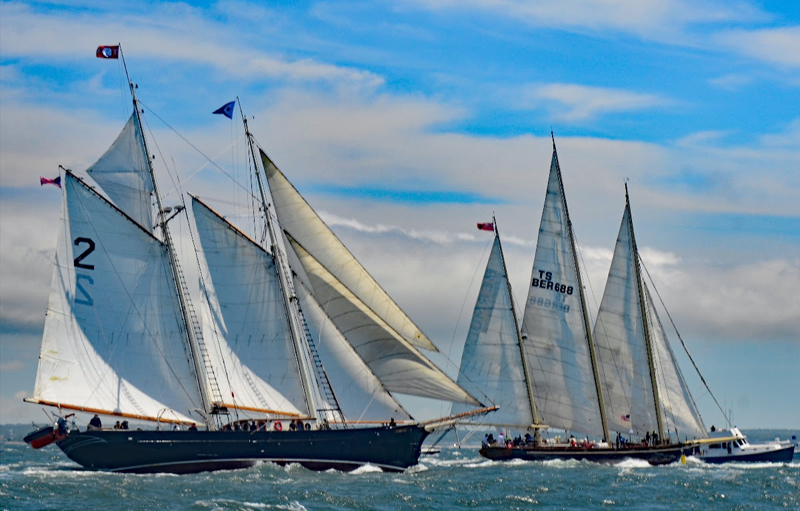 Tabor Boy won the match and is flying the Classic Division's 'Coming Home' Banner back home to Marion, signifying her victory.
Geil has been aboard Tabor Boy for 34 years and Captain of the ship for 32 of those. The Marion Bermuda Race was a new experience. "I've been to Bermuda many times, Geil said, "but this was the first race. Being in competition was exciting. I wish we'd done it years ago. This time the opportunity was here. We identified that last summer and decided to go for it."
"Racing is different from going on a cruise," Geil noted. "We would have been more conservative going out of Buzzards Bay if we weren't racing. We were driving hard going out the bay with 25 knots of wind on our nose. The vessel is very strong, she can take it. That was the most exciting part."
"Well," Geil took that back. "The start was THE most exciting. With Spirit running the line in the last minute before the start, I was very glad to have Gregg Nourjian, our tactician, right by my side. It was more congested around the starting line than I thought it would be, even with just the two vessels in the class. That together with the 25 knot wind made for an exciting start."
"We saw that Spirit was going sort off fast, reaching down the line from the committee boat end and that she was running out of starting line," he said. "We saw her go hard on the wind and Gregg said 'She missed the pin'. We figured they would gybe around Gun Smoke [a 'spotter' committee boat anchored off of the end of the line] and start on the other tack. But they kept on going."
"We were a little puzzled by that," Geil added. But Tabor Boy was off on their adventure.
"We have never pressed Tabor Boy this hard," said Chip Connard. He's the vessel's student executive officer, Captain Geil's right hand man, a recent Tabor Academy graduate and headed to Kings Point Merchant Marine Academy in the fall. "We've never done any organized racing before," he continued, "except a couple of fun schooner races up in Maine… never any real ocean racing."
Roy and Gail Greenwald's Valiant 42 Cordelia has finished first in fleet on corrected time in the 2019 Marion Bermuda Race. She will win the Goslings Founders Trophy. The Greenwalds sail out of Mairon MA. Cordelia is also the Class D winner and winner of the Beverly Yacht Club Polaris Trophy. Photo by fran Grenon, Spectrum Photo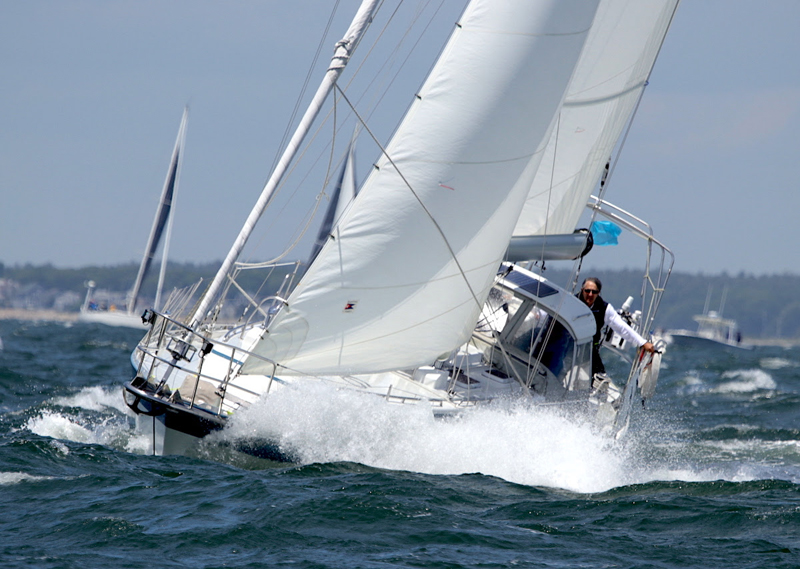 "We were trying to get into the best position we could to have a quick start off the line with Spirit to beat up the bay. It was entirely different. I've never driven this schooner this hard. We had full sail on, everything."
"Usually in those conditions, we've got our jib topsail down, our gaff topsail down and we try to keep things a bit more under control. So we were really driving hard, really going fast, healed way over, pushing the vessel to the limit of what she could do to have a great start."
Tabor Boy tacked eight times going out of Buzzard's Bay before rounding Sow & Pigs reef and heading south-southeast into the open Atlantic. The tactician Greg Nourjian and the team had already outlined the track they wanted to take down the rhumb line to Bermuda. They had put waypoints on the chart where they wanted to enter the Gulf Stream meander for favorable current and where they wanted to exit the loop and then the track from there to Bermuda.
"Sailing conditions were perfect," Connard said. "There were some times when we could have used a stronger breeze because of how heavy Tabor Boy is. But we had enough to carry us through, some great breezy nights and breezy days. The weather was perfectly clear."
Speaking of their arrival in Bermuda he said, "It was really incredible. When we got to where we thought we might be able to see Bermuda, we sent one of our officers aloft with binoculars to look for Gibbs Hill and St David's Light. He found them and shouted 'Land Ho!' and on deck we let out a big cheer. It was gratifying for our navigators putting their skills to work."
"It is one thing to take the class," Connard added. "But putting it to work and seeing Bermuda pop up on the horizon… Wow! We got here using a sextant and the stars and the sun and planets. We didn't actually turn on the GPS until we crossed the finish line. We finished the race entirely on celestial.
Tabor Boy finished at 14:43:04 ADT on Tuesday afternoon covering the 645 nautical mile course in four days 1hr 33min 04sec., not bad for a 1914 iron-hulled schooner.
The classic schooner Tabor Boy from Tabor Academy in Marion MA finished as the winner in the Classic Division and will proudly fly her 'coming home' banner on her return trip to Marion MA. Presented by RHADC Commodore Willie Forbes, left. Student XO Chip Connard and Captain James Geil are in the center. Photo by Fran Grenon, Spectrum Photo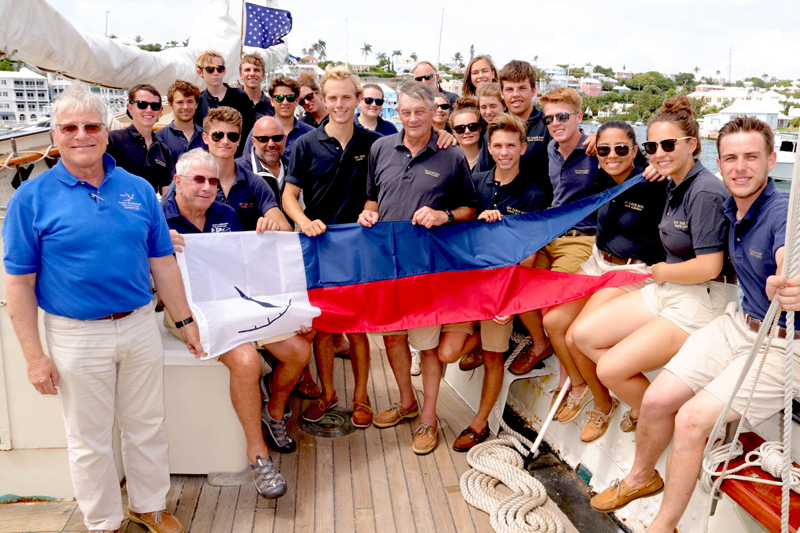 "Once we got out of Buzzards Bay," the young XO said, "we set the Brass taffrail log [A mechanical device dragged from the stern of the vessel that indicates the vessel's speed through the water. It consists of a propeller, a reading unit and a stiff line connecting them.] and started plotting for our dead reckoning track."
"We started our celestial navigation work doing all the calculations long hand like Captain Geil has taught us in his year-long course at Tabor. We did everything by hand the old fashioned way. We didn't even have prerace set-up sheets to do our calculations. Everything was done with a piece of graph paper, plotting sheets, an almanac and a sextant."
"We had excellent fixes especially at morning and evening twilight. Some days we had three or four LOPs [lines of position] crossing. Two or three of us were out there with sextants grabbing what we could. We'd have a think tank in the deckhouse banging out sight forms. We had three official navigators, but eight of the students and several of the adults on board could do celestial. Most learned from Captain Geil."
Organizers for 2021 hope to get more classic yacht participation for the twenty-third Marion Bermuda Race set for June 18, 2021. Geil offered a thoughts on that. "I think just networking," Geil said. "Making contacts… Now that there have been two classic vessels for the first time, maybe this will get other organizations interested and get two or three more vessels to enter. That would be great."
Tabor Academy
Tabor Academy, the owner of the vessel, is a coeducational, college preparatory boarding and day school located in Marion, Massachusetts. Tabor's academic, artistic, athletic, and community programs provide distinctive opportunities for students to achieve genuine understanding and significant skills and to identify and pursue personal goals.
As the 'school by the sea', Tabor has a unique maritime heritage that embodies, in all its programs, the qualities a seagoing life requires: thoughtful preparation for and awareness of the wider world, perseverance, courage, good humor, a sense of direction, and humility.
Kiwi Spirit was the line honors leader from start to finish in the 2019 Marion Bermuda Race. The Farr 63 finished off St. David's Lighthouse at 2:27:59 Tuesday. Photo by Fran Grenon, Spectrum Photo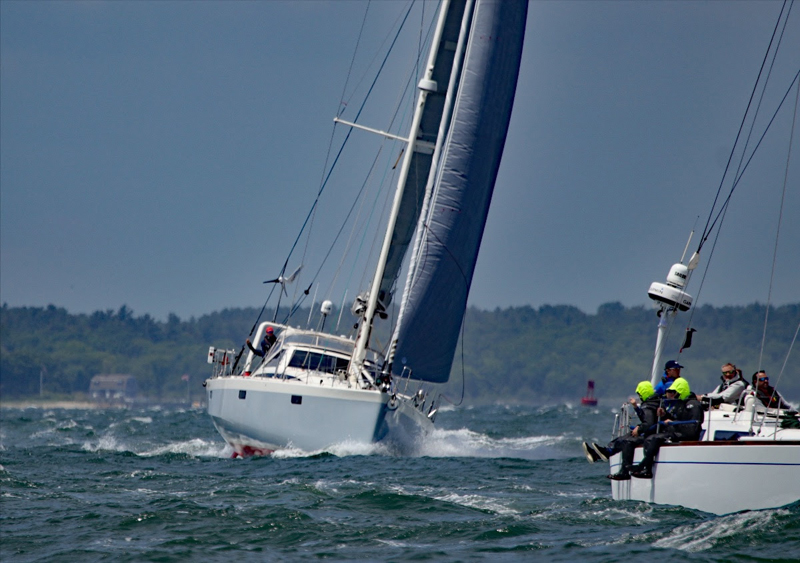 Celestial- Bermuda By the Stars
Jack Gordon, one of the Tabor Academy graduates onboard Tabor Boy in 2019, is making a documentary film on the race. He is now a documentary filmmaker from Massachusetts and a student at the University of California, Berkeley. He graduated from Tabor Academy in 2017 where he was introduced to the art of celestial navigation in Captain Geil's course at Tabor.
Gordon is the director and producer of the short documentary 'The Ocean Knows No Borders' and the feature documentary 'A Century of Tabor Rowing'.
One evening at sea, as part of his documentary, Gordon and the crew even flew his drone, circling Tabor Boy. Footage near twilight includes amazing footage of the vessel under sail, making a wake out far astern and the vessel with the full moon in the background.
Getting the drone back aboard was a challenge. One of the crew grabbed it from the rib hanging in the davits off the stern. That was the only clear air space to land.
In his director's statement for the film, Gordon explains his vision: "Like the main characters in the film, I attended Tabor Academy for high school and was introduced to celestial navigation through Captain Geil's course my junior year. Throughout four years of high school, that class remained the most interesting and exciting course I had enrolled in. Though I have had a few opportunities to experience offshore sailing, I never got the opportunity to put my celestial navigation skills into practice."
"As my documentary and video career has accelerated over the past two years, I've had an urge to eventually create a film about celestial navigation in the Marion to Bermuda Race. Growing up in Marion, I was well aware of the race and its unique character as the only race that maintains a celestial class. When I learned this past winter that there was a group of Tabor students preparing to compete in the celestial class of the race, I knew it was the perfect opportunity to make my idea into a reality."
Class B winner and second in the Founders Division was the US Naval Academy's Gallant, a Pearson Composite Navy 44 skippered by Christian Hoffman. Photo by Fran Grenon, Spectrum Photo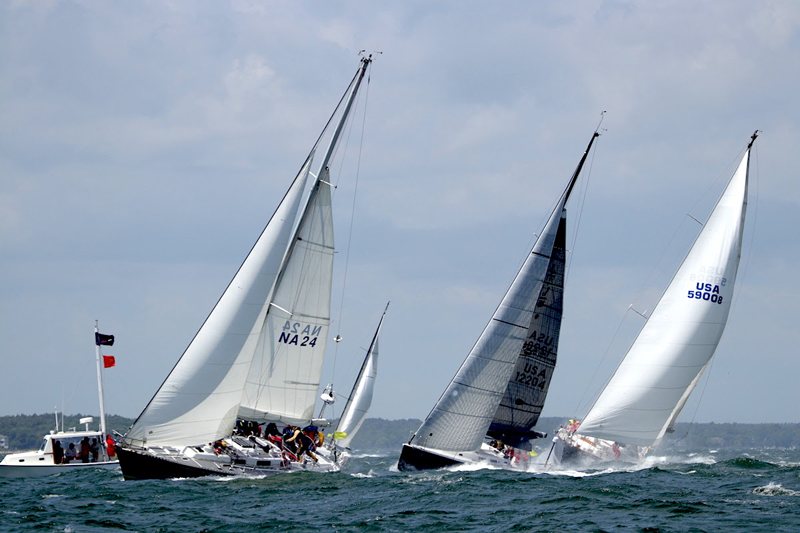 "It is my hope that this film will raise awareness of the fascinating art of celestial navigation and grow an appreciation for a purer form of sailing that deepens one's connection to the sea. The fact that Tabor Academy continues to give students the opportunity to learn such a unique and transformational skill is truly unique, and it is something that should be appreciated tremendously by those that have had the opportunity to take the course."
"This film will speak to the deep connection people have to the sport of offshore sailing, the way it can intimately connect you to the sea and the stars, and the sense of freedom and adventure that it instills. To see the joy and passion of the students from racing and navigating the vessel will show the value in disconnecting from the technology around us and rediscovering this traditional form of offshore sailing."
Upon completion of the film in September, it will be submitted to film festivals in October of 2019. Though the list of festivals is subject to change, and acceptance to a festival is by no means guaranteed, the following is a list of expected festival submissions for Celestial:
| | | | |
| --- | --- | --- | --- |
| Festival | Submission Deadline | Event Date | Premiere Status |
| International Ocean Film Festival | October 2019 | March 2020 | World Premiere |
| Bermuda International Film Festival | October 2019 | March 2020 | International Premiere |
Results—
Founder's Division
Class A—
1. Abigail— Robert Buck, Aquidneck 52, Marion MA – Celestial
2. Kinship — Francis Selldorf, Baltic 52, Padanaram MA
3. Sunflower — Mark Lenci, Beneteasu Oceanis 523, Harpswell ME
Class B —
1. Gallant, Christian Hoffman, Navy 44, USNA Annapolis MD, Celestial
2. Momentum, Paul Kanev, Hinckley Sou'wester 51, Newport RI
3. Defiance, George Hamilton/Kevin Navarro, Navy 44 MKII, USNA Annapolis MD, Celestial
Class C—
1. Pinnacle— Peter Torosian, Tartan 4100, Rye NH, Celestial
2. Escapade II— Tom Bowler, Morris 46, Ocean, Marion MA
3. Scappare— David LeBlanc, Catalina 42 MKII, Stillhouse Cove RI
Class D—
1. Cordelia— Roy Greenwald, Valiant 42, Marion MA, Celestial
2. Frolic— Ray Cullum, Dixon 44, Marion MA, Celestial
3. Silhouette— David Caso, Cherubini 44, Portsmouth RI
Classic Division
Overall Class and division
1. Tabor Boy— James Geil, Schooner 92, Tabor Academy Marion MA, Celestial
DNS Spirit of Bermuda—Jordan Smith, Tall Ship 118, Dockyard, Bermuda
Winner in class C was the Tartan 4100 Pinnacle, skippered by Peter Torosian of Rye NH, Celestial. Photo by Fran Grenon, Spectrum Photo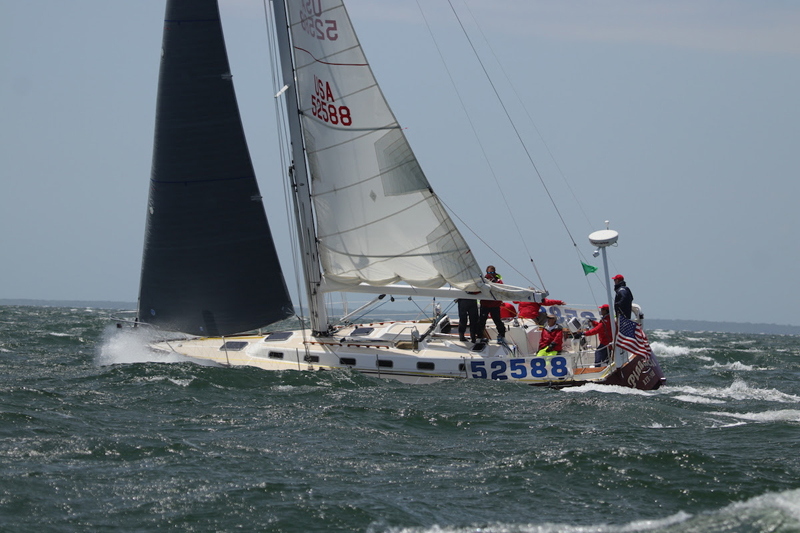 Read More About