Premier David Burt recently hosted members of Future Leaders of Bermuda and presented the organization with $25,000. This sponsorship will help fund the initiatives of their summer programme, which explores topics such as leadership, poverty, violence, injustice, identity, privilege, and social justice.
The Premier said, "I am excited for another successful programme. This Government is committed to providing our young people with the tools and skills required to position Bermuda for continued success. We must invest in our young people and the Government is determined to lead the effort.
"The knowledge they will gain over the course of these 3 weeks will help create the foundations for higher learning, and the development of innovative, viable solutions for the future of Bermuda. The future is truly in the hands of our youth, and I cannot wait to see these future leaders apply what they have learned to better Bermudian society."
A spokesperson said, "Future Leaders of Bermuda offers Bermuda's youth the opportunity to develop the knowledge, experience and leadership skills required to make positive impacts in the community through study, service, mentorship and empowerment.
"The programme allows young persons to voice their ideas, opinions and concerns on critical topics concerning Bermudian society, and the global world, that they would not normally be able to participate in.
"The three-week programme provides ongoing support to Bermudian youth and helps cultivate long lasting partnerships beyond the traditional educational setting.
"The skills honed and refined throughout the program empower students to fulfill their potential as leaders and change-makers in Bermuda and the world, truly embodying the title of future leader.
"Participants this year include Nathan Furbert, Mya Furbert-Jacobs, Roneeyah Jones, Kanye' Raynor-Simmons, Malay Robinson, Sekai Tatem, Taliah Trott, Madison Thompson, Cairo Simmons, Vashti Smith, Zy-Asia Forbes, Ezeqiel Jimenez, Ryan Fleming, Nije' Hypolite, Vincent Darrell, Ywione Darrell, Austin Dowling, Chloe Morton, Jannis Roberts, Rio Russell, Shazaria Francis-Brown, Alaiyah Hayward, Ajani Richardson.
"Ryan Robinson-Perinchief, founder and director of the programme, joined the participating students at the Cabinet Office where they had an opportunity to meet with the Premier and discuss the summer programme, the success of last year's programme and their experiences."
More information about the Future Leaders Programme is available at https://www.futureleaders.bm/.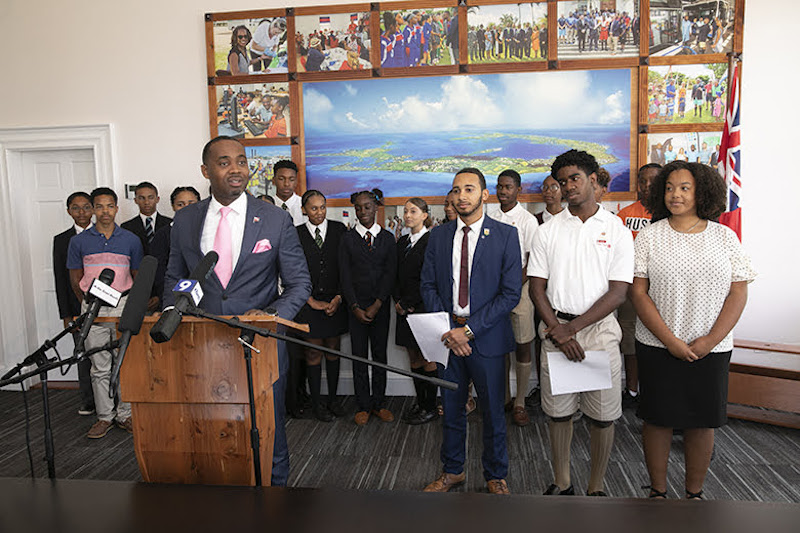 Speaking at the event Premier David Burt said, "I'm pleased to once again welcome the Future Leaders Programme participants to the Cabinet Office.
"These young people are about to embark on a three week training programme that will examine leadership, poverty, violence, injustice, identity and privilege, and social justice; they will also participate in community service projects.
"They will have access to a network of peers and community leaders who will provide support and encouragement. They will be empowered and armed with the skills they need to make a positive impact in Bermuda and the world today.
"We have many bright and talented young people in Bermuda, who are quick to take advantage of opportunities to better themselves. These are just a few.
"You are all to be congratulated for making this commitment, for joining the programme and exploring the world around you as you make a difference to your family and our community.
"In the coming weeks you will engage in activities that are designed to help you gain a better understanding of yourselves, to think independently and grow from your experiences – both intellectually and personally.
"You will discuss, debate, and get hands-on experience and exposure to real life challenges and issues.
"You will meet with public figures, community leaders and top executives to discuss relevant issues and gain a better understanding on a variety of topics. These are people who care about you, and care about our community and the issues effecting it.
"I encourage you to tap into the knowledge and wisdom that they will share with you. Indulge your curiosity – ask lots of questions. Take advantage of all of the resources and the coaching that you'll receive.
Overall, you will be in a better position to take charge of your future and the future of Bermuda.
"Mr. Ryan Robinson Perinchief who is the force behind this programme has done an outstanding job of finding people who supported his goals and helped to bring his vision to life. Congratulations Ryan on the start of another leadership programme. I am sure that as in previous years, this one will be a success.
"There are a lot of choices students face regarding their future and there are plenty of wonderful opportunities as well. This initiative is one of them. This Government believes in our young people, and we are pleased to support the Future Leaders Bermuda programme."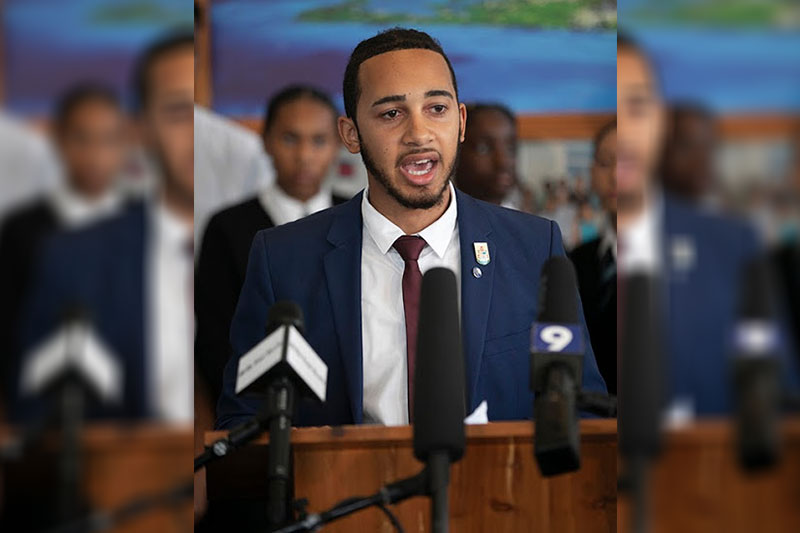 Ryan Robinson Perinchief, Founder & Director of Future Leaders Programme said, "We are pleased to introduce this year's participants in the Future Leaders Programme.
"Now taking on its third cohort, the Programme combines academic study, hands-on education and meaningful service to local organisations to empower young people to develop the knowledge, experience and leadership skills they need to take up leadership roles within their communities and create a positive social change.
"From grasping complex subjects such as racism and wealth inequality, to discovering new models of leadership and social enterprise, through college-level study, by completion, these future leaders will amass over 90 hours of co-curricular & community service hours per student.
"Although students receive certificates at the end of their three-week intensive course where they are officially inducted as Future Leaders, evidence from last year's successes reveal that the opportunities are only just beginning.
"At the local level, the Programme continues to impress, as seen by the tremendous transformations the students undergo over a three week period.
"But beyond this, our programme this year has been the subject of numerous awards and increased exposure, rising to the international level. In September 2018, four Future Leaders continued what has now become an annual tradition of taking the stage and presenting at the BIU's Annual Labour Day Banquet.
"In November of 2018, the Future Leaders Programme was awarded "1st Runner Up" in the BEDC's Small Business Awards Category of People's Choice. In January of this year, it was announced that we had established an international partnership with Brandon Hall Overseas Boarding School in Atlanta, GA.
"As such, just one week from now, as we begin our local Future Leaders Programme for the third year with our 25 new students here today, 8 Future Leaders from last year's programme will be starting their course at Brandon Hall International Boarding School in Atlanta for the first time, on a partial scholarship.
"This connection was made via the US Consulate Hamilton, and is a testament to the power of maintaining relationships with our community partners. We look forward to celebrating their successes upon their return.
"Perhaps most remarkably, in March of 2019, it was announced that the Future Leaders Programme – via its director, yours truly – had been nominated for the 2019 Commonwealth Youth Awards for Excellence in Development Work, in the category of the Sustainable Development Goal regarding 'Quality Education', then advancing to the stage of "Finalist" for the Caribbean and Americas Region.
"This achievement culminated in a short film of Future Leaders from 2017 and 2018 being featured on the world stage, on March 13 at Marlborough House – the Headquarters of the Commonwealth of Nations in London, England.
"This special occasion marked the first time ever that there had been a nominee for the Commonwealth Youth Awards from Bermuda or any overseas territory.
"Overall, it is evident that this Programme has achieved remarkable success in the span of its very short two years, and that 2019 has been a year of firsts and increased international partnerships for our Future Leaders.
"It is therefore befitting that this year's theme is "Dare to invent the future", a quote inspired by former President of Burkina Faso, Thomas Sankara.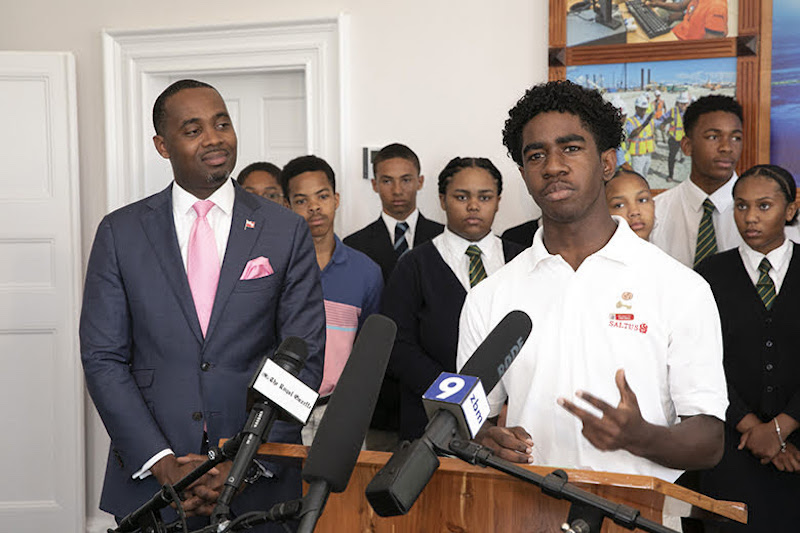 "As we dare to invent the future, and encourage our young people to find innovative and creative solutions to the problems of today as well as tomorrow's, students will continue to ​serve the local community by partnering with grassroots organisations, meet with top government, business, and non-profit leaders, and ​build lasting relationships with their peers, as they examine pressing social problems and promising solutions throughout Bermuda and the world at large.
"Just as last year, students will focus on:
1. Service and Community Building
2. Poverty, Crime, and Inequality
3. Identity and Privilege
4. Leadership and Self-Determination
5. Social Justice and Entrepreneurship
6. The Power to Make a Difference and
7. How to Take Action
"By the end of the three-week programme, students will be in a better position to identify inequality and injustice in the world and their community, as well as empathise and identify with the experiences of persons from various backgrounds.
"They will apply leadership, team-building and analytical skills that will empower them to question their roles as citizens and leaders, and consider the power they hold – both as individuals and as a collective.
"All public and private high schools were invited to select at least one student to attend, with registration also open to the general public. Based on the responses, we take this time to applaud the commitment of the 25 students who will be participating this year.
"From the ​Berkeley Institute​, we have:
1. Nathan Furbert
2. Mya Furbert-Jacobs
3. Roneeyah Jones
4. Kanye' Raynor-Simmons
5. Malay Robinson
6. Sekai Tatem
7. Taliah Trott
"From ​Cedarbridge Academy​, we have:
8. Zy-Asia Forbes
9. Yukia Hall
10. Ezequiel Jimenez
"Bermuda High School:
Bermuda Institute is represented by:
Somersfield Academy
Saltus Grammar School
14. Vincent Darrell
15. Ywione Darrell
16. Austin Dowling
Warwick Academy
17. Alaiyah Hayward
18. Ajani Richardson
TN Tatem Middle School
19. Shazaria Francis-Brown
Sandys Middle School
Dellwood Middle School
"We also have students from a variety of smaller schools and overseas institutions. These are
22. Ryan Fleming [Eagle Hill Boarding School]
23. Vashti Smith [CARE Learning Centre]
24. Nije' Hypolite [Kingsway College]
25. Rio Russell [The Langley School [UK]]
"We have every confidence that these dedicated and courageous students will go on to have a meaningful and lasting effect on their peers, and, in the spirit of the mission statement of the Berkeley Institute, [which is where the programme is being held], to lead ​full and purposeful lives and assume leadership roles in both the local and global communities.
"Finally, we are truly grateful for the support of our community partners, as we recognise that this exponential growth is entirely dependent on the backing of a village.
"As we continue to grow, inspire and empower, we thank you for believing in us. We would like to express our utmost appreciation to the various members of the community who have shown commitment to the Future Leaders Programme.
"Thanks to the support of the Government of Bermuda, no student has been turned away from this programme due to a lack of resources.
"We are also able to deliver this programme with the support of our various community partners and mentors, including the Bermuda Industrial Union, Midland Heights Seventh Day Adventist Church, Aries Sports Center, the Salvation Army, Cranleigh Ltd., the Department of the Judiciary, CURB, and the United States Consulate.
"We invite all members of the public to engage with these – our Future Leaders – and follow their progress via social media at Futureleadersbda, or by visiting our website.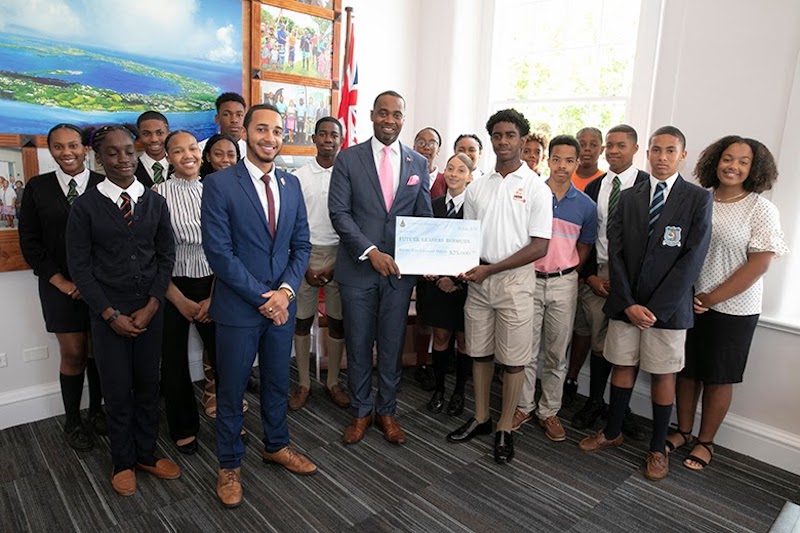 Speaking at the event, Ywione Darrell, Incoming Future Leader 2019 said, "I am 16 years old and currently attending Saltus Grammar School.
"The first time I'd heard of the Future Leaders Programme was last July. As the typical teenager that I am, I was scrolling through my Instagram feed and came across a post which intrigued me so I began to follow the Future Leaders BDA page.
"As time has progressed and I scoured the web for more information I recognized this program aimed to inform, inspire and promote the next generation of Bermuda's CEO's, activists and politicians. This is fantastic because sometimes we have far too little access to these important pillars of our development.
"This July, this program will once again give us, the youth, the support we need through group discussion, college level reading material, field experience and mentoring by prominent individuals in our community.
"We will explore areas such as crime, poverty and privilege, education and inequality, social entrepreneurship and activism.
"Personally, I find myself most excited to learn about poverty and privilege so that I can get a broader understanding of how we as a country are affected by this issue and how we can sustainably fight against it.
"I am sure that my fellow students have different areas of interest in due to different opinions which I look forward to learning about soon.
"In closing, Nelson Mandela had once said 'The Youth of Today are the Leaders of Tomorrow' and thanks to Premier David Burt, the Government of Bermuda, Ryan Robinson Perinchief and the public, this idea is being put at the forefront which will help to secure our future as an island.
"To track our journey this July or learn more about the program please follow us on Instagram @FutureLeadersBDA, on Facebook at Future Leaders Bermuda or even visit our website. On behalf of all the Future Leaders, we look forward to engaging with the public and learning more about the world we live in by the end to the program."
Mr. Robinson Perinchief continued, "Thank you for coming, we appreciate the community's support and those who have come to provide encouragement to our next generation as they embark on this challenging but rewarding endeavour. We look forward to sharing our progress with you throughout July."
Read More About