The TLC Group, in partnership with the BEDC, is offering a 4-week, Bermuda focused data privacy & cybersecurity course starting on Tuesday, October 8 in the BEDC training room.
A spokesperson said, "Data privacy & protection are now legal requirements and can no longer be an after-thought for Bermuda businesses.
"This course will help Bermuda-based business owners, managers, executives & support staff understand why data privacy & cybersecurity compliance are so important to remain competitive in today's global marketplace.
"Bermuda is another world, but not when it comes to complying with global data privacy legislations.
"Whether your organization processes the personal data of international citizens such as a charity [volunteers, staff and donors], tourism operator [customers & staff] or a medical provider [customers & staff] or you only process the personal data of Bermudians, you will need to consider data privacy & cybersecurity as part of your day to day operations strategy.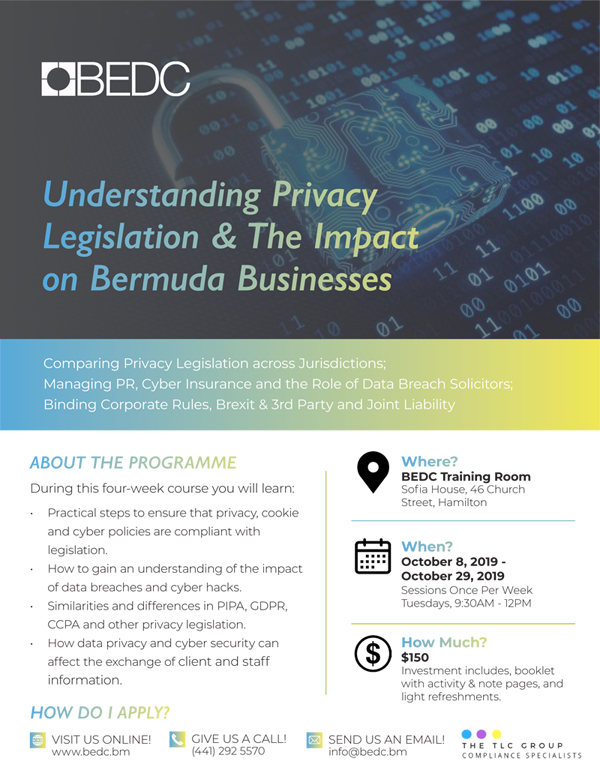 "The consequences of ignoring such legislations include fines, sanctions, lawsuits, bad publicity, loss of customers and in some cases criminal liability prosecutions.
"Not a day goes by without a report of a data breach or cyber-attack; of recent, Facebook, Yahoo, Microsoft emails, Cafepress, Canva, Dunkin Donuts, Fornite, Marriott and Equifax to name a few. And local organizations are not immune either, as news of Bermuda-based law firm data breaches and a local book store cyberattack have received considerable coverage in the international press.
"The TLC Group wants to help prevent the names of any more local organizations being added to the data breach lists but we recognize the challenge this may be for many of Bermuda's organizations, so we've created a data privacy & cybersecurity course designed with local culture in mind.
"During the course of four weeks, participants will meet every Tuesday starting 8 October 2019 between 9:30AM – 12PM. Attendees will:
Discuss the similarities and differences in PIPA [Bermuda], GDPR [EU], CCPA [California] and other privacy legislations
Explore how data privacy & cybersecurity affects the transfer and jointliability of customer and staff data across borders
Learn practical steps to ensure that privacy, cookie and cyber policies are in line with legislation and industry best practice
Gain an understanding of the impact of data breaches and cyber attacks Visit here or bedc.bm/our-events for further details and registration. Limited spaces are remaining so act fast to secure your spot.
"The TLC Group was formed by three passionate Bermudian professionals [Taheera Lovell, Laquita Ebbin & Cha'Von Clarke-Joell] to use their UK-based training, expertise and guidance to help businesses improve their data privacy & cybersecurity compliance by offering practical, hands-on solutions with business resilience as the focus."

Read More About
Category: All, Business, technology