Bermuda's soldiers today hit hi-tech British Army rifle ranges to hone their marksmanship skills.
The Royal Bermuda Regiment's public order and internal security specialist A Company took advantage of longer ranges and sophisticated moving targets at two army ranges as part of Exercise Active Shield.
RBR soldiers hone their marksmanship on the British Army's range at Hythe in the UK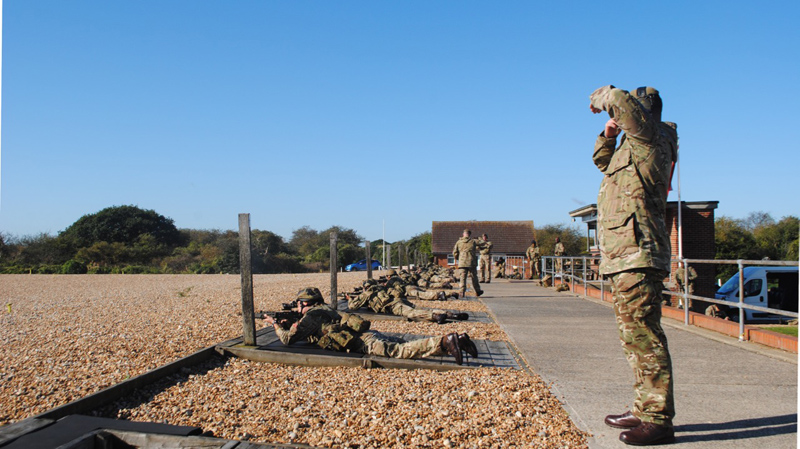 Private Ezekiel Williams said: "They are really nice ranges – I like them a lot. They're very open, so you feel more comfortable and the technology is good as well."
Lydd Camp in Kent and the nearby Hythe ranges offered shooting at up to 400 metres, as well as a variety of target options and computerised checking of shots on targets.
Pte Williams, 20, from Paget, who only joined up in February, said: "The technology is good as well. You don't have to stop, walk down the range and check targets. It's all on a computer in front of you."
C/Sgt Jason Smith analyses a soldier's results on the firing range at Hythe in the UK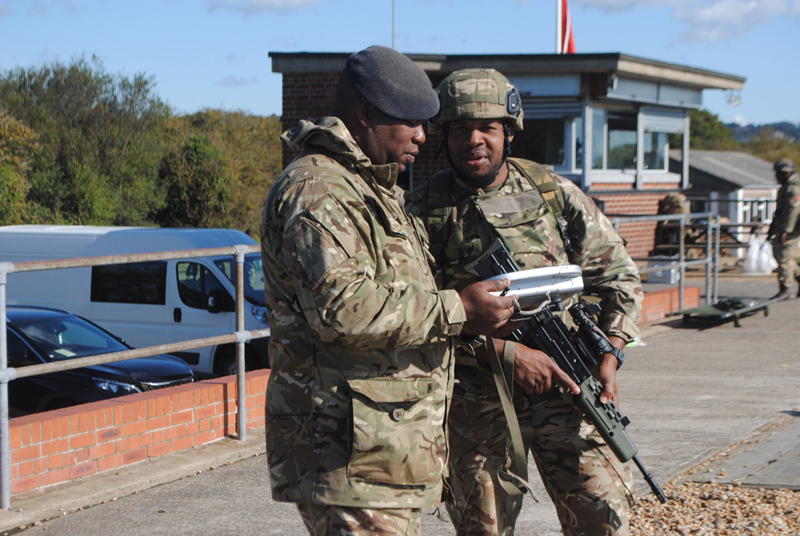 Colour Sergeant Jason Smith, a full-time RBR soldier and qualified as a range conducting officer to British Army standards, led the shooting at Hythe, with support from the British Army.
He said: "The technology is absolutely amazing. It's all electronic and it registers the hits. You read the screen, you can make accurate adjustments.
"It saves a lot of running up and down and using a ruler to measure groupings of shots."
C/Sgt Curtis Grant gives advice to Pte Kirk Wilkes on the firing range at the Lydd training camp in Kent, UK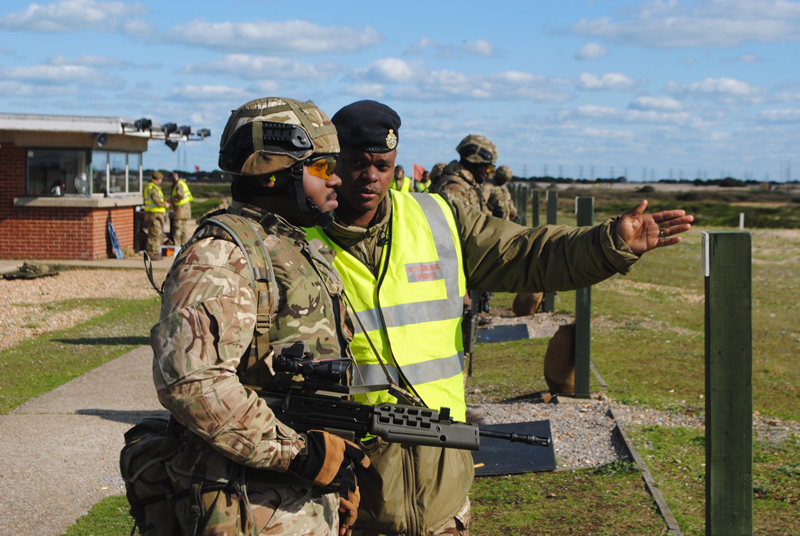 CSgt Smith added: "The soldiers definitely enjoyed it. They got different types of shots at different ranges – they're not used to doing that at home."
The soldiers shot at 100 metres, 200 metres and 300 hundred metres over two days.
The range at Warwick Camp is 25 metres and rifle practice at distances of up to 100 metres is only possible if sections of South Shore beaches are closed to the public.
Bermuda's soldiers fire from the kneeling position at Lydd ranges in the UK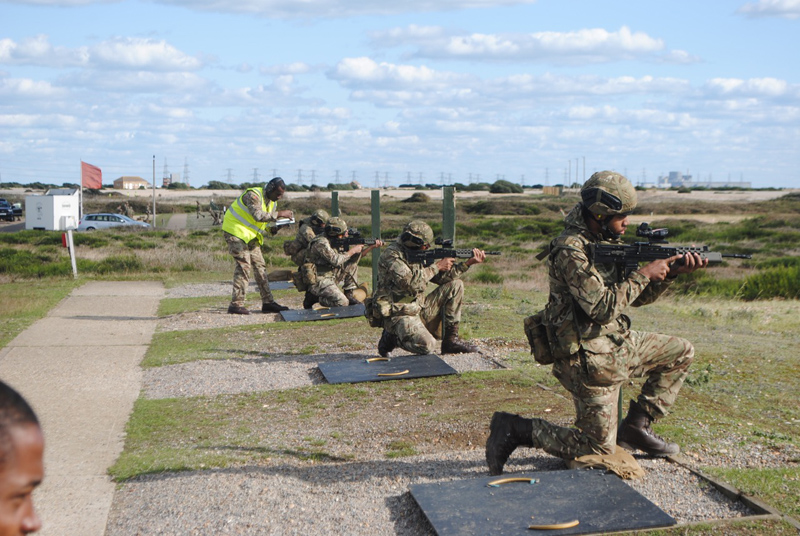 Private Owen Chisnall, 25, a project manager with air conditioning firm BAC, said: "It's much better than we could do at home. The technology means we can adjust our aim much faster."
Other A Company soldiers shot on the ranges at Lydd, the base for the public order and internal security exercise, which involves more than 100 RBR soldiers.
Sgt Damir Armstrong, a 33-year-old platoon sergeant, said: "It's a nice break from the other training we've had in public order.
Sgt Damir Armstrong, platoon sergeant for the RBR's Operational Support Unit 1, after a day's shooting at an army firing range at Lydd training camp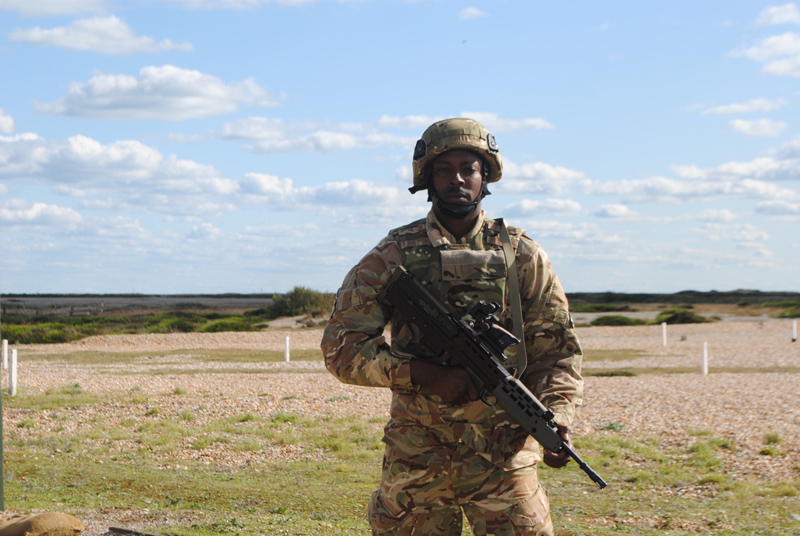 "The ranges gave us the chance to test our shooting skills and it's a nice way to round off our training."
The life insurance sales adviser from Pembroke, on his first overseas camp as a platoon sergeant, added: "I've got stuck into it and developed my abilities in my new role.
"I'm definitely more experienced now than when I got on the plane in Bermuda. In the sergeant role, it's all about supply management and administration.
Pte Andrea Burrows and Pte Irving Forde at the hi-tech Lydd firing ranges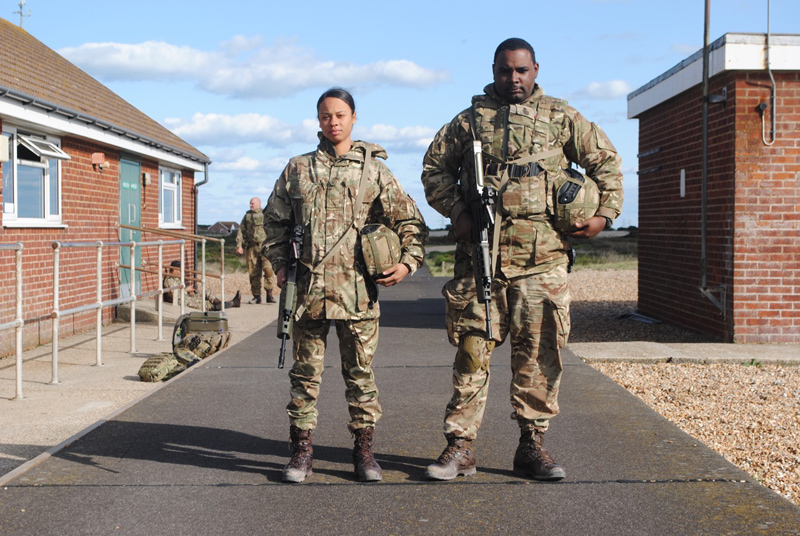 "It helps keep me organised and able to come up with plans on how to be successful in your aims."
Sgt Armstrong said: "Life throws obstacles at you and that can be overwhelming if you don't know how to prioritise your objectives. The Regiment definitely helps with that."
Private Andrea Burrows, 21, added: "I thoroughly enjoyed practising my marksmanship skills and trying to improve and become a better soldier."
Exercise Active Shield second-in-command Major Duncan Simons takes aim at the British Army's Hythe ranges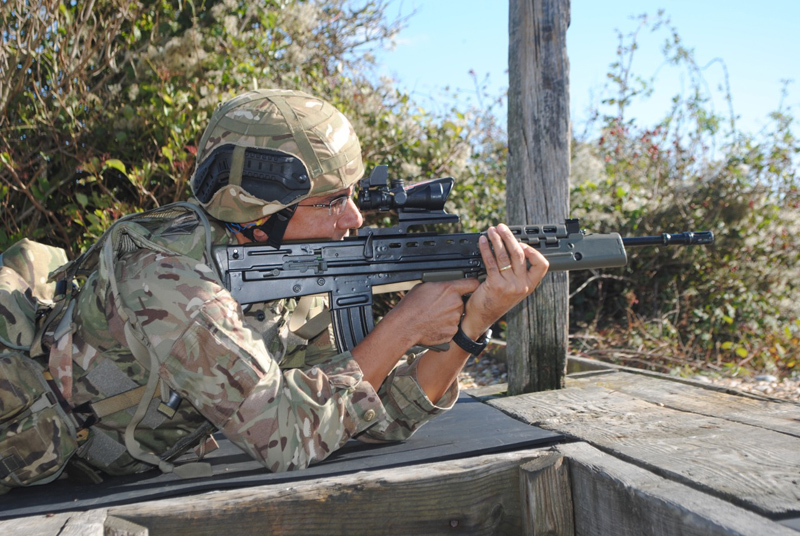 Pte Burrows, who works at Gorham's hardware store in Hamilton and, at 5ft 1in, the smallest soldier on the trip, said: "It's my first time in the UK – it's really nice, but it's very cold."
C/Sgt Curtis Grant, a full-time soldier and also a qualified range conducting officer, said the range work had gone well.
He added: "It's Bermuda-led, but we do have support from the British, which means we're able to accommodate more soldiers and get more through the ranges."
RBR soldiers shoot under the watchful gaze of RBR range safety officers, who are reinforced by British Army counterparts to help train more soldiers faster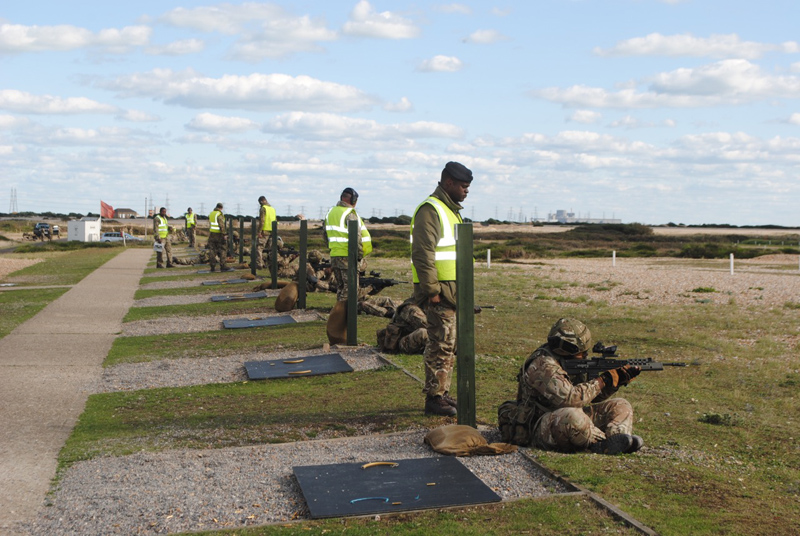 C/Sgt Grant added: "It's my first trip as part of the training staff of the RBR. It's a lot of work, a lot of angles to deal with, but I'm handling it pretty well."
Lance Corporal Irving Forde, 25, from Pembroke, said: "I'm loving it right now. I've got a cold, but I'm going to push through it.
"The shooting has been great. The bigger ranges are excellent – I got a good grouping, so I'm pleased with that."
RBR soldiers open fire on hi-tech targets that register hits on a hand-held computer at the Lydd training camp ranges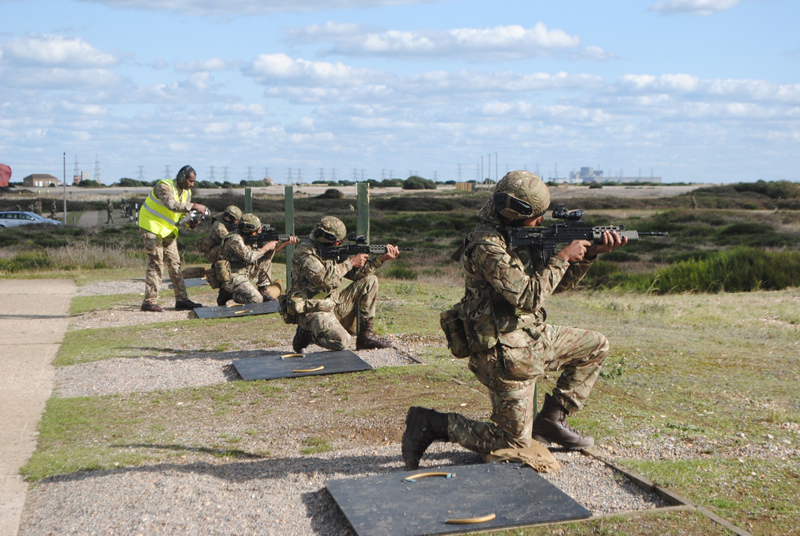 Major Duncan Simons, the second-in-command for Active Shield, added: "The range package, like the entire exercise, has allowed our soldiers to develop their skills over a concentrated period of training in an unfamiliar environment.
"We plan to capitalise over the next year on the lessons we have learned here in the UK as we continue to modernise and adapt to changing operational conditions."

Read More About