A successful coding programme, which has introduced hundreds of public primary school students on the Island to the basics of computer programming, has now launched for the 2019/ 2020 academic year, thanks to renewed sponsorship from Hamilton Insurance Group [Hamilton].
The joint initiative, which was launched by ConnectTech and Hamilton in January 2018, has already taught the basics of coding to P5 and P6 students from 18 primary schools across the Island. Last year alone, 314 students were introduced to computer sciences, while in total more than 600 young people have benefitted from the scheme.
Kelly Ferris, VP, Corporate and Marketing Communications at Hamilton Insurance Group, Minister of Education Diallo Rabain and ConnecTech CEO Coral Wells, along with students and leadership staff from East End Primary.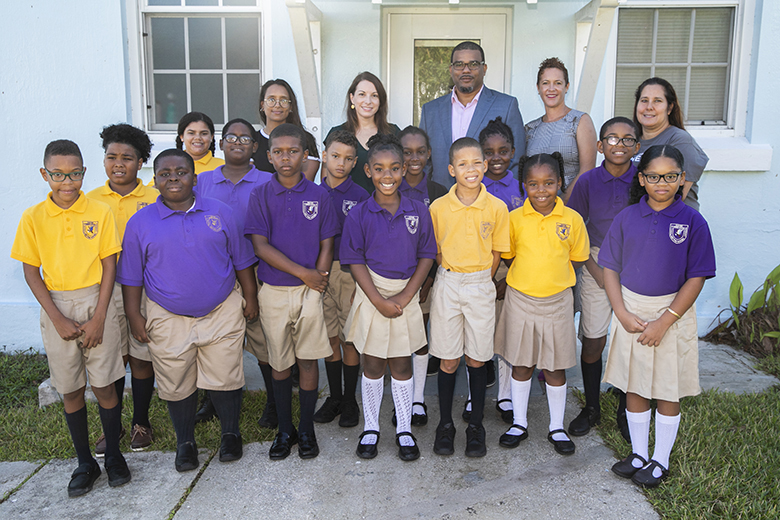 Pina Albo, Hamilton's Group CEO, said it was an easy choice to decide to renew sponsorship for the public primary school coding programme for another academic year. "Hamilton's mission – 'We're writing the future of risk' – is grounded in our commitment to data science and technology as the critical tools of change in our industry. In that regard, we need data savvy employees to achieve that mission. That's why it's important for us to invest in the digital literacy of Bermuda's young people. They're our future employee base.
"So it's been an absolute joy to partner with ConnecTech and to see important computational skills taught to young people in the public schools. I look forward to seeing how Hamilton's involvement with this worthy initiative shapes the lives of scores of Bermudian children and how it will advance youth digital literacy for the island of Bermuda."
Kelly Ferris, with students from East End Primary, as well as Coding Instuctor Z'ara Cardell and Coral Wells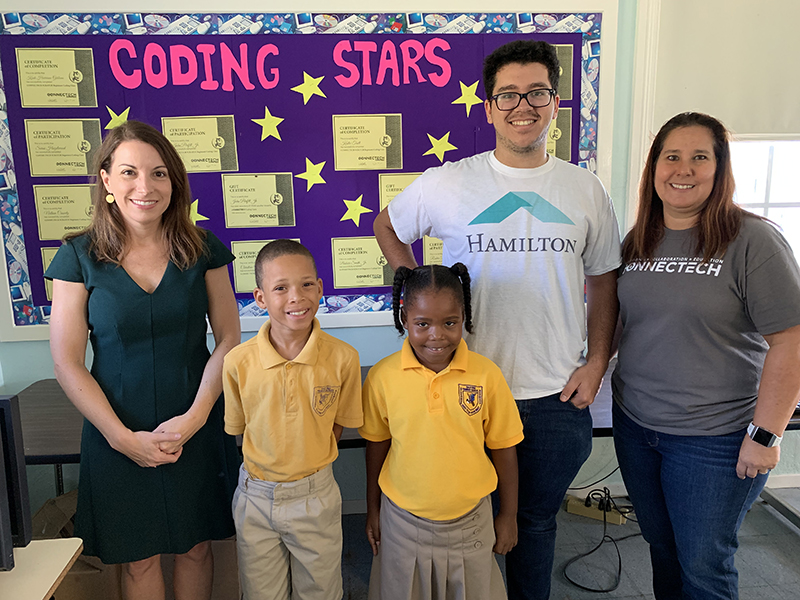 Coral Wells, the CEO and Founder of ConnecTech, said: "It's been extremely rewarding to partner with Hamilton Insurance Group over the past 21 months to see these public primary school coding classes brought to life. Many of the students in our programme have developed greater cognitive and problem solving skills and the ability to think outside the box.
"We've seen several young people display a strong interest in technology and go on to study at ConnecTech's after school and summer programmes. A few children have even indicated to us that they wish to become computer programmers or software engineers when they grow up, which bodes well for Bermuda's future.
"Overall, it means our country will have a more technologically literate population and that our young people will stand a greater chance at success when it comes to competing with the rest of the world for jobs and other opportunities."
Kelly Ferris with students from East End Primary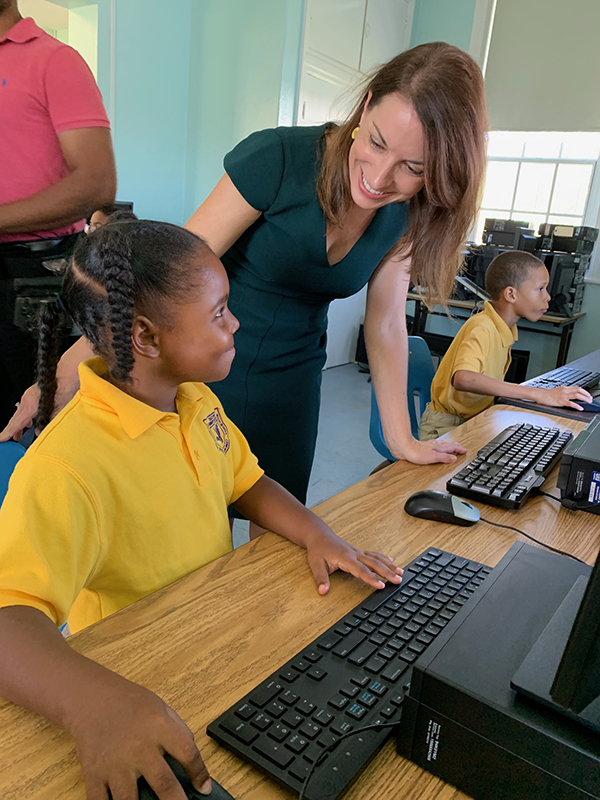 The 2019/ 2020 coding classes began on Monday, September 16, with up to 20 students from each public primary school enrolled in the programme.
Similar to last year, young people will be taught in an interactive educational environment and will learn how to make simple computer games and apps. By the end of the school year, they are expected to have all the tools and skills necessary to create their own digital map of Bermuda highlighting local sights and attractions.
They will be asked to complete a final assignment, which encourages them to discover more about Bermuda's geography and history, as they learn to incorporate digital design features such as labelling, color-coding, photos and music to their projects. For more information on the programme, visit hamiltongroup.com.

Read More About
Category: All, Business, News, technology