Bermudian hero Mary Prince is set to be featured in an educational, inclusive children's card game called Super Sapiens, which is being created by Bermudian Alexa Virdi.
A spokesperson said, "This family friendly card game pays tribute to 12 inspiring women from around the world – the world's real superheroes, 'the Super Sapiens'. It's a simple concept but one that turns play into inspiration: helping children to explore hidden histories, cultivate understanding about the world, and develop self-love and self-acceptance.
"Creator Alexa Virdi, a Bermudian mother, designed the game after having great difficulty in finding games that allowed her mixed heritage daughter to see people who looked like her.
"The first series of Super Sapiens will include Mary Prince, Marie Curie, Dr. Wangari Maathai, Ng Mui, Ellen Ochoa, Fatima al-Fihr, Helen Keller, the Gulabi Gang, Maggie Lena Walker, and many others.
"For the development of the content of the Mary Prince card, a special thank you for the expertise and insights of: LeYoni Junos, Kristin White, Dr. Kristy Warren, Sara Clifford, Alicia Kirby, and Tawana Tannock.
"In addition to the 54 cards that make up this 3-in-1 card game of Snap, Memory, and Guess Who?, each game can be personalised with custom-made cards of a child, family, and friends.
"Super Sapiens has a conscious supply chain which will seek to ensure high environmental and working conditions; with 20% of post-Kickstarter profits going to community organisations and charities. The incredible artwork is by South African artist David Tshabalala, co-founder of Suketchi Branding and Design.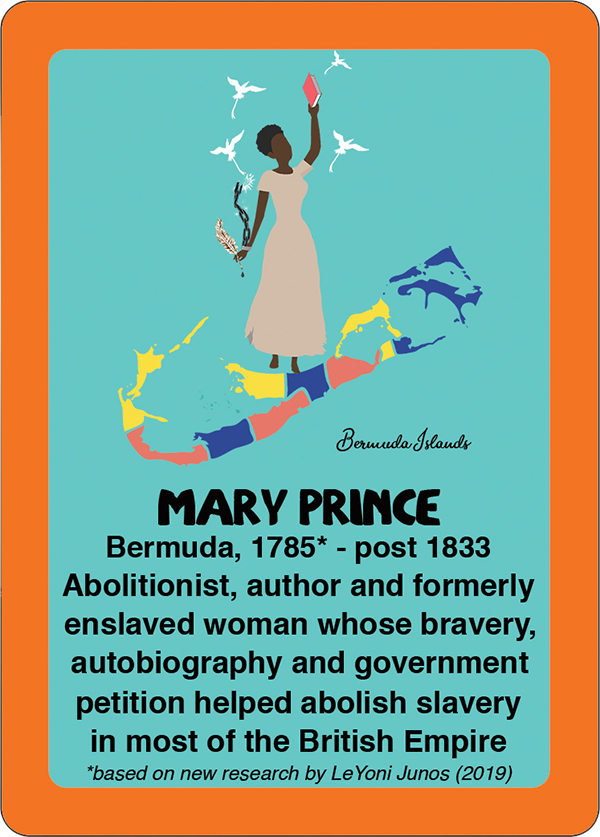 "Super Sapiens is being launched on Kickstarter where it can be pre-ordered for $15 – click here. Following the close of the 30-day Kickstarter campaign, 20% of profits will be awarded to community organisations and charities across the world.
"Profits will also be used to establish an annual scholarship for a Bermudian school student from a disadvantaged background and non-traditional university application background, to attend a one-week summer school at Oxford University. The summer school programme is an academically intensive programme to inspire and challenge students to apply to Oxford.
"Copies of the game will also be donated to primary schools across Oxford and Bermuda. If the game is successful, the intention is to increase the proportion of the profits given to community organisations and charity.
"The official Kickstarter launch date is 3 March 2020.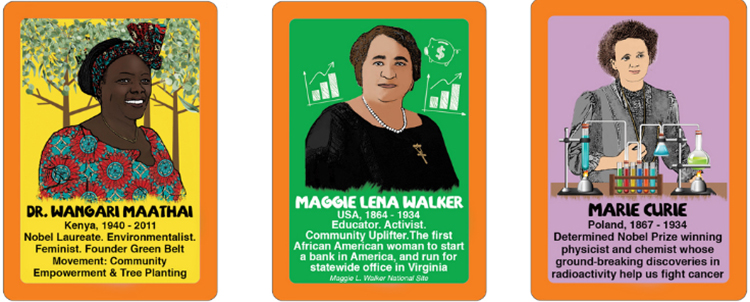 Liza Mickens, the great great granddaughter of Maggie Lena Walker, the first African American bank founder and one of the Super Sapiens said, "I could not think of a better way to honour my great great grandmother's inspiring legacy.
"As an educator and entrepreneur herself, she would appreciate how this game gives children and parents the opportunity to discover unknown "sheros" in our history. As Grandma Walker would say, "educate your heart to never lose hope…"
Tawana Tannock, mother and former Chair of Bermuda Human Rights Commission said, "Super Sapiens not only uncovers hidden histories and celebrates human rights in a fun inclusive way but also promotes self-esteem."
An Mei, Warwick Academy student said, "This game is gorgeously designed, and is a great way to engage younger kids to learn about amazing people from a diverse range of backgrounds."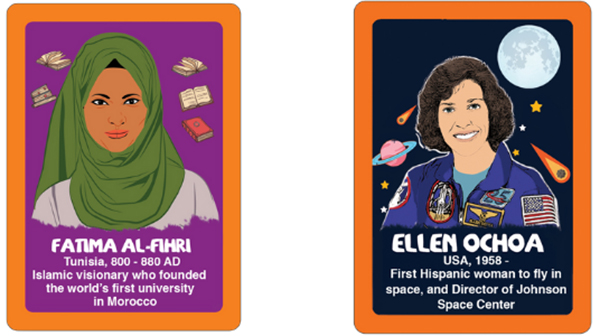 Flora Goodall, mother and Exhibitions Coordinator at Masterworks said, "I love that Super Sapiens will help my son and daughter to better understand the world we live in and that the game has such refreshingly graphic and sophisticated artwork by David Tshabalala. There is no saccharine pink in sight!"
Alexa Virdi, mother and creator of Super Sapiens said, "I really wanted our daughter to be able to play a game where she could see more people who look like her. It is important to have an age appropriate way to help to show her that we are all part of the same human race whilst at the same time introducing her to the global achievements of women, the legacies of history, and realities of privilege, inequality and forms of white supremacy. Hopefully, the game will help all children to see themselves in the games they play.
"Reflecting on my personal experience, the more I have learnt about the history of enslavement and segregation, the more I am in awe of the black Bermudians who, despite the myriad of barriers put in place, fought to succeed while also sacrificing so much to empower others."
More about the game…
"Super Sapiens is made up of 54 cards [63mm x 88mm].
"The Super Sapiens: 12 matching sets of 4 illustrated cards with a short bio of the trend-bucking women of the world.
"Cultivate superpowers: 4 matching cards on how to cultivate superpowers … through self-care and self-love.
"Map of world: A pair of map of the world cards to show where in the world these Super Sapiens are from.
"Personalisation: For an additional fee there is an option to add custom-made cards of family and friends. The true Super Sapiens!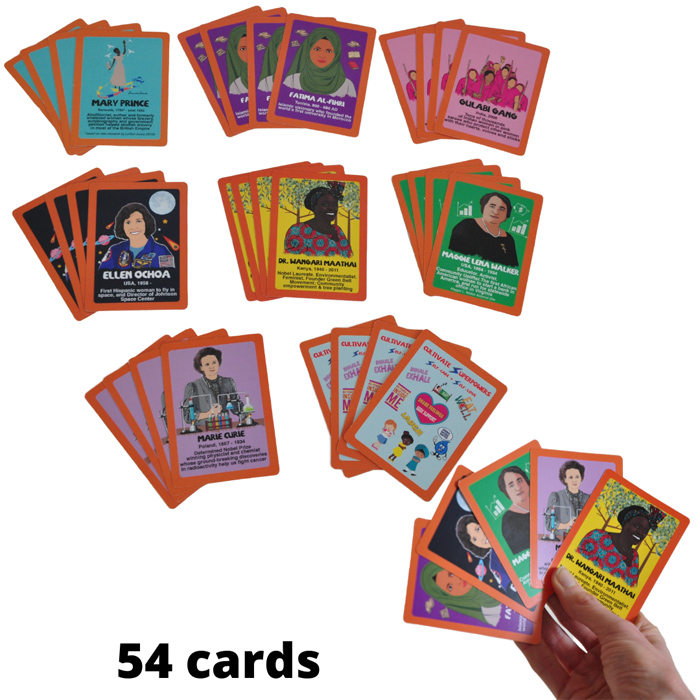 Who are the 12 Super Sapiens?
"Mary Prince [1785-post 1833] Bermuda Abolitionist, author and formerly enslaved woman whose bravery, autobiography and government petition helped abolish slavery in most of the British Empire
"Dr. Wangari Maathai [1940-2011] Kenya Nobel Laureate. Environmentalist. Feminist. Founder of the Green Belt Movement: Community Empowerment & Tree Planting
"Marie Curie [1867-1934] Poland Determined Nobel Prize winning physicist and chemist whose ground-breaking discoveries in radioactivity help us fight cancer
"Maggie Lena Walker [1864-1934] Educator Activist. Community Uplifter. The first African American woman to start a bank in America, and run for statewide office in Virginia
"The Gulabi Gang [2006-] India Tens of thousands of Indian women in pink sarees who protect other women with their hearts, voices and sticks
"Fatima al-Fihri [800-880 AD] Tunisia Islamic visionary who founded the world's first university in Morocco
"Helen Keller [1880-1968] USA First deaf and blind person to earn a university degree and lifelong social justice activist
"Marianne Cohn [1922-1944] Germany Courageous resistance fighter of Jewish descent who smuggled Jewish children out of Nazi occupied France to freedom
"Ng Mui [17th century] China One of Five Elders of Shaolin who founded a new martial arts style that is particularly effective in helping women defend themselves
"Ellen Ochoa [1958-] USA First Hispanic woman to fly in space, and Director of Johnson Space Centre
"Ada Lovelace [1815-1852] England Awesome mathematician, writer and first 'computer programmer'
Super Sapiens is being launched on Kickstarter where it can be pre-ordered for $15 – click here. Follow Super Sapiens here: Twitter, Facebook, Instagram"
Read More About
Category: All, Entertainment, News