Virtual activities helped to mark Earth Day today [April 22] as we navigate the ongoing Covid-19 pandemic, with residents being urged to support environmentally-positive organizations and causes, along with finding other ways to address the threat of climate change.
A spokesperson said, "Today marks the 50th anniversary of Earth Day, this as the global community is addressing the unprecedented challenges of COVID-19. In the midst of lives lost and economic downturns, this cloud has a silver lining.
"The shutdown of 80% of air travel, reduction of traffic and closure of factories has resulted in an environmental boon. The Himalayas' peaks have been revealed for the first time in decades; the clarity of the water of Venice's canals has amazed residents; and Bermuda's sky has been pristine.
"It is the misfortune of the pandemic that has revealed what could happen with some wise policies across the globe, sensitive to the reality of balancing economic needs with that of the ecology. Earth Day is a reminder of that legacy of accessing that wisdom.
"BAMZ is to be commended as they have set out a variety of relevant Earth Day family-fun learning opportunities on their Facebook platform.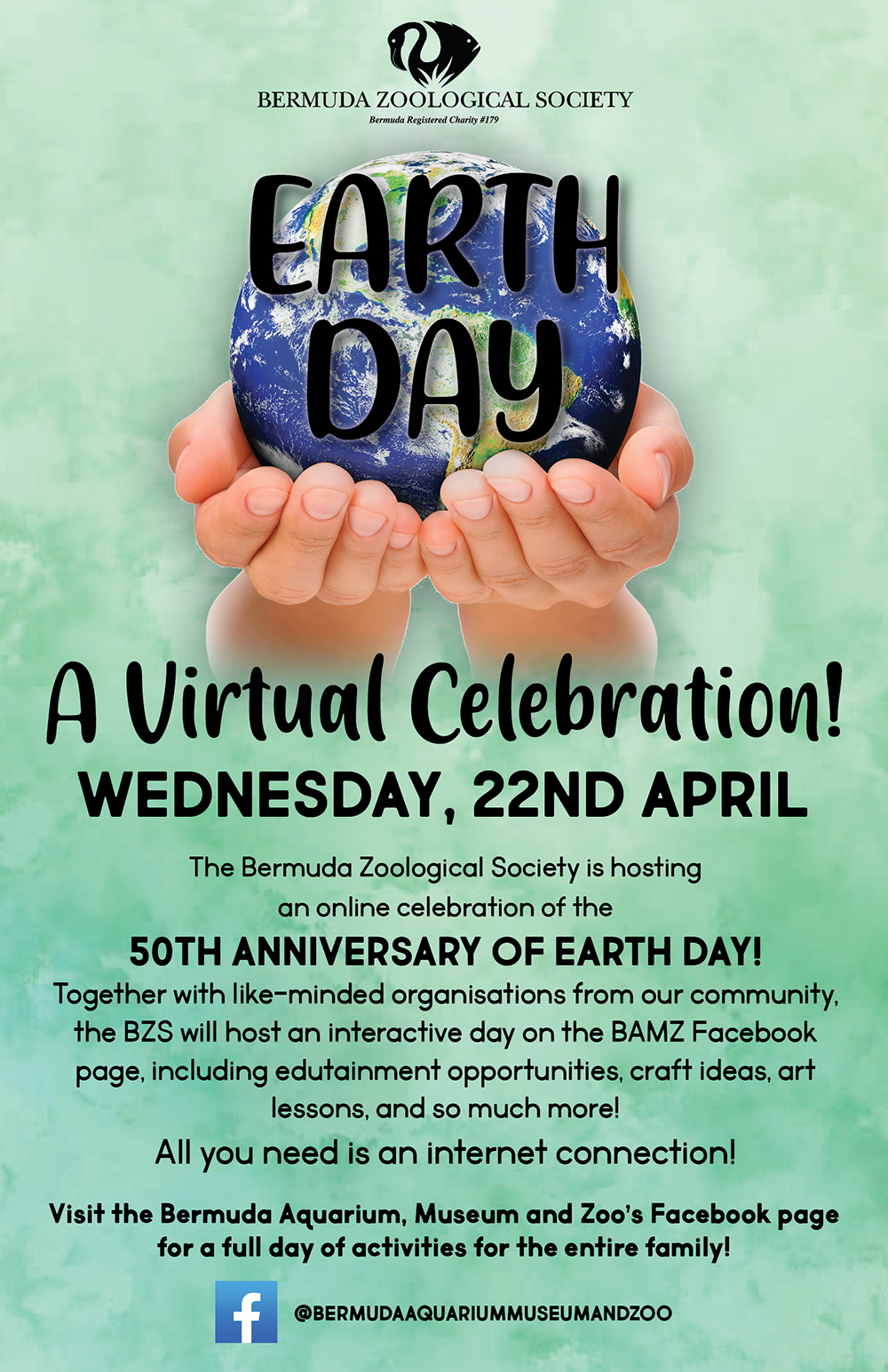 "The observance of Earth Day across the globe offers the opportunity for a real-time lesson on the vital importance of addressing any challenge from the big picture perspective. This involves appreciating the reality of living systems rather than considering silos.
"The inter-link between environmental damage being caused to various habitats such as deforestation and the emergence of pathogens such as viruses has been researched over the past decade.
"Dr Peter Daszak, of Columbia University's Center of Infection and Immunity and President of the EcoHealth Alliance, has been one of the leading researchers focusing on this connection.
"Daszak has been a champion of promoting the awareness of the link between protecting the Earth and addressing the spread of Covid 19 and other contagions.
"Here in Bermuda we have a legacy – from the governmental and community level – of working to protect the planet. Over the past several years, there has been a special community celebration marking Earth Day, organized by Greenrock.
"Late in 2019, a number of environmental organizations and individuals have come together to form the Bermuda Climate Action Network [Bermuda CAN] in order to address the climate crisis which is the result of global warming. Earth Day offers the opportunity to remind residents across the island of the Vision 2020 initiative, with the goal of planting 2,020 new trees by the end of this year.
"As we 'Shelter in Place' until May 2nd, we might use some of this time to either germinate seeds or seek out one or more seedlings in and around the half-mile radius of your home.
"That seedling could be an endemic or native or any fruit tree [including Loquat, Cherry, Paw Paw, Peach, Cedar, Palmetto, or a number of others]. Please email info@bnt.bm to report your planting.
"Another suggestion includes families using Google to research any other practical and family-friendly way to make a contribution to addressing the threat of the climate crisis to Mother Earth."

Read More About
Category: All, Environment